Not your average quiet place, A Quiet Place welcomes music lovers and karaoke buffs to sing to their heart's content, host a party or just enjoy the entertainment of others. A one-stop entertainment location with three concepts under one roof, A Quiet Place is poised to be the latest hang-out spot to have the ultimate karaoke fun.  
Opening in the heart of Bukit Bintang, A Quiet Place is the flagship store for Loud Speaker 2.0, Mini Studio, and GeTai that spans 17,000 sqft with each of the concepts catering to its very own brand of niche consumers. Loud Speaker 2.0 is the first premium outlet to be launched since the opening of its existing 11 Loud Speaker outlets. Mini Studio and GeTai are new karaoke concepts which were first introduced in Johor Bahru (JB) and are now brought to Kuala Lumpur. The flagship outlets for Mini Studio and GeTai in A Quiet Place are also given a different look and feel compared to its inaugural outlets in JB.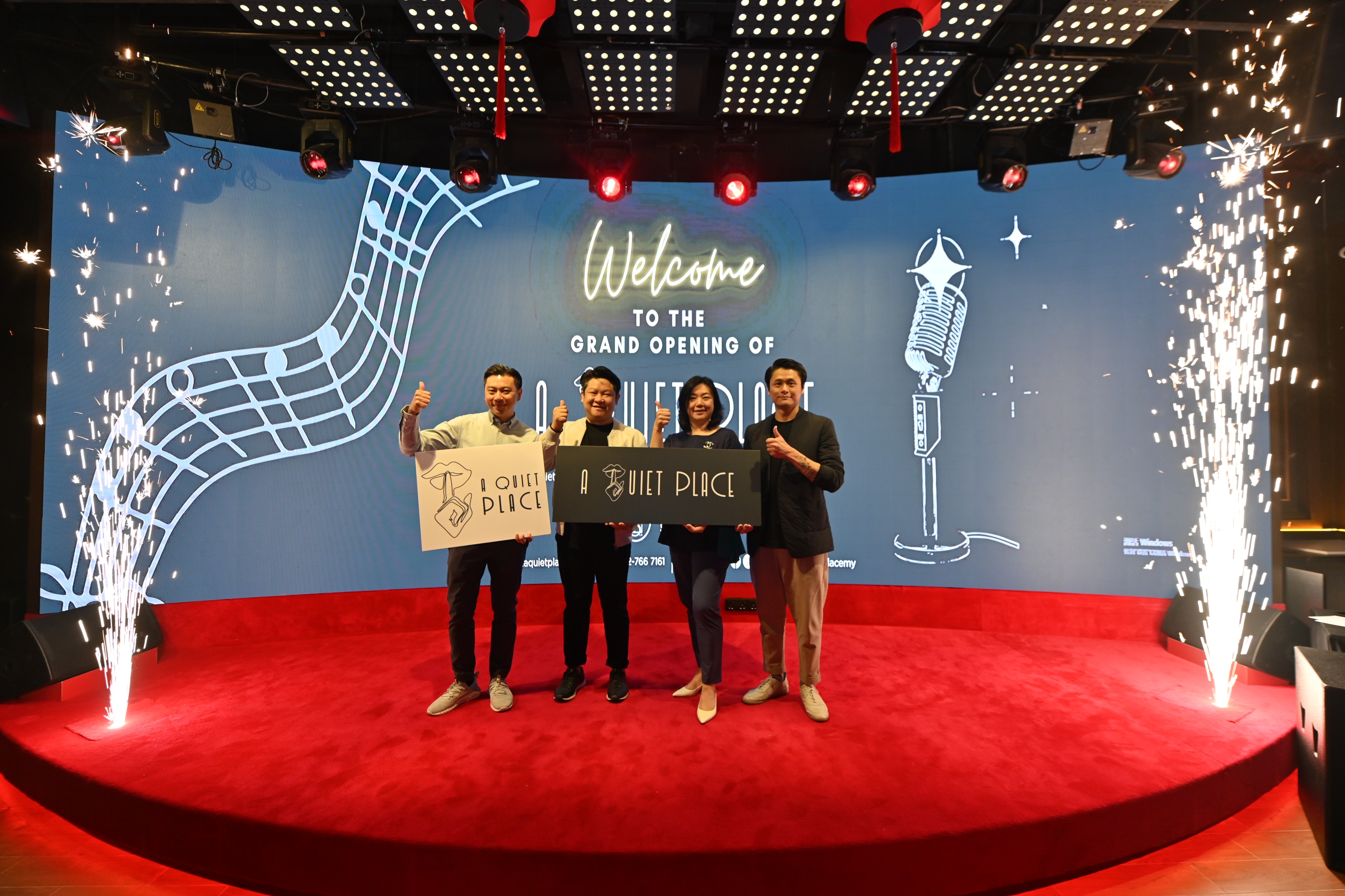 "This is a key milestone for us to bring all of our 3 brands under one roof, especially after a difficult two years with the pandemic. A Quiet Place is more than just a karaoke entertainment centre, it is also a statement of our commitment to providing our consumers with a unique and top-notch experience. From a private studio experience in Mini Studio, a spacious room in Loud Speaker 2.0 with family and friends, to singing on stage like a performer in GeTai, there is something for everyone with each experience unique in its own way", said Damien Soh, Founder & Chairman of Ottotree Group.  
As patrons walk into A Quiet Place, they will be greeted with a 70s vibe with a sophisticated and luxurious take on retro glam, providing a sense of comfort with its contemporary-minimalist appearance of high ceilings and natural light coming in through glass doors and windows. Karaoke-goers will then be transported to their respective entertainment areas, each showcasing its own signature interiors.  
At A Quiet Place, patrons can select songs from their mobile phones on demand through a web app. Consumers will have over 300,000 selections of songs from various genres to find their top karaoke picks.  
The state-of-the-art sound system by JBL and large high-definition screens are accessible in Loud Speaker 2.0 and GeTai to ensure maximum quality for the patrons to enjoy.  
Consumers in Loud Speaker 2.0 and GeTai can also order a healthy kombucha by Myboocha or enjoy the free flow of non-alcoholic beverages from the drinks bar while snacking on popcorn. Alcohol lovers will also appreciate the selection of fine organic wines and cocktails curated by their in-house sommeliers. 
Karaoke buffs can choose from any of the three concepts in one convenient place to let loose and belt it out.   
Loud Speaker 2.0 
Loud Speaker 2.0's classy yet edgy vibe will make consumers feel pumped and ready to start their own mini-concert. Perfect for those seeking a premium karaoke experience, Loud Speaker 2.0 rooms cater to a private, comfortable, and spacious environment, with the Bukit Bintang outlet being grander than the existing Loud Speaker outlets.  
The music-enhanced lighting effects available in all Loud Speaker 2.0 rooms create a high-energy atmosphere that engages the senses to amplify the overall experience of the guests. The karaoke sessions will surely be elevated with giant visual screens providing an immersive experience to the users and are available in the Opera (VIP) and Festival (VVIP) Rooms. Speaking of great parties, the Festival Room can fit up to 40 people and is suitable for private or corporate events.   
The room sizes range from 100 sqft to 800 sqft featuring 5 room types; Audition (small), Cabaret (Medium), Symphony (Big), Opera, and Festival; with 33 rooms in total including 7 Opera rooms and 1 Festival room. The booking rates start from RM 40 per hour which comes with a free flow of non-alcoholic drinks. All customers can enjoy "buy 2 free 1-hour" privileges. Additionally, existing Loud Speaker's Jom K Kakee members get to redeem free room upgrades. This promotion is subject to availability and is valid from 22 Feb to 31 Mar 2023.
Mini Studio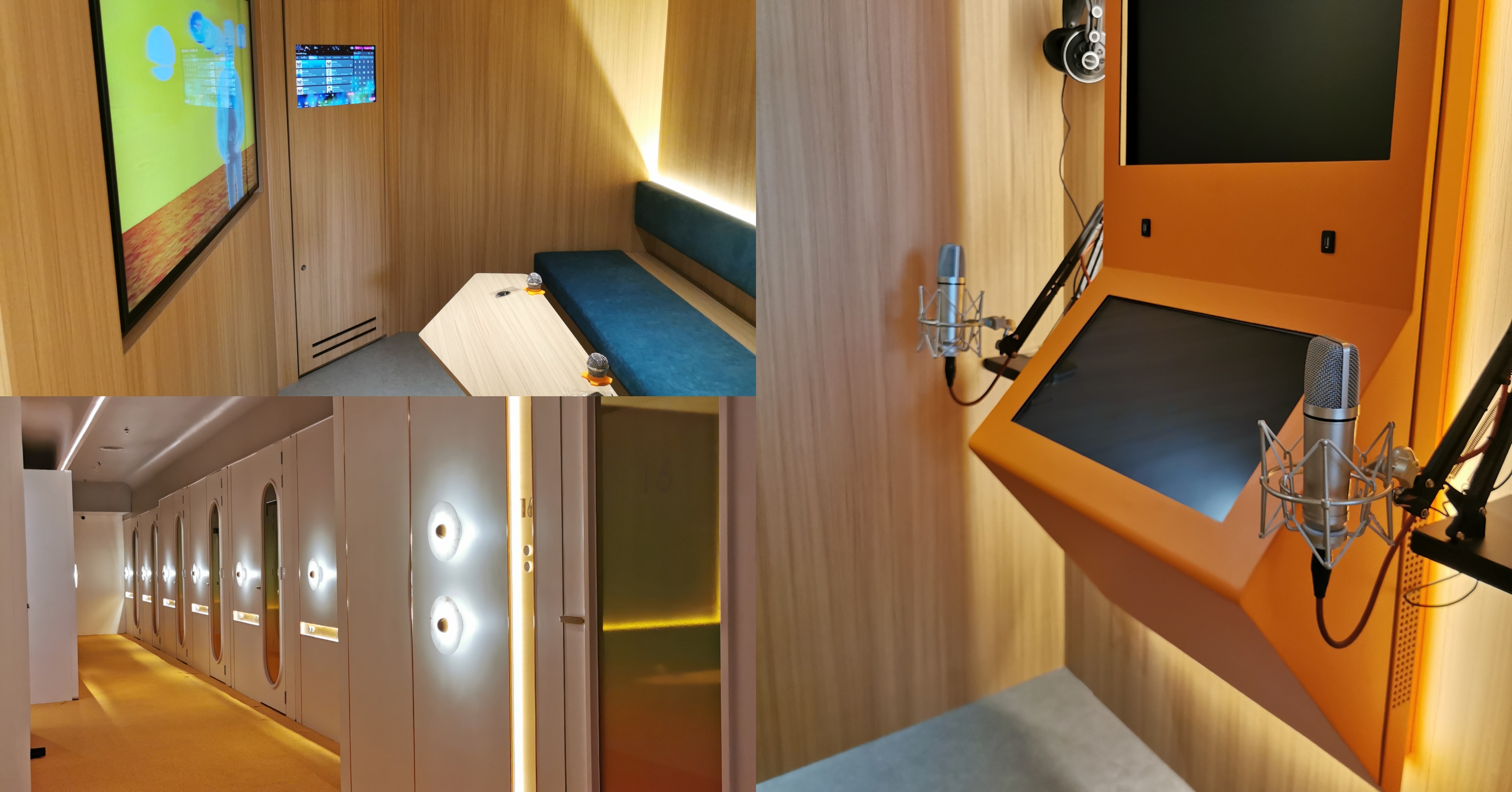 Good news for budding singers and artists alike. Mini Studio offers a real studio-like atmosphere offering the experience to sing like a recording artist. It is also the perfect place for anybody who is looking for a quick karaoke fix or getaway entertainment with a starting price of just RM 10 for 30 minutes. Now, that is an idea for the next lunch break.   
First opened in Toppen Shopping Centre, Johor Bahru, the brand has made its way for the community of Klang Valley to try this unique experience. Mini Studio has a sleek modern and clean look of a luxurious studio setting. Calm accent colours that are present mimic the professional ambience of the music industry. Additionally, ​​​​it is fuss-free with contactless check-in at the kiosks available. Once arrived, consumers can head to the kiosks to book and pay before going to the designated room. The room capacity ranges from one pax in the Duet room to eight pax in the Choir room with 23 rooms in total. 
On top of that, a Record & Share function is currently in the works. The real studio-like experience just got better because singers will soon be able to record themselves in the studio and save it for upcoming demos or even uploading to social media.  
Mini Studio is also open for franchising opportunities, and registration is now available. Potential investors and entrepreneurs can email [email protected] to find out more. 
​​​​​GeTai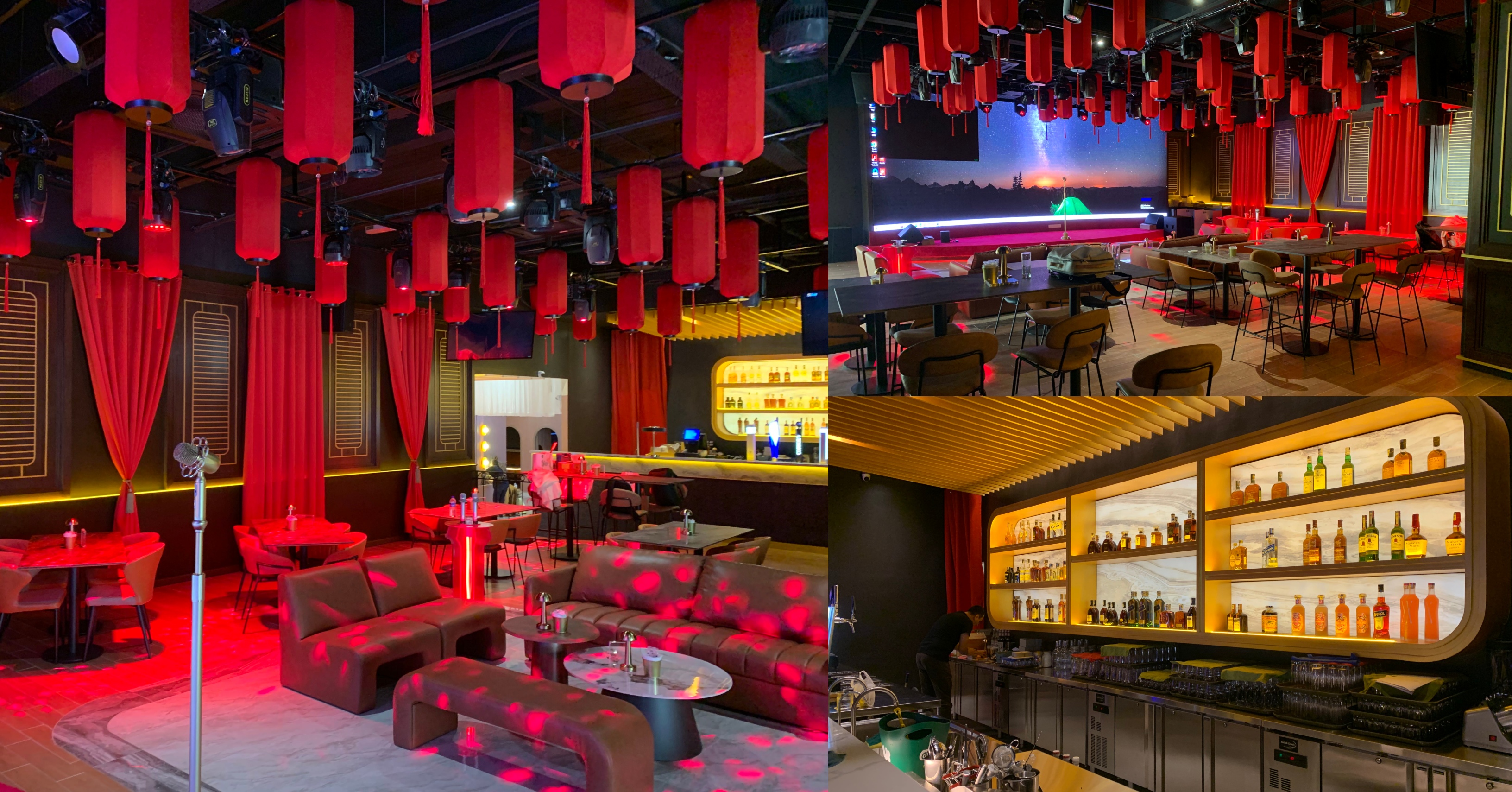 GeTai (歌台), which literally translates to "song stage" in Chinese is thought to have originated in Singapore in the 1940s. It became a popular form of entertainment over the years and has been modernized to continue its position in the entertainment world. 
If you are looking for something challenging, GeTai is the way to go. GeTai is an open mic karaoke bar that can fit approximately 100 pax at a time, offering various seating settings from bar and dining tables, to couch areas. Get ready to be transported to an old-timey Shanghai movie because GeTai's interior is an exquisite fusion of old oriental and technology with a red-carpet stage. ​Music lovers who prefer downtime can sit back and enjoy other people singing while experiencing the opulence of GeTai.​  
Singers can use their in-house app to sing and be rewarded, or reward another person for their performance. When users receive a virtual gift, it will be converted into points, and they can use it to claim prizes like MacBooks, iPhones, Apple Watches, AirPods and many more.   
In making things more convenient, Mini Studio and Loud Speaker 2.0 will launch the first online karaoke reservation system to further enhance the booking experience. With no queue, consumers can book their session anytime, anywhere, and dive right in when they arrive.   
With expansion plans in the pipeline, Loud Speaker, Mini Studio, and GeTai are set to open another five new outlets each within the coming year.  
Visit us at A Quiet Place for the ultimate premium karaoke experience. For more information on A Quiet Place, go to ​​www.aquietplacekl.com. 
Address :  
GF-003, Ground Floor, Federal Arcade, No. 35, Jalan Bukit Bintang, 55100 K.L 
Booking enquiries/contact number: +6012 766 7161 (Loud Speaker 2.0) / +6012 706 7161 (GeTai) 
#AQuietPlaceGoesLoud 
#LoudSpeakerV2 
#MiniStudioKTV  
#GetaiMalaysia