In conjunction with the premiere of the much anticipated Astro Shaw's Polis Evo 3, PUBG MOBILE, one of the world's most popular mobile games, brings to fans and players exclusive Polis Evo voice packs and in-game items with the launch of its Operasi Evo event today. 
From 27 May to 4 June 2023, players will be able to participate in the Operasi Evo Event happening in-game and redeem official Polis Evo 3 voice packs of Inspektor Khai & Inspektor Sani. Additionally, "AYUH" the official OST for Polis Evo 3 will be available as the Game Lobby Music upon launching PUBG MOBILE. Other rewards include Profile Frames, Profile Picture and Graffiti Spray which completes the full set. 
Below is an overview of all the available items from PUBG MOBILE X Polis Evo 3:
Operasi Evo (27 May – 4 June 2023)
Mission
Reward

Login 1 Day

Lobby Music – AYUH (OST Polis Evo 3)

Stay online for 30 Mins

Profile Frame + Profile Picture

Complete 3 Matches with friends

Graffiti Spray

Finish 7 Times in the Top 5

Inspektor Sani (Basic Edition) – 3 Voicelines

Eliminate 30 Enemies

Inspektor Khai (Basic Edition) – 3 Voicelines
Inspektor Khai & Inspektor Sani Voice Packs (27 May – 30 June 2023)
Item
Requirement

Inspektor Khai (Enhanced Edition) – 8 Voicelines

80 Ocean Crystals

Inspektor Sani (Enhanced Edition) – 8 Voicelines

80 Ocean Crystals
"We are excited to be partnering with Polis Evo 3 for this special in-game event. As the third installment to the incredibly popular Polis Evo franchise, this collaboration brings the PUBG MOBILE community together similarly to the brotherhood of Inspektor Khai & Inspektor Sani " says Adil Hisham, Marketing Manager for PUBG MOBILE, Malaysia
As part of the launch, PUBG MOBILE has also released an official collaboration video across their social channels. In the video, we get to see our favourite crime-busting duo on a rescue mission to diffuse a bomb. Fans will also note the special PUBG MOBILE cameo, who joins our 'supercops' in their mission. Catch the official video here.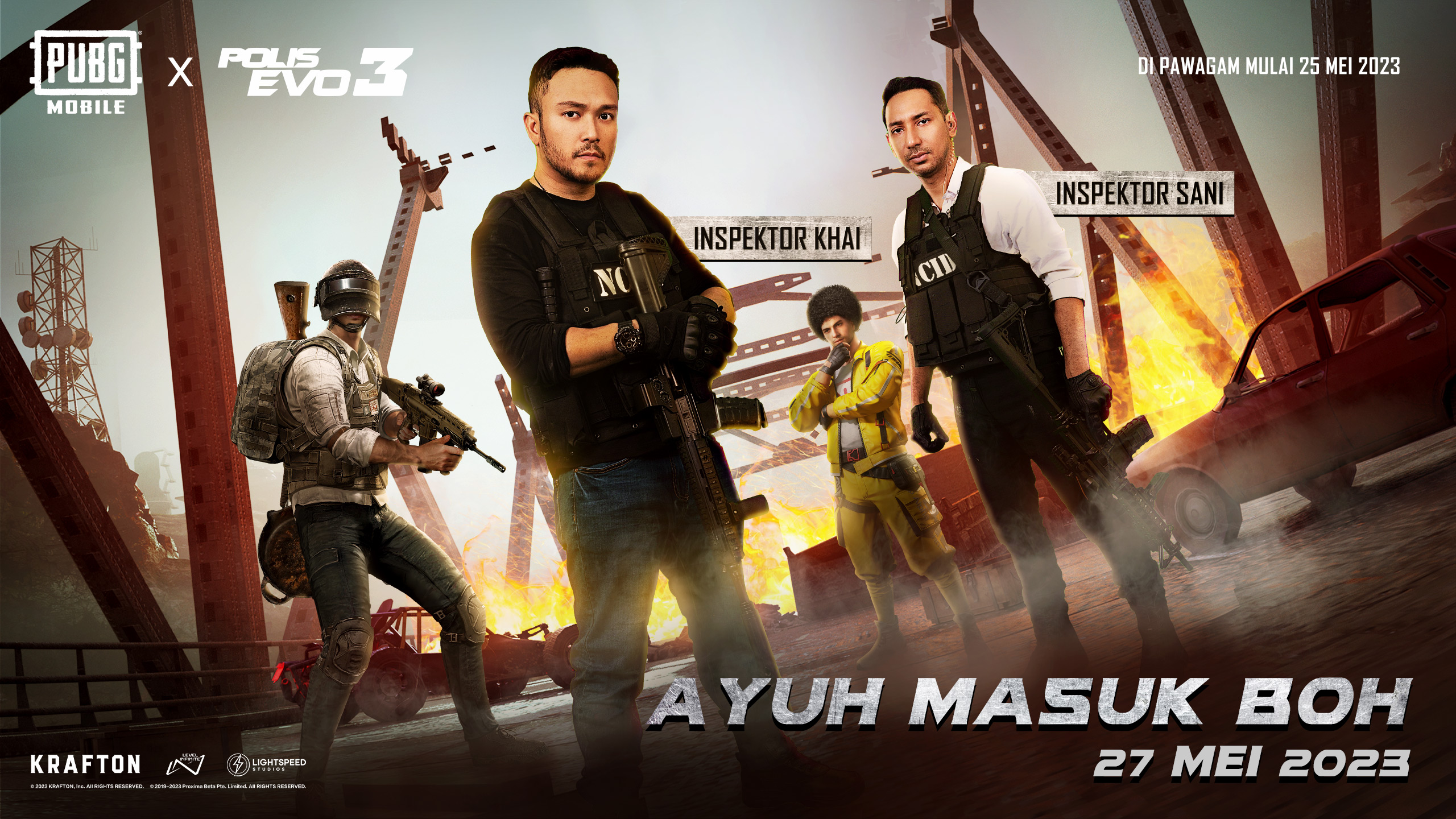 While you gear up for your own missions on PUBG MOBILE, don't forget to catch Polis Evo 3, available in cinemas now. At the time of writing, Polis Evo 3 has amassed RM3.4 million in early screenings and first day premiere sales.