Caregivers are like mothers, always giving so selflessly and never failing to provide comfort, care and love unconditionally. Caring for the well-being of their loved ones or others who they care about is always their number one priority.
As such, to show how much their selfless sacrifices are appreciated and honoured, Secret Recipe treated 25 best-performing Care Professionals comprising Nurses, Caregivers, and Therapists from Homage Malaysia to a scrumptious brunch at the brand's outlet in Tropicana Gardens Mall for Mother's Day. These Care Professionals have worked tirelessly to shower the elderly and other specialised care patients with nothing but love and patience.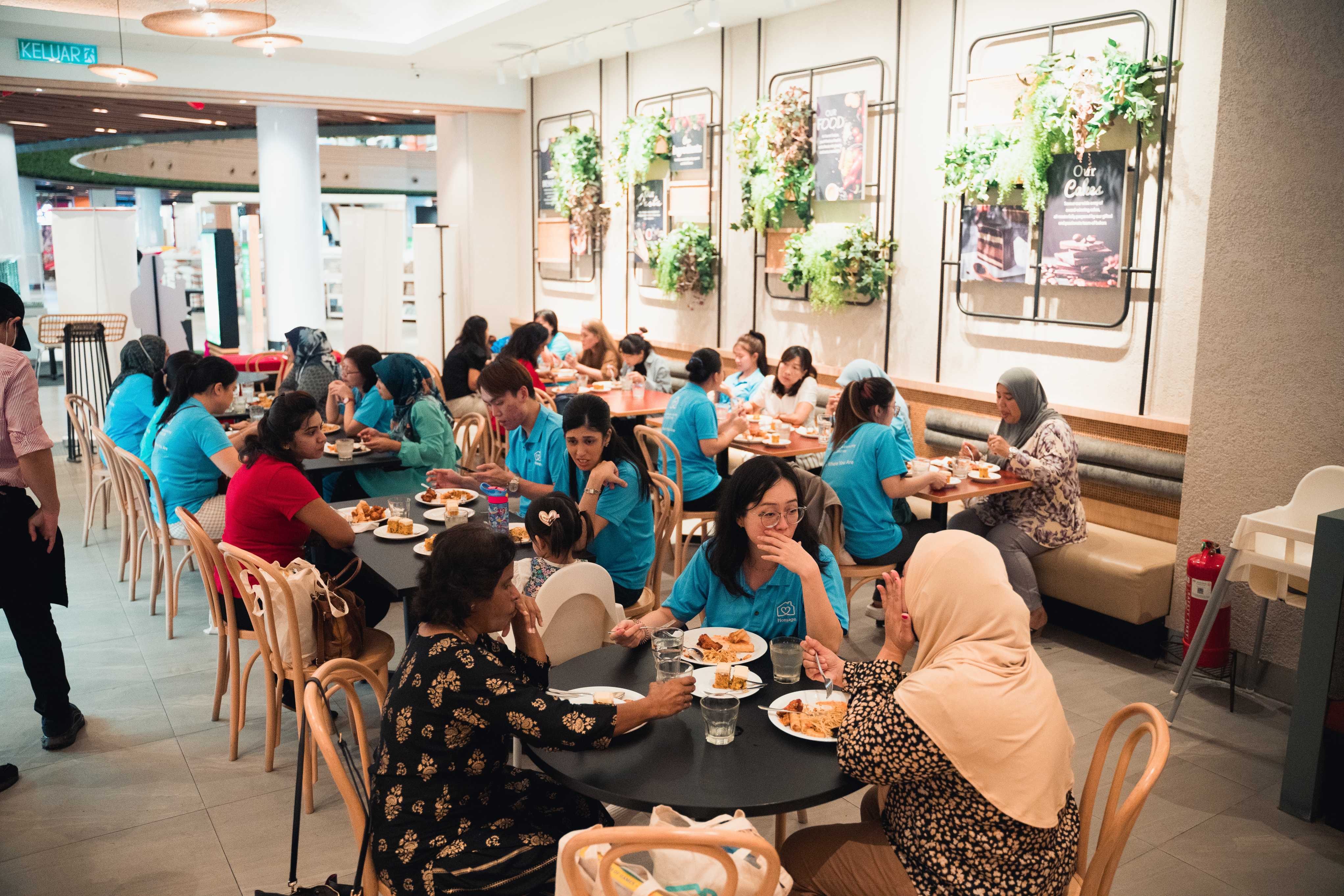 Homage is a leading care service provider that provides on-demand holistic home and community-based caregiving services to patients living with a range of mobility and medical conditions including the terminally ill and chronic patients. The Care Professionals at Homage also provide home nursing services, rehabilitation services and other forms of therapy.
They are a special community that not only help improve the quality of life for the elderly and terminally ill, but Homage also provides a platform for single mothers and other mothers from the B40 community to earn a living and have a better quality of life for themselves. These mothers especially those without prior caregiving experience are taken under Homage's wing and trained to become caregivers and subsequently given a job at Homage. 
"I truly respect and salute these Care Professionals as they give so selflessly to complete strangers who are in need of their love and care. It takes someone with a strong mind and heart to deal with elderly patients as well as those who are terminally ill and not many can even walk a mile in their shoes. As such, this Mother's Day brunch is truly important to us as it is one of the ways we are able to show how much we appreciate them and all they have done," said Evelyn Lee, Head of Marketing Secret Recipe.
This Mother's Day brunch was done as part of Secret Recipe's corporate social responsibility (CSR) initiative that continuously strives to give back to society and appreciate Malaysians who have played a part in improving the nation's quality of life. Present at the brunch were mothers from all walks of life such as single mothers and mothers who are separated.
"We are truly honoured and grateful for this brunch as our Care Professionals really deserve this treat. As we face an ageing population in Malaysia, there is a growing demand for home care and palliative care services. This makes all our staff truly valuable gems because, without them, there will be many elderly and terminally ill patients left without access to the proper care they need. As such, we would like to thank Secret Recipe for taking the time to show some love and care to our Care Professionals with this brunch," said Jeffrey Leong, Country Manager of Homage Home Care Malaysia.
He also gave an example of one of Homage's best-performing Care Professional  – Peggy Ong, who has been with Homage since 2019 and is one that is well-loved by all patients under her care. Despite being a mother of two, Peggy never fails to show up for her job and gives her 100% all the time. She finds fulfilment in caring for the elderly even in her free time, especially when her company brings joy into their lives. 
As a token of appreciation, all Care Professionals at the brunch were also presented with Care Pro kits that consisted of tools and other materials prepared by Homage meant for carrying out physical and brain activities with patients.
For more details, visit www.secretrecipe.com.my and www.homage.com.my.