The Mobile Legends: Bang Bang Professional League Malaysia (MPL MY) is back with Season 12, which will place ten qualifying teams on a huge test ‒ carrying the MI5I Malaysia mission of bringing #pantangmengalah spirit to the international arena ‒ the Mobile Legends: Bang Bang M5 World Championship 2023. This year, Malaysia will be playing host to the M5 Wild Card happening in November, which will feature eight regions vying for another spot in the award-winning international championship. 
"Malaysia has played host to several Mobile Legends: Bang Bang Esports international tournaments, including MSC 2022 and M1, and is home to a huge pool of talents that possess the capacity and ability to operate a world-class championship," stated Fikri Rizal Mahruddin, Marketing, and Business Development Lead, MPL Malaysia, "We're confident of pulling off a great esports experience for our local fans once again, and welcoming international players from abroad to compete in the M5 Wild Card."
The M5 Wild Card was introduced at MSC 2023 in June, offering two slots for more regions to participate in the biggest MLBB tournament of the year. Malaysia is one of the participating countries for the offline qualifier. The Group and Knockout Stages of the M5 World Championships taking place in the Philippines during December. MPL MY is one of the longest running esports leagues in the nation, bringing a spotlight to budding talents and industry sustainability.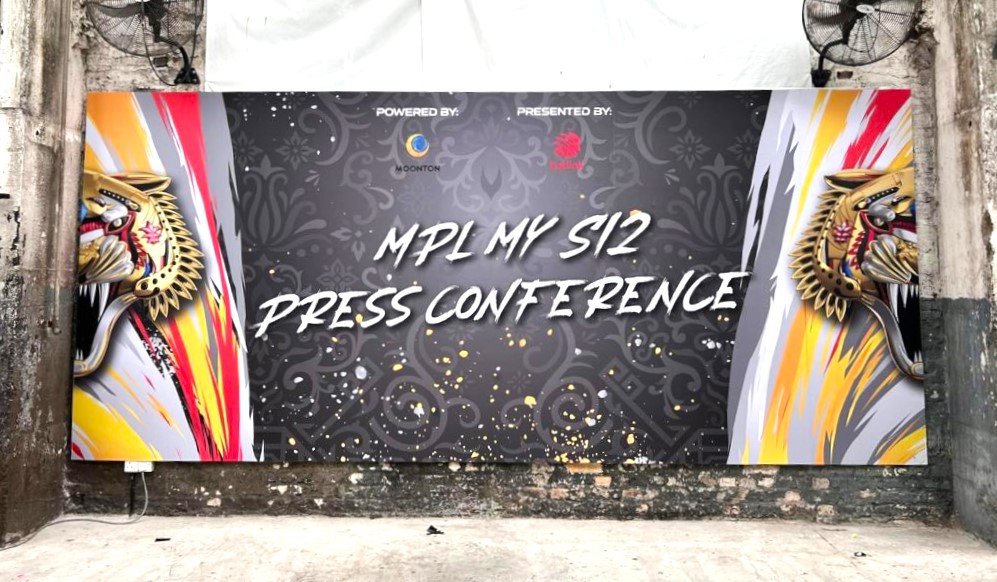 Powered by MOONTON Games, and presented by Hotlink, the press conference featuring both the MPL MY S12 launch and M5 Wild Card announcement played host to an industry panel session that was moderated by Fikri of MPL Malaysia on propelling the national esports landscape. The panel featured Simon Lim, Chairman of Selangor FC Esport at Selangor Red Giants, Nureddy "DaddyHood" Nursal, Founder of HomeBois, Fadzli Rahim, Vice President, Operations and Growth at Esports Integrated (ESI), and Silvin See, Consumer Marketing Manager for Nescafe.
Revamped arena with bigger challenges 
The new season will put teams to the test with the new emblem revamp. The gameplay update enables players to go on a more explorative angle with heroes and their respective playstyles and trigger specific effects or go beyond the conventional route of a character role. New strategies and meta are set to take centerstage this season, giving other teams to prove themselves and a chance to go from #ZerotoHero. 
This season also marks one of the biggest transfers for MPL MY, with several teams looking to invest big to win big. Some notable movements include: 
◦ Skadaga (ex-HomeBois Coach) to RSG MY 
◦ Stowm (OMG) to RSG MY 
◦ Exort (RSG PH) to RED Esports 
◦ Super Red (BLCK) and Pancake (ONIC) to RG 
◦ Z1PPY (FCON) and Kid (AI Esports) to LTX 
◦ Xorn (GeekFam), Feekz (GeekFam), and Raizel (Alter Ego) to HomeBois
◦ Matt (GeekFam ID) and Maxxx (BTR) to Team Secret 
"As the highly anticipated return of the MPL MY Season 12 approaches, we leaves no stone unturned in our preparations. With a strong focus on the fundamentals and determined efforts to strengthen our lineup, the team is ready to take on the challenge," stated SimonLim, Chairman of Selangor FC Esport at Selangor Red Giants. 
The rise of new contenders 
TODAK takes on the role of a formidable antagonist this time around with new surprises. Their roster has been hugely revamped, with Kuja joining as a Coach. Kuja, Martzy, and HazelnuT join the legendary Malaysian team's ranks. Worthy adversaries ‒ Red Giant, Team SMG, and HomeBois ‒ are set to take the MPL MY stage with their respective lineups and usurp the competition. 
Catch the teams each Friday to Sunday (with the exception of Week 6) starting from 18 August to 24 September for the Regular Season and 5 to 8 October for the Playoffs. Their journey to become #BetterThanGreat is just beginning, with the pursuit of national glory taking center stage at M5. 
The confirmed list of participating teams in Season 12 are: 
Team HAQ 

TODAK 

Team SMG 

RSG Slate MY 

Red Esports 

Team Lunatix 

HomeBois 

Red Giants Esports 

MPX NSEA 

Team Secret 
During the Regular Season, all 10 teams will play a BO3 with every other team in the league. The competition ranking is determined by the number of points garnered by the teams, with the Top
8 remaining and retaining their slot for the next season of MPL Malaysia. 
Home ground levelling up 
The battleground for MPL MY S12 is levelling up, with all teams set to compete at Dewan Sri Putra, Bukit Jalil accomadating up to 600 pax. Walk-ins are welcomed, with seat reservation schedules released a week before each Thursday. Viewers can lock in their seats in advance with the official licensing ticket partner,Ticket2U. Fans can enter MPL MY S12 for free, and support their teams without hesitation!
Dates 
| | |
| --- | --- |
| Regular Season Week 1 | 18 ‒ 20 August |
| Regular Season Week 2  | 25 ‒ 27 August |
| Regular Season Week 3  | 1 ‒ 3 September |
| Regular Season Week 4  | 8 ‒ 10 September |
| Regular Season Week 5  | 15 ‒ 17 September |
| Regular Season Week 6  | 23 ‒ 24 September |
Stay up to speed with all MPL MY 12 updates and esports action with the all new Hotlink Prepaid that comes with unlimited internet and Mobile Legends: Bang Bang rewards! This season brings strategic partners, such as Asus ROG, Garnier Men, Nescafe, Mister Potato, Head & Shoulders, Osim, Super Sunday, Astro Arena, Esports Integrated and TikTok to the MLBB battleground. 
For more updates on MPL Malaysia, please like and follow the social channels below:
MPL MY Facebook 

MPL MY TikTok 

MPL MY Instagram 

MPL MY Website