Exclusively at FIVE GUYS. There are over 250,000 different burger combinations and also 1,000 different milkshake flavor combinations, the sky's the limit! This is definitely an interesting feature that a lot of people would love when they are ordering.
Let Your Creative Juices Flow
At FIVE GUYS, we believe that the juice from our tender beef patties should not be the only one flowing. We encourage creativity as you build the burger or sandwich of your dreams by exploring different combinations and taste profiles based on your unique preferences. Having the freedom to choose from over 15 free toppings, customers have an abundance of combinations to indulge in – precisely 250,000!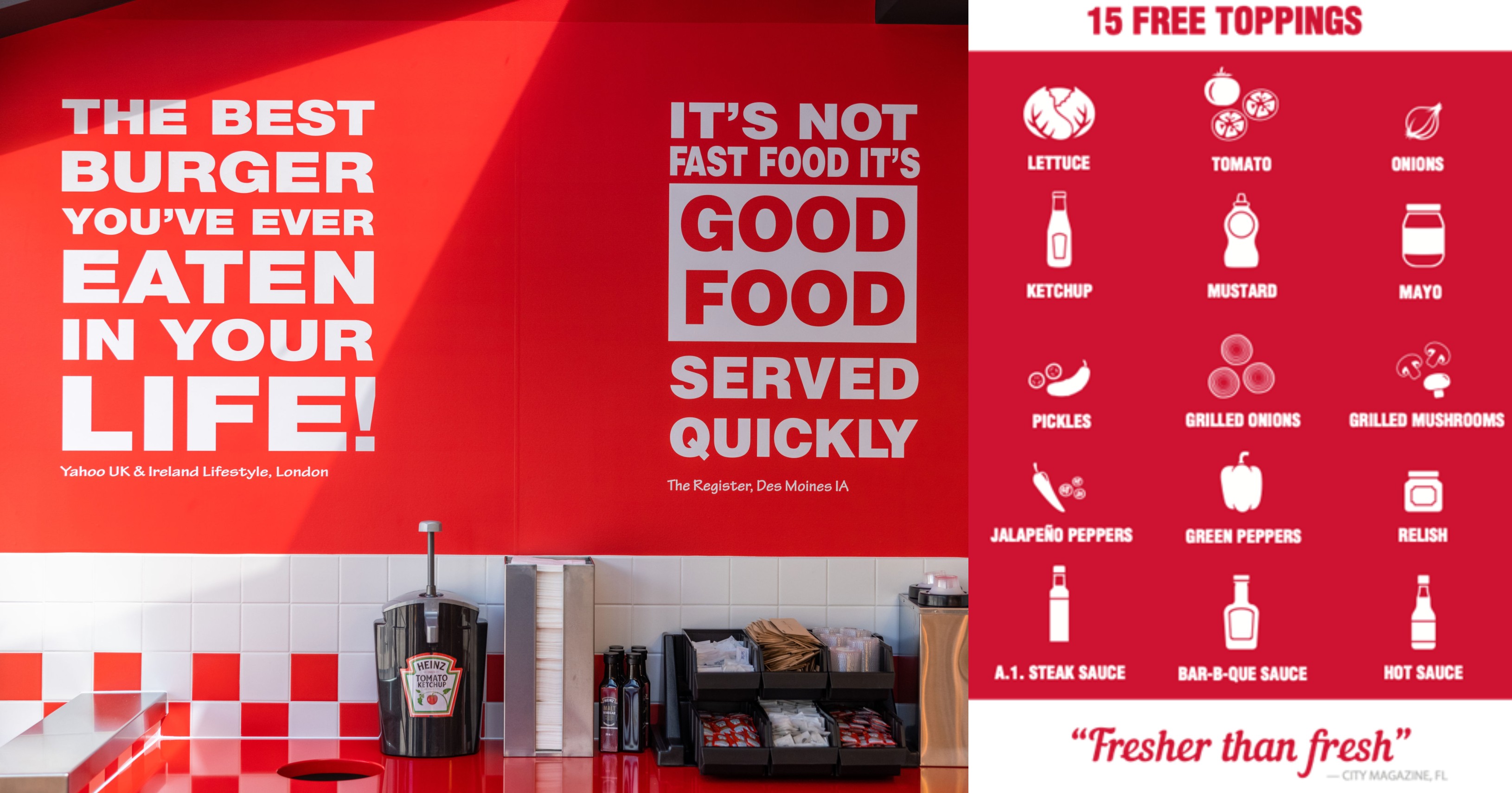 FIVE GUYS hits the right notes on every taste receptor on your tongue:
Bitter

– Lettuce, green peppers, and other fresh produce cut and chopped in store

Salty

– American cheese

Sour

– Mount Olive pickles, pickle relish, perfect for our burgers and hot dogs

Sweet

– Proprietary bread recipe baked fresh and delivered to the store daily, slightly sweeter than most buns

Umami

– 100% beef burgers and dogs, mushrooms, and grilled onions
FIVE GUYS Secret Menu?
Legend has it that FIVE GUYS have a "secret menu" but the truth is, it's nothing more than being creative about what you order!
Can't take the heat? Try grilled jalapeños. Bored of the mundane condiments? Complete the sauce trifecta by coupling ketchup with mayo and relish! Want some extra cheese? Say 'cheese' because it's free!
Handpick from our copious range of ingredients and try something new each time. Here are some of our favorites which are packed with a punch:
Cheeseburger with mayo, relish, mushrooms, ketchup, and lettuce

Hamburger with pickles, tomatoes, grilled onions, jalapenos, and A1 sauce

Cheese hotdog with ketchup, mustard, grilled onions, lettuce & tomato, relish

Grilled Cheese with a patty and jalapenos – the patty melt!
FIVE GUYS' Fresh Fries
That's right. Our fries are cut fresh every morning in store. They are rinsed and soaked to remove starch and then cooked in peanut oil which is a healthier option and allows for a higher temperature fry without the oil smoking. This allows us to provide you with the perfect fry, mashed potato consistency inside, and firm, perfectly browned outside.
While they taste heavenly straight from the fryer, FIVE GUYS Style, customers can choose to spice it up by requesting for Cajun Fries. Ketchup, mayo, and vinegar are always on hand for dipping.
Creamy Milkshakes With a Twist
Pairing your burger and fries with a milkshake is a match made in heaven. Starting with delicious and creamy vanilla as the base of your shake, toss in one or more of our mix-ins and say cheers to a heartening meal! Our 8 free mix-ins range from fresh fruits like strawberries and bananas to sweet chocolate and salted caramel and amount to 1,000 unique flavor combinations.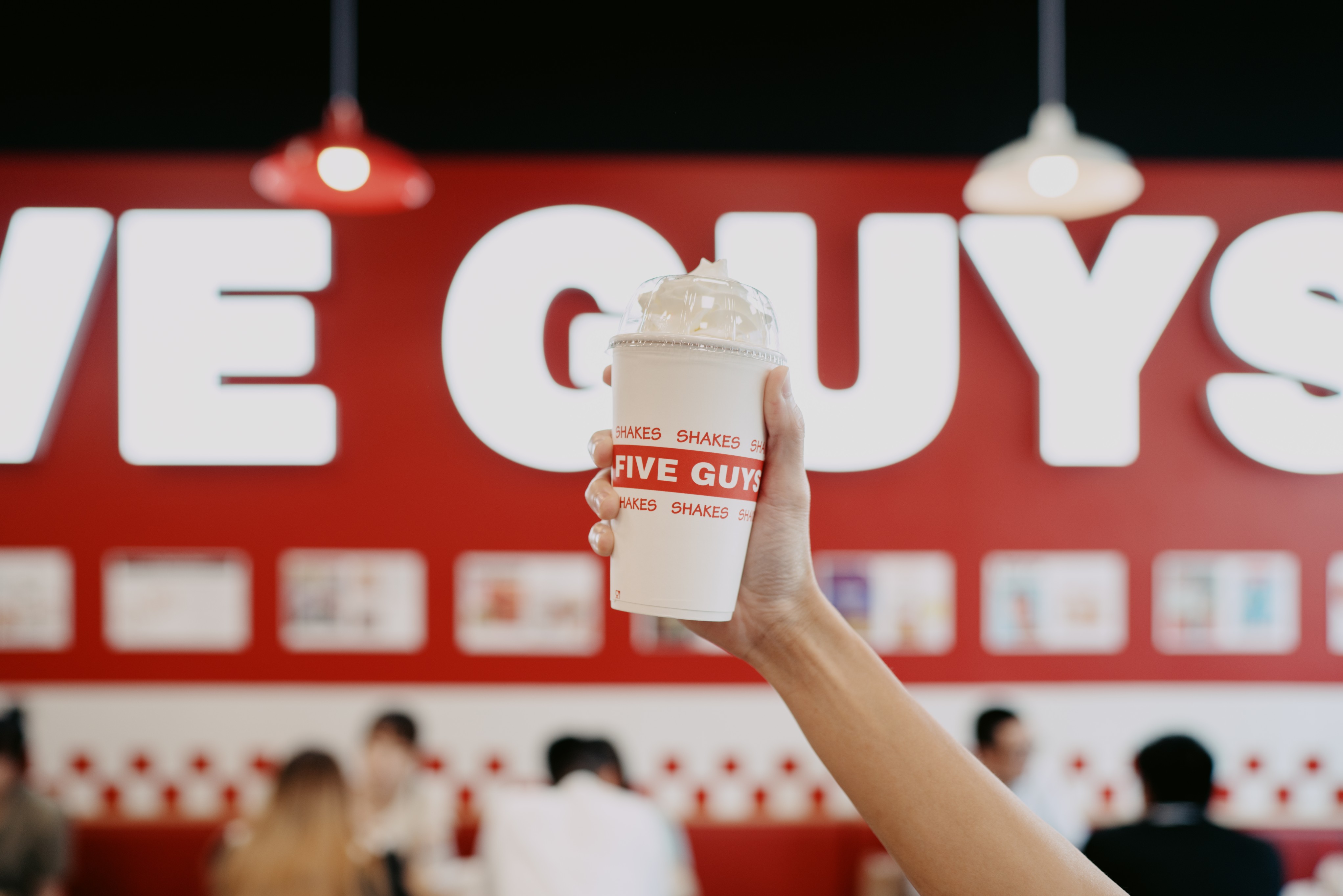 Some of our favorites include:
Oreo and Strawberry

"Snickers" – Salted Caramel, Malt, Peanut Butter, and Chocolate
Five Fun Facts About FIVE GUYS Customisation
Want to go on a keto diet? Switch up our burger buns with lettuce leaves which gives a crunchier and fresher twist to your burger.

Hankering for the best of both worlds in your milkshake? Try a banana with oreo cookie pieces for a fruity, crunchy shake.

Ask our friendly staff to add some of the cajun spices from our fries to spice up your patties and enjoy!

For the thrill-seekers and the daring, we recommend mixing peanut butter, salted caramel, and chocolate. You may just fall in love with this unconventional twist!

FIVE GUYS support equal fries rights for ALL! FIVE GUYS fries are cooked in 100% peanut oil and perfectly suitable for vegan and gluten-free diets.



FIVE GUYS Genting
Location: Lot SA – T2A – 25, Sky Avenue, 69000 Genting Highlands, Pahang, Malaysia Opening times: 11 am to 10 pm daily
FIVE GUYS Pavilion Mall
Location: Pavilion Kuala Lumpur, Level 3 Lot C3.06.01, 168 Jalan Bukit Bintang, 55100 Kuala Lumpur, Malaysia
Opening times: 11 am to 10 pm daily