As Muslims nationwide are observing the holy month of fasting, Goodday Milk is introducing its latest edition of kurma milk in collaboration with Siti Khadijah, an award-winning brand that provides an extensive range of Muslim wear outfits, for a fulfilling buka puasa this Ramadan that reflects on the unity and purity of the month. 

Specially produced for Ramadan and Hari Raya, Goodday Milk launched its exclusive limited edition kurma milk with Siti Khadijah who also co-designed its packaging to emulate a premium yet minimalist look and feel. Produced with high quality and real kurma extract that goes well with the goodness of milk to create the ideal Ramadan pairing with one of the sunnah foods favored by Muslims everywhere, this rich beverage will undoubtedly satiate your appetite and satisfy your tastebuds with every sip of its creaminess.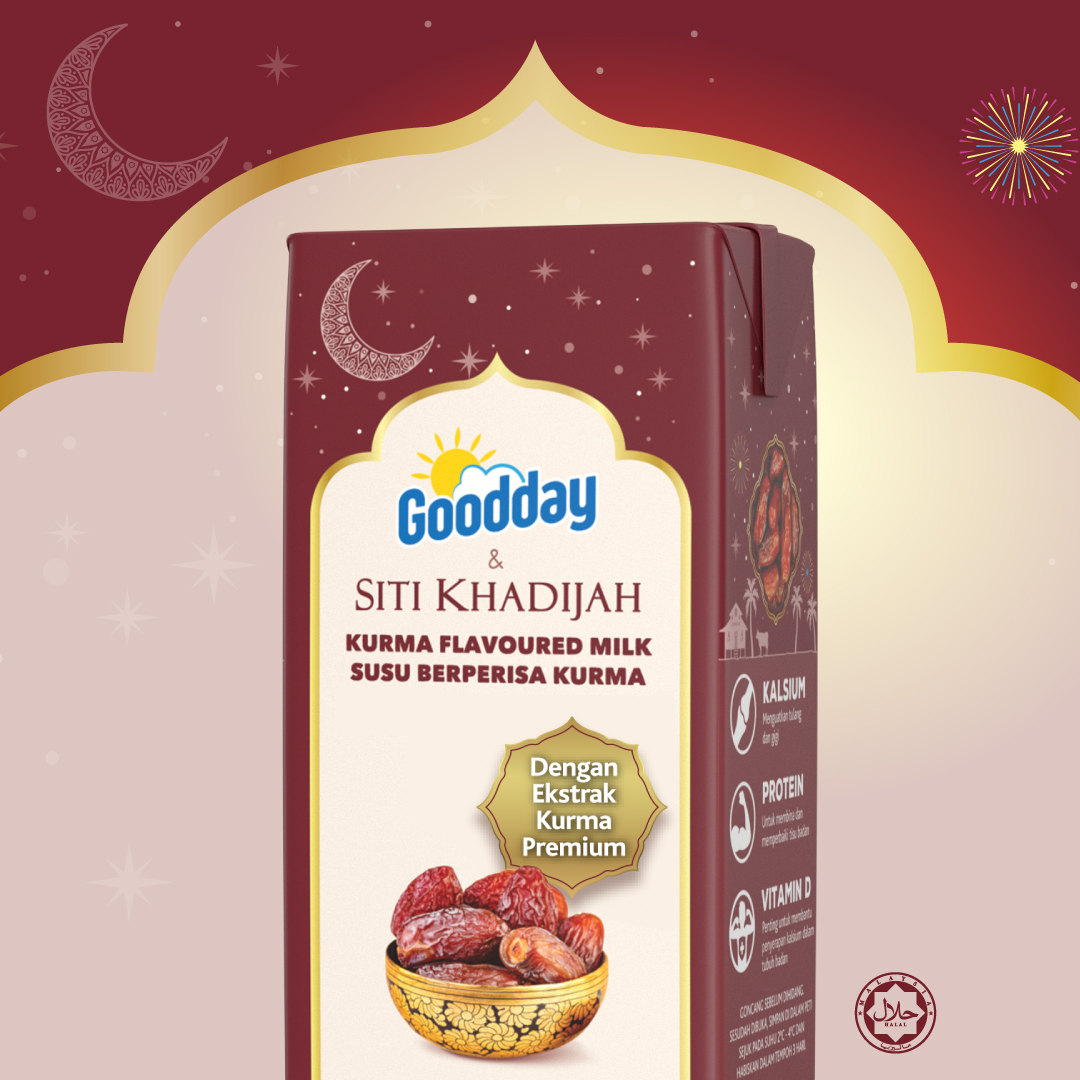 As the exclusive convenience store partner, Goodday x Siti Khadijah Kurma Milk is now available in all 7-Eleven outlets in Peninsular Malaysia (except Langkawi) for a limited period. The power-packed milk beverage comes in a 250ml packet which provides convenience and is easy to carry for people on the go. Additionally, to avoid the rush hour and enjoy the drink in the comfort of your own home, Goodday x Siti Khadijah Kurma Milk will be available on e-commerce platforms including Shopee Supermarket and Foodpanda from 27 March onwards.
Amy Gan, Vice President of Marketing of Etika Sdn Bhd, shared that Siti Khadijah is well-known as a brand dedicated to elevating Muslim fashion that incorporates Islamic intricate designs inspired by the Malay cultural heritage. "We believe that partnering with a local brand close to the heart of the Muslim community will give our partnership more significance and relevance, hence we wanted to introduce something new and bring excitement through our exclusive product offering and engaging promotions."
"For any festive season, we do our best to cater to the needs of our customers by providing them with exclusive merchandise that encompasses different cultural aspects be it in the design or flavor to be a part of their celebration. Dates are often associated with Ramadan and are known to be rich in vitamins, hence with this meaningful collaboration, we aimed to create the perfect match by pairing Goodday Kurma Milk with Siti Khadijah, a respected and well-loved ibadah brand by the Muslim community," said Amy. 
Mohammad Munzir Aminuddin, Group Chief Executive Officer of Siti Khadijah Group shared that as a brand that caters to Muslim-wear and lifestyle products, they are honored to be able to work hand-in-hand with Goodday Milk as it allows the brand to make its first appearance in 7-Eleven – a convenience outlet known and visited by many. "Siti Khadijah takes great pride in its exceptional product designs, and seeing it available across Peninsular Malaysia in a convenience store that is frequented by many is another step closer to our mission to expand and reach a larger group nationwide."
As one of Malaysia's favorite milk brands since 1968, Goodday Milk is dedicated to providing Malaysians with flavourful milk beverages that are packed with nutrition to complement a healthy and balanced diet. 
"Collaborations with like-minded partners are instrumental to driving success as it enables us to not only innovate but also learn from one another as we exchange ideas and discourses to reach a larger target market while building our vision and mission together. We hope to build and form more significant collaborations for years to come," concluded Amy. 
Goodday Milk & Siti Khadijah will also be having exciting contests as part of its collaboration with 7-Eleven, Shopee Supermarket, and Foodpanda where you can stand a chance to win exclusive prizes from Siti Khadijah and cash vouchers! Hurry to the nearest store and grab your Goodday x Siti Khadijah Kurma Milk now! 
To find out more about Goodday x Siti Khadijah Kurma Milk and its latest promotions, please visit https://www.etikaholdings.com/ETIKA%20html/campaigns/GooddayxSKkurma.html