The harvest season from Australia is back once again to provide Malaysians with the chance to enjoy some juicy and bright-colored table grapes that pack a great punch. The campaign was launched today by Grown in Good Nature, a horticulture sub-brand by Hort Innovation for all international trade marketing programs, to signify the start of the season that generally runs from November to May with the peak export period running from January to May.
Available in more than 40 varieties, the Australian table grapes are best known for their rich flavor, taste, and plumpness. These table grapes are usually red, black, or green in color and are categorized into two – seeded and seedless. Thompson Seedless, Flame Seedless, Crimson Seedless, and Red Globe are among the four most popular types of table grapes.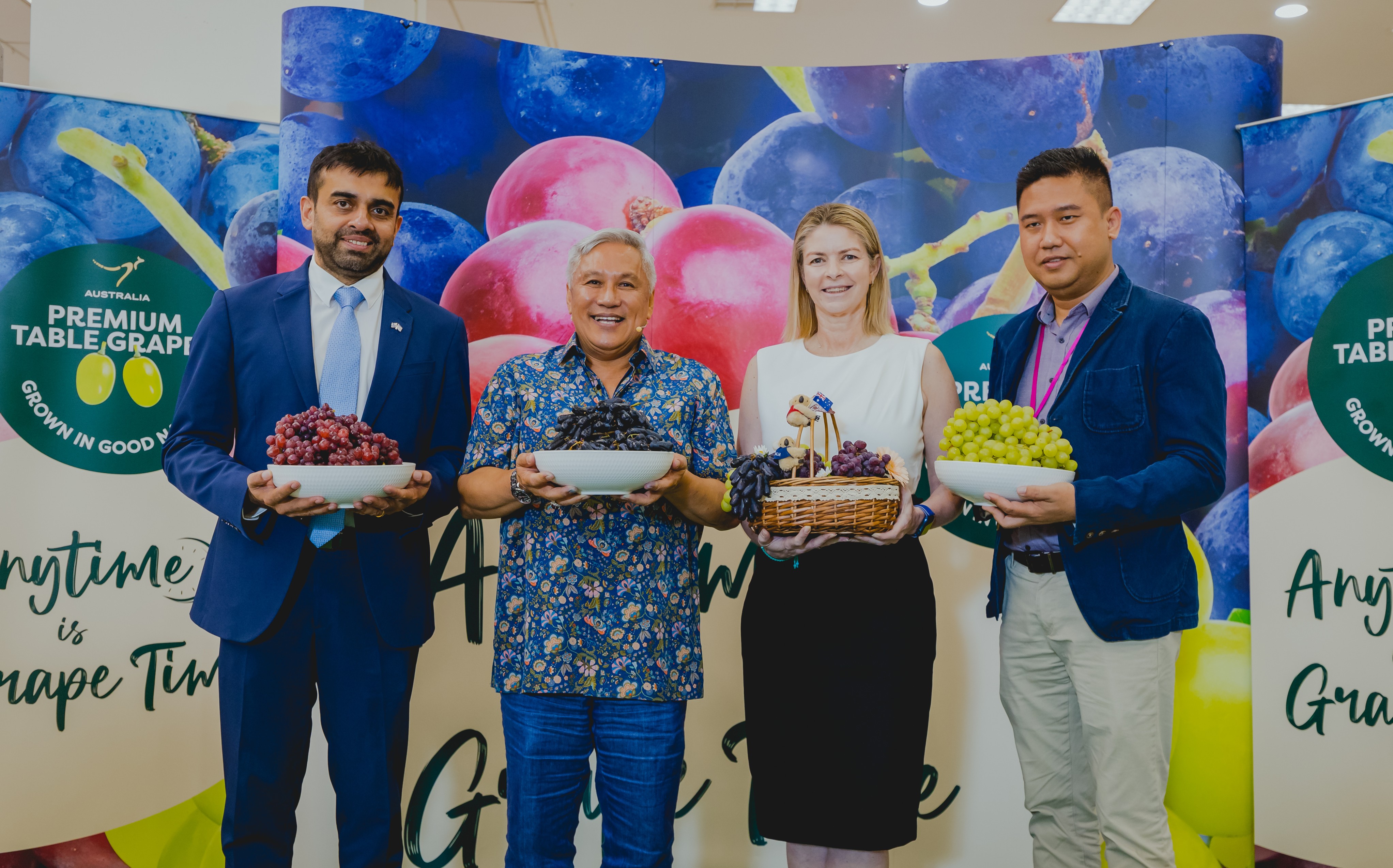 Melanie Harris, Trade and Investment Commissioner of Malaysia and Brunei, shared that Australian table grapes have the highest fresh fruit horticultural export. "Our precious grapes are exported to over 42 countries around the world. In Malaysia alone, our exports of table grapes have been gradually increasing with more and more Malaysians creating a demand for it. We foresee these numbers continuously growing in the months and years to come."
Australian table grapes are also the perfect anytime snack. Add these fruits into your daily diet and be sure to get your much-needed antioxidant boost. Grapes are also known for being great for the eyes, protecting healthy retinal cells from damage, and helping to stabilize blood glucose levels after a meal. Table grapes are also rich in phytonutrients, such as resveratrol, quercetin, anthocyanin, and catechin. These jam-packed precious fruits are a good source of vitamin C and Vitamin B6 that helps prevent heart diseases by inhibiting the build-up of plaque in coronary arteries and inhibiting the growth of some cancers.
Made from approximately 80 percent water and containing high amounts of fiber, not only do grapes hydrate, cleanse, and detoxify active bodies but they also help keep your gut healthy.  What makes Australian table grapes even better is it's a great source of long-lasting energy and a perfect pick-me-up when you are peckish because of their low glycaemic index (GI) and they are both fat and cholesterol free. Truly a guilt-free snack!
The recent launch of the  Australian table grapes campaign at AEON Mall, Kepong saw the attendance of the inimitable Datuk Chef Wan who highlighted the different pairing options for Australian table grapes before demonstrating one of his very own recipes which incorporates the fruit. "Grapes are so versatile and pair well with a large variety of specialty cheeses such as brie, blue cheese, ricotta as well as nuts. They can be the perfect addition to a sweet or savory recipe for a refreshing twist. To further add, grapes are also perfect for children as they are bite-sized, easy to pack, and incredibly sweet."
Australian table grapes are produced in the premier grape-growing region of Sunraysia (Mildura and Robinvale) in Victoria and throughout South-Eastern Queensland. Other growing regions include Carnarvon and the Swan Valley in Western Australia, the Riverina district in Central New South Wales, the South Australian Riverland, and the central Northern Territory. 
When selecting grapes, the freshness of the fruit can be seen from the green stem and the presence of powdery white on the skin called bloom. Grapes that have bloomed are generally picked more recently and had very little contact with moisture, which means it was transported through an efficient cold chain. Also, another top tip when selecting green grapes is to choose a bunch with a golden tint, as this means they are sweeter in flavor.   
At the moment, all trade efforts of Grown In Good Nature are being delivered through Australia's grower-owned Research and Development Corporation, Hort Innovation, with AUSTRADE. This campaign is aimed at highlighting the wide range of varieties, quality as well as the freshness of Australian table grapes to the Malaysian community. Australia's deep, rich soils and warm, dry summers provide growers with an excellent environment for them to produce world-class table grapes.
To get your hands on this much-loved Australian fruit, head down to participating supermarkets including AEON, Jaya Grocer, TFP Retail, Lotuss, GCH Retail, Whole Foods Express, and Star Grocer to enjoy their sweet and perfectly fresh taste.
For more information, please visit the website, https://australiangrapes.com.au/consumer/.