Miaow Miaow, Malaysia's much-loved homegrown snack brand is back again to evoke nostalgic memories of our childhood with their five classic flavors, namely the Cuttlefish Flavoured Crackers, Chicken Flavoured Crackers, Prawn Crackers, Potato Chips, and Green Peas Snack. The campaign, "Iconic Miaowments" was kicked off by Jason Ch'ng, Chief Operating Officer in Mydin Subang Jaya this morning will be followed by an exciting roadshow that will run from today till Sunday, 5th March 2023.
Commenting on this, Mr. Jason Ch'ng said, "The concept behind our roadshow here in Mydin is inspired by our humble beginnings in the 80s. Most Malaysians would probably remember us as the snack that they munched on while they were kids or even shared with their loved ones. Through this roadshow, we hope to provide attendees and visitors the chance to relive their childhood while enjoying our snacks, hence why we have chosen to bring back some traditional and classic games such as Hopscotch, sand art, and more."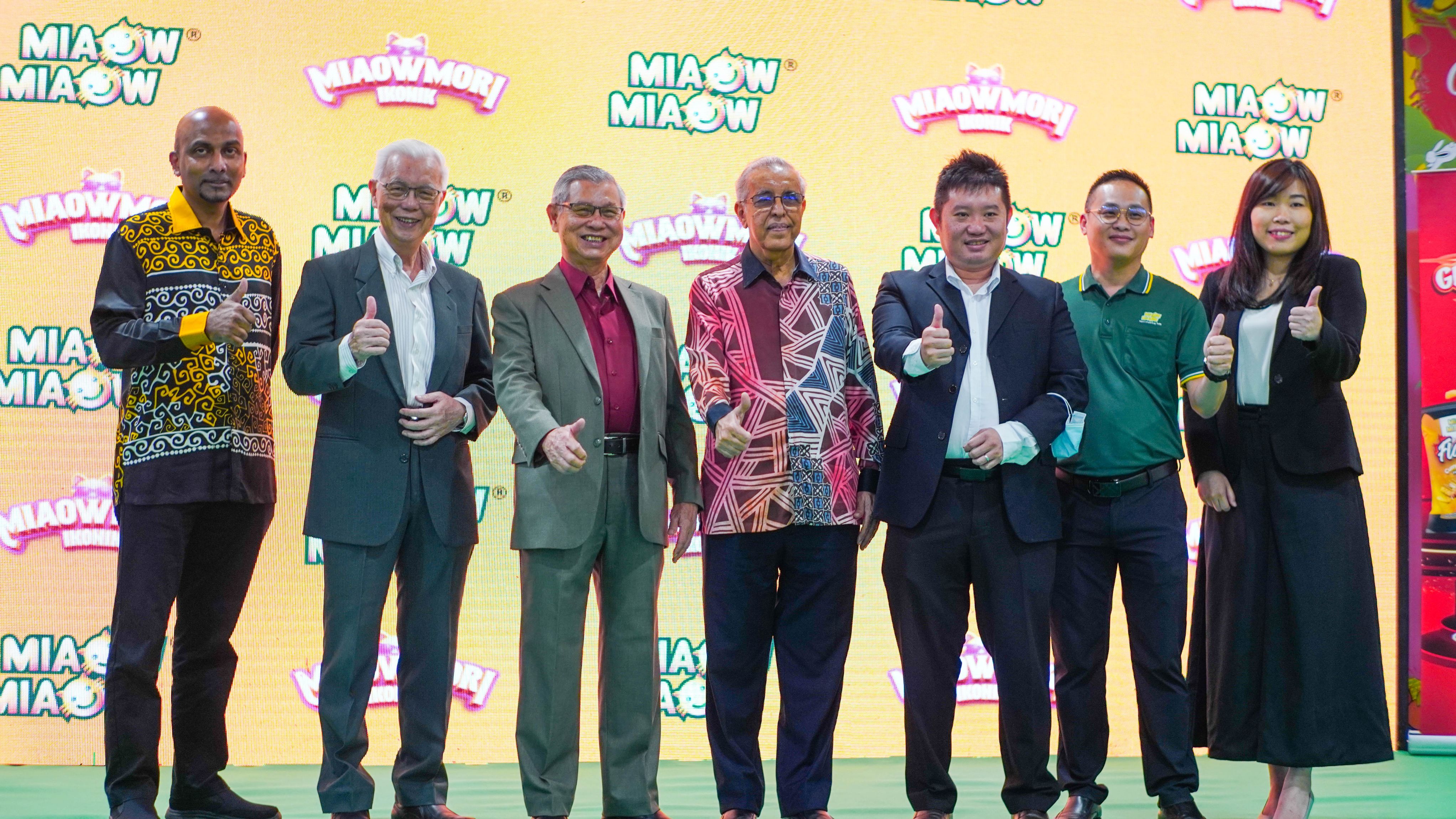 Aside from officially launching the "Iconic Miaowments" campaign, they also took this opportunity to unveil their latest video titled, "Iconic Miaowments" which highlights the evolution of the main character and how Miaow Miaow has accompanied her and her friends throughout their childhood along with all the memorable games and happy moments together.
"This brand has come a long way from when we first started in 1989 and now, we are immensely proud to share that we are available in nearly 40 countries worldwide, with Saudi and China being one of our biggest markets. Aside from that, we are also exploring opportunities to tap into more markets and hope to introduce more new varieties in the near future," added Mr. Jason Ch'ng.
The brand's core purpose has always been to enrich consumers' lives with some "heartmiaowting" taste and provide them with a sense of familiarity from their good old childhood days. Through all that Miaow Miaow does, the brand believes in enriching people's lives by offering a wide variety of delicious and quality snack that suits different lifestyle and cultures while also allowing consumers to seek happiness through continuous learning, growth, and achievements.
Some of the best-selling snack options that were featured at the event were:
Prawn Crackers

– Made with prawns and stored at low temperatures to retain their freshness, this snack is delicately roasted to ensure there is authentic prawn flavor with every crunch.

Potato Chips

– Rich in potato taste that satisfies your cravings and gives you a delightful experience.

Green Peas

– If you love green peas, you will definitely love this one! These green peas are uniquely shaped for you and your family to enjoy.

Chicken Crackers

– Your classic childhood taste that enables you to reminisce or create fond family memories. Enriched with rich chicken taste in every bite.

Cuttlefish Crackers

– A flavourful cuttlefish snack that will leave you wanting more.
"Mydin was the ideal partner for this roadshow because of our common traits – being a Malaysian brand with over 60 years of heritage and a strong presence across Malaysia. We are extremely proud and grateful to have the opportunity to work alongside Mydin," concluded Mr. Jason Ch'ng.
Having first established themselves in Batu Pahat as a family distribution business, Miaow Miaow specializes in manufacturing, supplying, and exporting various snacks, selling at an affordable price that suits all age groups with different lifestyles and cultures in countries around the world. 
Other than Mydin, Miaow Miaow snacks can be purchased at leading supermarkets, hypermarkets, and some of the traditional trades such as Aeon, Aeon Big, TF Value, The Stores, Econsave, and others.