vivo, a global leading technology company, has launched its latest and stylish addition to the vivo V series – V27e with powerful camera capabilities. vivo V27e is equipped with an outstanding 64MP OIS Ultra-Sensing Camera, an Aura Light Portrait feature, eye-catching colour designs and an ultra-thin grip. 
vivo V27e is a lightweight, stylish phone which combines functionality and style for users looking for a better all-around photography experience. The 64MP OIS Ultra-Sensing Camera at the back of the phone with the Aura Light Portrait feature improves the portrait image quality by integrating optical photography and computing photography to make images stand out. The Hybrid Image Stabilisation (OIS + EIS) allows users to take videos with bright and clear details in dimly lit environments. The new colours offered on the smartphone are richer and more engaging, with each one offering a different visual experience. On the inside, the 6 nm MediaTek Helio G99 chip provides solid, energy-efficient performance.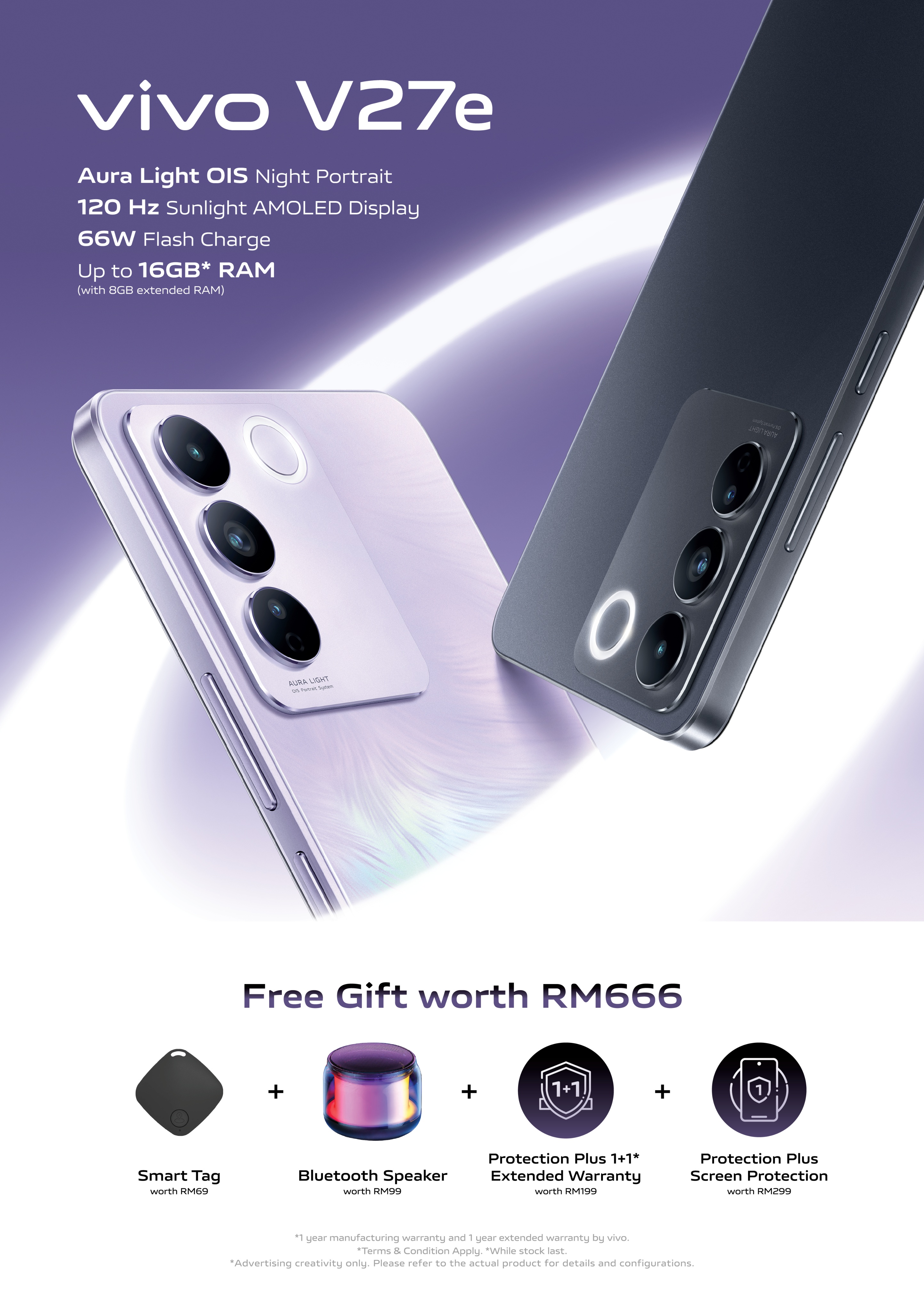 "With its eye-catching appearance and outstanding image capabilities, vivo V27e allows users the power to capture special, aesthetically pleasing moments. To achieve this, vivo constantly strives to develop leading technology in its smartphones to improve performance in a slim design," said Mike Xu, Chief Executive Officer at vivo Malaysia. "The V series smartphones are also well-known for their aesthetic beauty and vivo has continued this strong tradition with an amazing range of colours for vivo V27e. Looking ahead, vivo will continue to push the boundaries with its smartphones to ensure users enjoy the best experience."     
Intelligent, outstanding cameras ensure glamour portraits
Combining functionality with intelligent, outstanding cameras, the Aura Light Portrait feature provides natural night portraits, thanks to its ultra-sensing rear main camera, studio-level soft lighting effect and portrait-enhancing capabilities. The Aura Light and Portrait Mode work in tandem to help the camera light up faces for great portraits at night and help users record beautiful moments. ​ 
In addition, the 64MP OIS Ultra-Sensing Camera on the back of vivo V27e offers a more prolonged exposure and increases light intake by six times, producing more stable snapshots, and boosting the quality and success rate of images taken in low-light conditions. The 32MP front camera takes clearer selfies with richer details for a poster-like image. Users can also enjoy the multi-style portrait system which offers different templates ​to personalise images taken on the front and rear cameras. 
Creating brighter videos has never been easier
Users can now shoot brighter, more dynamic, detailed videos thanks to the Hybrid Image Stabilisation (OIS + EIS) found in the vivo V27e. The Hybrid Image Stabilisation (OIS + EIS) can perform stabilisation computations and movements up to 10,000 times per second, giving users smoother, more stable and clearer footage. 
The Vlog Movie Creator feature offers a new one-stop video creation experience, providing 26 templates with rich video effects to show users how to shoot objects, people, or landscapes, along with real-time guidance for camera movement. The Vlog Movie Creator also enables users to edit videos efficiently with a built-in time slider, allowing users to easily crop and delete redundant segments of videos. To match the look of professional vloggers, it also comes with portrait optimisation to enhance skin texture, focus, lighting and stabilisation, to ensure subjects in the video look their best.  
Vibrant colours delight and surprise users
vivo V27e pays tribute to the vibrant colours of nature. The phone has a beautiful design flow which gives it a dynamic, artistic, simple and elegant look. Each colour offers a different visual experience. 
The Lavender Purple edition uses the nano-scale photo etching technique and features a glowing peacock feather pattern, giving it a majestic, eye-catching look. The phone is also carefully designed to exude an airy, lively and elegant feel.
The Glory Black edition features a silky, glittery pattern which has a sense of glamour and refined luxury. With this design, the phone becomes a status symbol and the ultimate example of prestige, providing users with a visual treat.  
Visually stunning screen
vivo constantly strives to improve the visual experience for its users. vivo V27e has a 6.62′′ 2.5D screen which provides a more immersive and engaging visual experience with a refresh rate of 120 Hz and ultra-high brightness and contrast. The 2.5D screen offers rich details, providing users with a cinema-like immersive visual world. The 120Hz Sunlight AMOLED Display also features self-developed ambient light sensors combined with luminescent materials which intelligently adjust the screen's brightness and deliver vivid authentic colours, allowing users to enjoy a high-quality visual experience. 
The flat frame, slim body of 7.7mm thickness and a weight of 185g provide an ultra-thin grip that gives the phone a slender and elegant look which is accentuated by the stunning flat screen.  
Longer battery life provides more enjoyment
The new vivo V27e is equipped with a 4600 mAh (TYP) battery. Coupled with vivo's in-house developed FlashCharge technology, it supports up to 66W of charging power and a peak energy conversion efficiency of up to 97.5%. Further supported by an advanced cooling system, the phone can be charged to 50% in only 19 minutes while the screen is off. The vivo V27e battery has twice the lifespan compared to the industry standard and supports up to 1,600  charging cycles compared to the industry standard of 800 charging cycles.
Energy-efficient Helio G99 chip delivers solid performance 
The vivo V27e is equipped with MediaTek's Helio G99 platform, which features a 6nm advanced process. It combines ultra-high thermal conductivity graphite sheets with high-efficiency heat dissipation materials to create an efficient cooling system to boost performance. 
The vivo V27e is equipped with Extended RAM technology, which supports up to 8GB of virtual RAM. The Extended RAM works with the 6nm chip to help people seamlessly switch between apps and store data.
Pricing and availability
The vivo V27e is now available at RM1,299 and consumers can get it at all vivo concept stores, authorised dealers, vivo Malaysia's official E-Store and vivo Malaysia's official flagship stores on Shopee, Lazada and TikTok.
From 4 March 2023 onwards for a month, customers who purchase the vivo V27e will receive free gifts worth RM666, which include a smart tag worth RM69, a Bluetooth speaker worth RM99, a 1-year extended warranty and 1-year screen protection.
For more information about the vivo V27e, please visit vivo Malaysia's official website.