MYAirline is pleased to announce that it will be serving new inflight meals with a traditional twist to Malaysian cuisine. Passengers may preorder six local favorites in the form of meal combos with MYAirline from 20 March 2023 onwards. MYAirline will be serving one signature meal and five new dishes on all its flights from 27 March 2023 onwards.
In conjunction with Hari Raya Aidilfitri celebration in the coming month, MYAirline has introduced a special meal named Ayam Beraya, that is available for a limited time. The meal serves succulent chicken cooked in a flavorful blend of coconut milk and spices, paired with lemang and traditional glutinous rice cooked in bamboo. This dish is only available via online pre-booking only until 31 May 2023.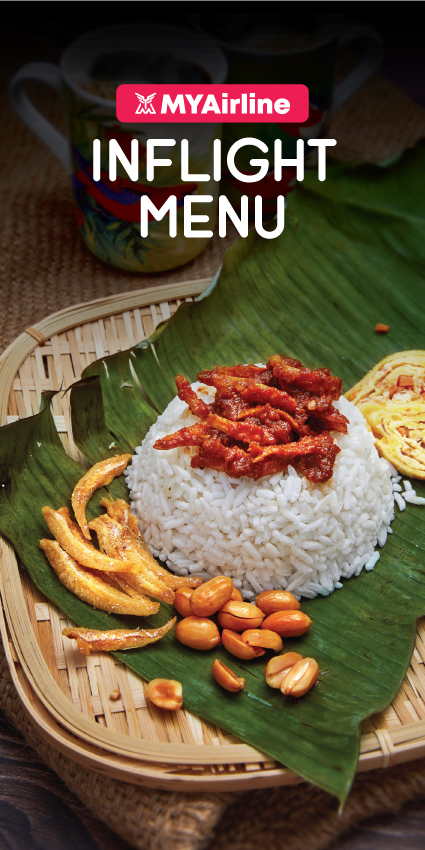 The other four new inflight meals include Nasi Biryani Chicken, BBQ Chicken Rice, Vegetarian Nasi Biryani and Vegetarian Stir-Fry Noodle. The meals are all inspired by the rich and diverse flavors of Malaysian cuisine.
Nasi Biryani Chicken, for example, is a must-try flavorful dish that serves tender chicken marinated in unique spice blend and served alongside pickled Acar Rampai, creating a burst of flavors in every bite. Another delicious dish that passengers should try is BBQ Chicken Rice which consist of tender, smoky BBQ chicken and aromatic rice infused with the flavors of ginger and lemongrass and served with homemade chili sauce.
In addition to the new meals, MYAirline's signature dish, Nasi Lemak, will continue to be part of their inflight menu.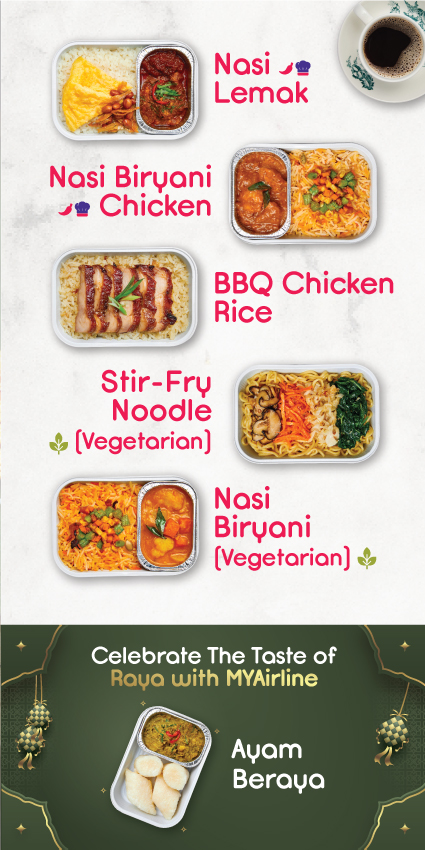 "We are thrilled to be introducing these new inflight meals, which will undoubtedly appeal to a wide range of travelers," said Rayner Teo, Chief Executive Officer of MYAirline. "These new meals have been specially curated with our passengers' preferences in mind. We understand the value and importance of traditional meals, especially during the season of Ramadan and Hari Raya Aidilfitri. On that note, we would like to take the opportunity to wish Ramadan Mubarak to Muslims all over the world celebrating Ramadan."
Pre-book the Ayam Beraya combo at MYR17 and other hot meal combos online at MYR15.90, which comes with a bottle of mineral water. Nasi Lemak, BBQ Chicken Rice and Nasi Biryani Chicken are also available as an à la carte option for on-board purchase at MYR17.