Take charge of your heart health with the NESTLÉ OMEGA PLUS 30-Day Challenge. Attention Malaysians! You could have high cholesterol but not know it! You need to act now.
This year, NESTLÉ OMEGA PLUS is partnering with BookDoc to continue its mission to motivate and educate Malaysians to be proactive in taking care of their heart health.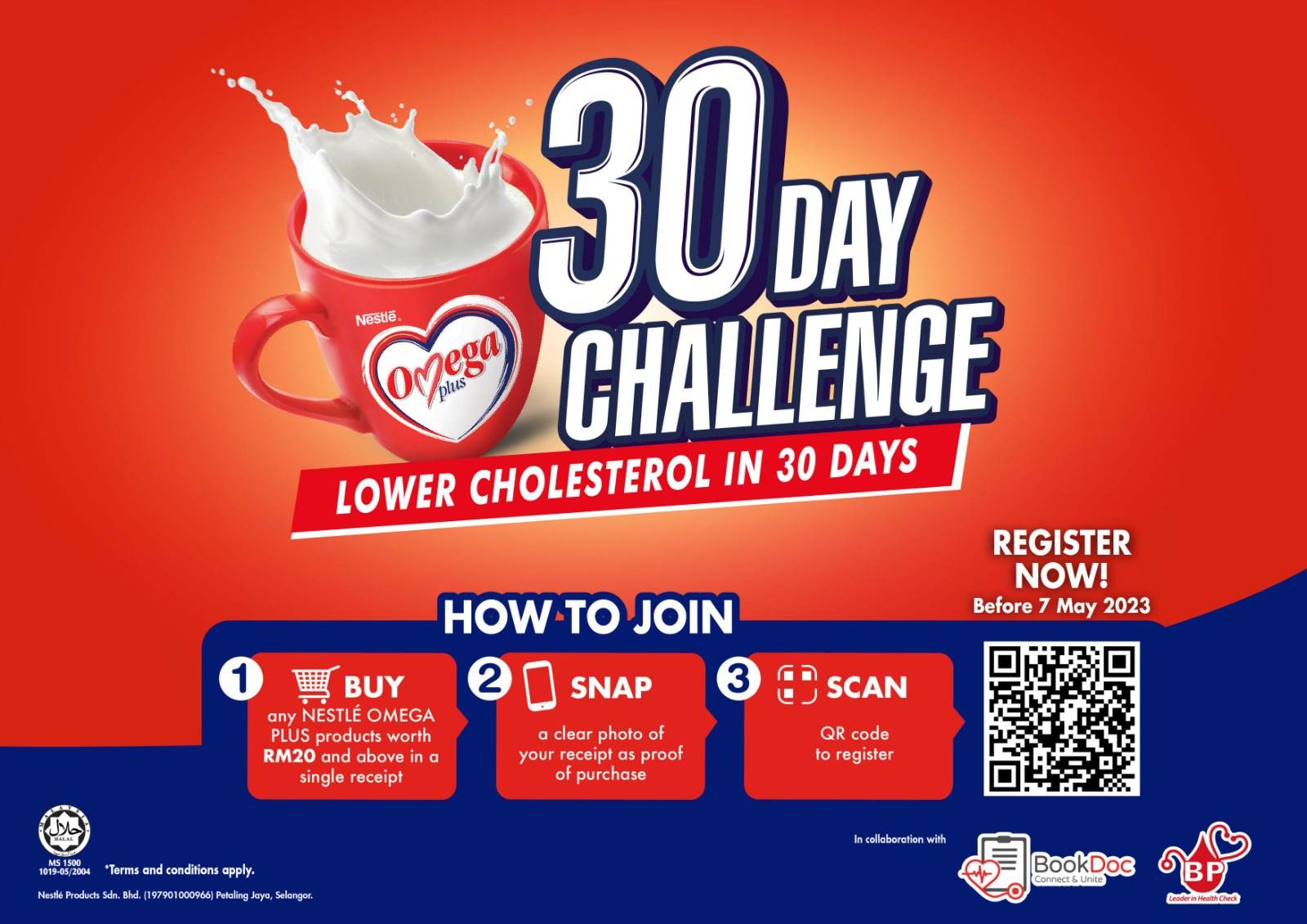 Running now up to June 30th this year, one has to simply purchase RM20 worth of NESTLÉ OMEGA PLUS products to sign up for the challenge. Participants will then get a free BP Healthcare lipid profile test and those with results that indicate high or borderline high low-density lipoprotein (LDL) cholesterol, will be eligible to start their 30-day journey with NESTLÉ OMEGA PLUS. As part of the challenge, participants will also receive a free 5-day starter kit accompanied by support from professional health coaches via the BookDoc App to help with their 30-day journey to healthier cholesterol levels.
It's so easy to get going. During the 30 days, simply consume two servings of NESTLÉ OMEGA PLUS daily to give your heart 1.2g of ActiCol plant sterols that have been scientifically shown to lower cholesterol levels**. Lower cholesterol levels can reduce the risk of heart disease. Be sure to record your consumption in the BookDoc App by posting a photo each time. Participants who successfully reduce their LDL levels during the challenge will be eligible to win exciting prizes, including an RM5,000 domestic vacation or RM500 sports gift card. 
Many Malaysians are unaware of the dangers of high cholesterol being a significant risk factor for heart disease. Currently, four out of ten adult Malaysians have high cholesterol and almost half of them are under the age of 40. This reality is made worse when only one in four are aware of their high cholesterol levels. 
NESTLÉ OMEGA PLUS has been a strong advocate for heart health in Malaysia for over 20 years and believes the path to better heart health starts with awareness of the factors affecting it, including high cholesterol. The 30-day Challenge is among its various initiatives to encourage Malaysians to adopt a healthier lifestyle, including a balanced diet and regular exercise, and complementing it with two servings of NESTLÉ OMEGA PLUS daily. 
"We are thrilled to resume the 30-Day Challenge and inspire Malaysians to prioritize their heart health. We hope that many Malaysians will join us on this journey and see the benefits of reducing their cholesterol levels. The 30-Day Challenge has continued to motivate and educate Malaysians to be proactive in taking care of their heart health and we are confident this year, many more Malaysians will take up the challenge," said Kenny Wong, Business Executive Officer, Dairy and Adult Nutrition Business Unit at Nestlé Malaysia. 
Start your journey to a healthier heart today. For more information and to join the challenge, visit https://www.dearnestle.com.my/cabaran-30-hari-nop.