Imagine this: You're sitting in a stadium in England, surrounded by the electrifying energy of soccer fans, chanting and cheering for their favorite EPL teams. The roar of the crowd, the rush of adrenaline – it's all right here, waiting for you!
So, what's the catch? Buckle up, because this is where the magic happens. MBSB Bank is giving you the golden ticket to the dreamiest prize of all with their "Winners Are Dreamers" campaign – a 4D/3N all-expenses-paid EPL trip to England for you and a partner! Yes, you read that right. Eight lucky pairs will be jetting off to the land of football legends. Feel the thrill of the game right where it all began, and let your inner soccer fanatic run wild.
But that's not all – if you're thinking, "I want in on this excitement," then you're in for a treat. Score yourself a chance at winning one of the 8,000 exclusive MBSB Bank Championship keychains. It's not just a keychain; it's a piece of the action that you can carry with you everywhere.
How can you make these jaw-dropping prizes yours?
Now, let's get down to business. The answer is simple: Be a dreamer, and let MBSB Bank be your guide. All you have to do is sign up for any of their incredible products, like the Term Deposit-i, Junior Term Deposit-i, M-Junior Deposit-i, PrimeWin Payroll Account-i, Personal Financing-i, Property Financing-i, Takaful, or even the e-Wallet. It's like building your dream team, but in the financial world.
Mark your calendars, because the campaign period runs from 1 August 2023 to 31 January 2024. Six whole months of chasing your dreams and making them a reality. That's half a year to show the world that you're not just a dreamer – you're a winner!
But wait, there's more magic brewing. If you've got little dreamers of your own, MBSB Bank has got you covered with the "Dare to Dream" campaign. Enroll your children in the M-Junior Savings Account and open the door to a world of opportunities. Imagine them training with the legendary Wolverhampton Wanderers Football Club, lovingly known as Wolves. It's a chance for them to learn from the best and fuel their dreams of becoming soccer stars!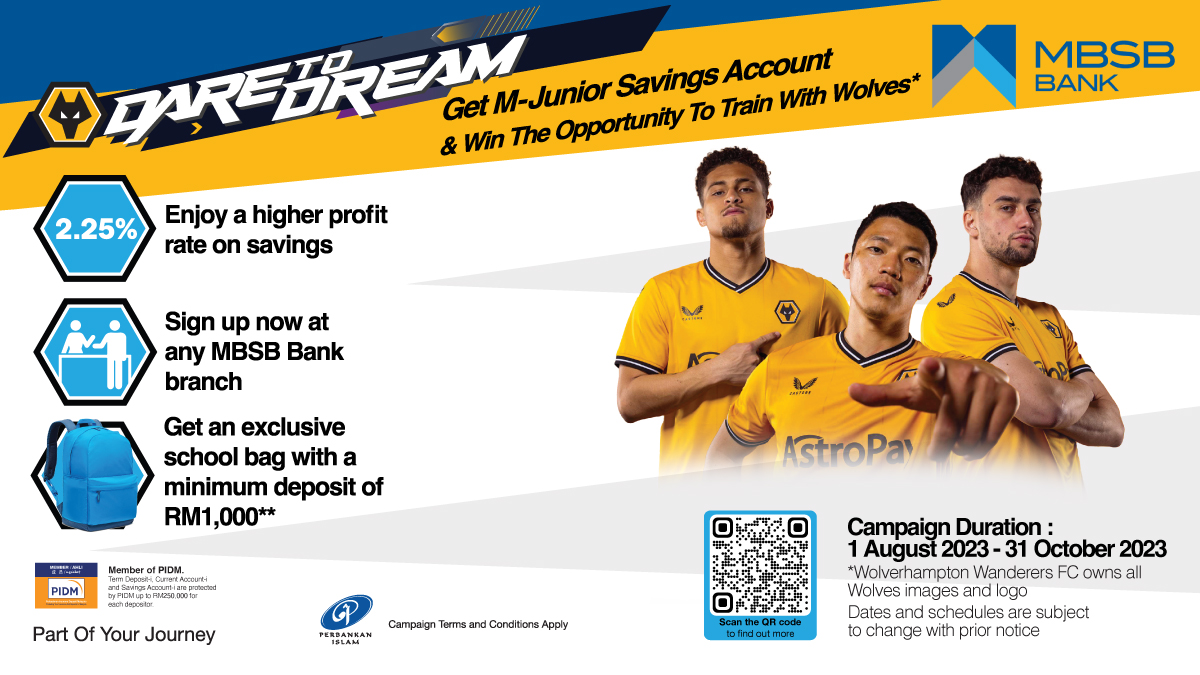 Don't miss out on the perks of M-Junior Deposit-i, open to new and existing MBSB Bank customers below 18 years old – a 2.25% profit rate on savings and an exclusive school bag that comes with a minimum deposit of RM1,000. It's more than just a savings account; it's a pathway to nurturing dreams.
So, whether you're a dreamer with a capital D or you've got little dreamers under your wing, this is your golden opportunity. Get ready to chase those dreams, score big, and make memories that will last a lifetime.
Visit MBSB Bank today and let the adventure begin! 🌟🏆