Iran has seen failing to reduce the coronavirus contamination when videos of many of their people licking a holy shrine gone viral on the internet. It is believed that the place that happens in the video was the Fatimah Masumeh shrine in Qom.
With the increasing rate of death, the regime has told citizens to avoid public places to prevent the infection from keep spreading. The regime also has close down places like schools and universities.
But it can't be accepted by the hardline clerical establishments to close their holy sites. They refused to shut down Qom even though the holy place is worsened because of the infection.
The video show people licking places like a door and burial mound inside the Masumeh shrine by defying advice by the Health Ministry. It can be seen that they shamelessly said they do not care what happens even if they were infected.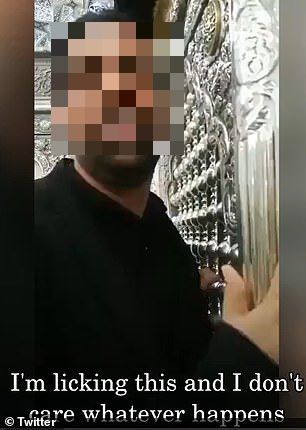 Picture via DailyMailMasih Alinejed, a journalist who tweeted the clips said that by making the holy sites open, the regime was risking the lives of Iranians and even the world. The country was believed facing medical shortages and there are also fears that Iran might be covering up the true crisis where the high death rate might be worse from what it is stated
Iran was the second-highest country outside mainland China to have people died because of coronavirus. It has been known that many trucks filled with disinfectants will spray down places every day in Qom, Tehran and other places that have cases of infection. A retired teacher from Qom, Ziba Rezaie, 62, said that the smell of disinfectants has become his nightmares.
Mike Ryan, the head of the World Health Organisation's emergency program said, Iran might be dealing with an outbreak that may be worse to be known.
Source: DailyMail