According to Tribun News, an ordinary scavenger guy has been reported to discover a huge block of stone that turns his life unexpectedly because this stone turns him to be filthy rich. Nobody has ever expected that he would get the chance to be this rich as quickly as possible just by finding this huge stone that looks worthless from the outside.
Sometimes, some things that we thought worthless and not important might be the cause for us to be filthy rich in life. Based on the report made by Bastille Post a few days ago, one particular scavenger guy from Thailand had found a mysterious stone. After the huge block of stone underwent thorough inspection and evaluation, turns out it is not just a simple ordinary stone but it is actually worth a fortune and very valuable.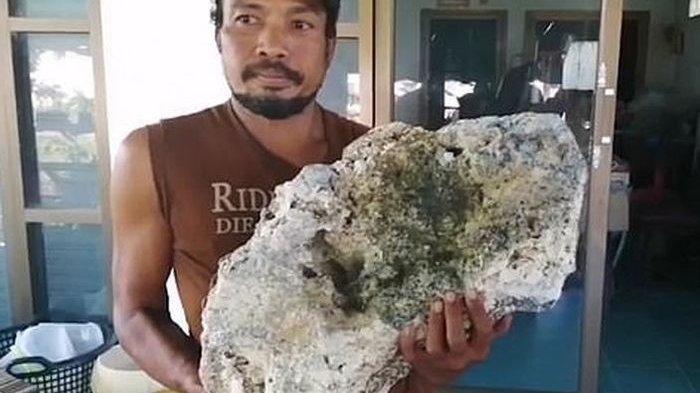 This huge stone's discovery started when a scavenger guy named Surachit Songzhu was collecting all the garbage in Songkla, Thailand. At that time, he accidentally stumbles upon a huge block of stone that is grey in color that was got drifted by the seawater when he was collecting garbage by the shore.
According to Surachit Songzhu, the particular stone's texture feels so weird because it feels like you are touching a candle and not a stone. That is why he decided to bring the stone back to his home because he can feel and already predict that this is not just an ordinary stone like the others.
He then decided to tell you about the stone to his friends and also relatives. As he already suspected, he thought that this specific object is something like a vomit of a whale or better known as ambergris. Surachit Songzhu and all his friends did something to confirm their theory about the huge block of stone. They just burned the stone until it produces some kind of smell. If the smell is refreshing and fragrant, it is ambergris.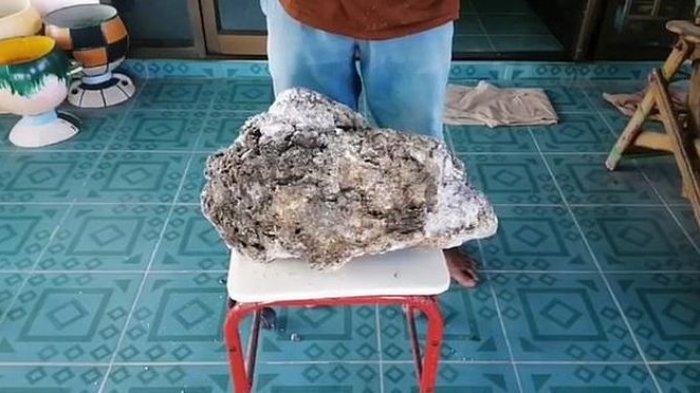 After have been weight, the block of stone weighed in a total of 37 pounds. If the stone was valued as a product by the professional personnel, the price of this particular ambergris could reach for a total of RM71, 3086. Surachit Songzhu also said that he is still waiting for the relevant government professional personnel to value the huge stone.
As for information, ambergris is actually the dry product from the whale's sperm. If it ever got vomited by the whale, it will be drafted to the sea and it can last for over 100 years. It is also usually being used as a perfume and also as a certain food ingredient but the population for this particular ambergris has become decreasing.
Sources: Tribun News, Facebook Siakap Keli.