Great news, movie lovers! After a stressful pandemic break from the cinemas, Malaysians will be able to enjoy the upcoming summer blockbuster movies, hassle-free. JACK 'n JILL Calbee is back to elevate your snacking and movie experience at the big screen with 'The MOVIE ELEVATION' campaign this June.
Movie buffs, prepare to stand a chance to win private cinema viewing sessions together with your family and friends through the purchase of JACK 'n JILL Calbee. That is not all! JACK 'n JILL Calbee 'The MOVIE ELEVATION' campaign which starts from ist to 30th June 2022, will also allow cinemagoers to redeem 200 pairs of movie tickets (via promo codes valid for four months) to watch any movies at participating cinemas nationwide. Every 10th qualified submission will get to redeem a pair of movie tickets and all qualified submissions will be in the running to win three grand prizes of a private cinema viewing.
JACK 'n JILL Calbee potato snacks are available in three different flavors namely, JACK 'n JILL Calbee Flamin' Chilli, Smoky BBQ, and Classic Salted. Imagine biting into crunchy and wavy-cut potato chips made from premium potatoes at the movies. JACK 'n JILL Calbee potato chips are delicious and will truly elevate your taste buds, senses, and snacking experience!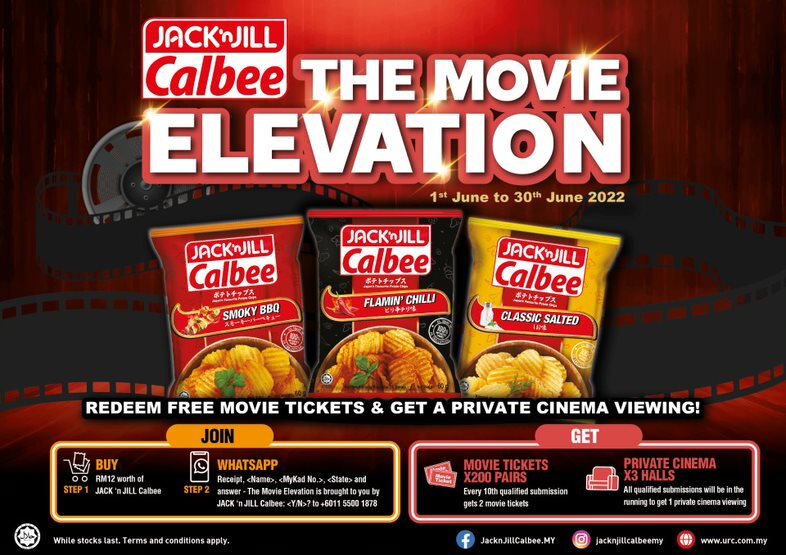 "We believe it is the perfect time to enjoy the exciting summer blockbuster movies while elevating your snacking and screen time experience with JACK 'n JILL Calbee. It is a crunchy potato chip snack perfect for all genres and movie experiences, even at home! Malaysians are now getting back to the new 'norm' and venturing out. We hope this campaign will get them to enjoy their favorite movies with their family and friends with movie tickets and private cinema viewing prizes up for grabs", quipped Maria Sarah Albert, General Manager of URC Snack Foods (Malaysia) Sdn. Bhd.
To join the contest is easy. All you got to do is purchase RM12 worth of JACK 'n Jill Calbee throughout the month of June. Once purchased, send the receipt together with your name, MyKad number, and state and answer a simple question to +6011-5500-1878.
For more information, visit www.urc.com.my or JACK 'n JILL Calbee Facebook page at https://www.facebook.com/JacknJillCalbee.MY