Kuala Lumpur, 28 June 2022 – The yellow fever has fell upon Sunway Putra Mall as they bring shoppers the Minions: The Rise of Gru movie activation event from 24 June until 11th July 2022 at the Main Concourse on Ground Floor, in conjunction with the new movie set to open on 30th June 2022!
Shoppers are in for a vibrant yellow adventure, from taking a lot of cute and Insta-worthy photos with family and friends at the numerous Minions: The Rise of Gru movie-themed displays to fun activities. Dive into the world of Minions and experience a 70's dance floor, Gru's Laboratory, a Kung Fu training zone and more at the Main Concourse.
The stars of the movie, Bob, Stuart, and Kevin are gracing their presence at the centre of the concourse in forms of 3D Sculptures for kids to take pictures with. At the same time, fans can drop by the Toy World merchandise booth, selling exclusive Minions: The Rise of Gru merchandise while taking photos with the 3D Sculptures and watching movie trailers on the giant LED screen located behind them, creating an exciting atmosphere for all to enjoy. 
On the weekends, kids can participate in hands-on activities such as the Minions Creative Zone activities and the Pet Rock Workshop. Additionally, Putra Junior Club (kids aged 4-12 years old) and Autsome (individuals with autism) members will also be invited to an exclusive Little Minions Party and get a Limited Edition Minions: The Rise of Gru Mechandise for free.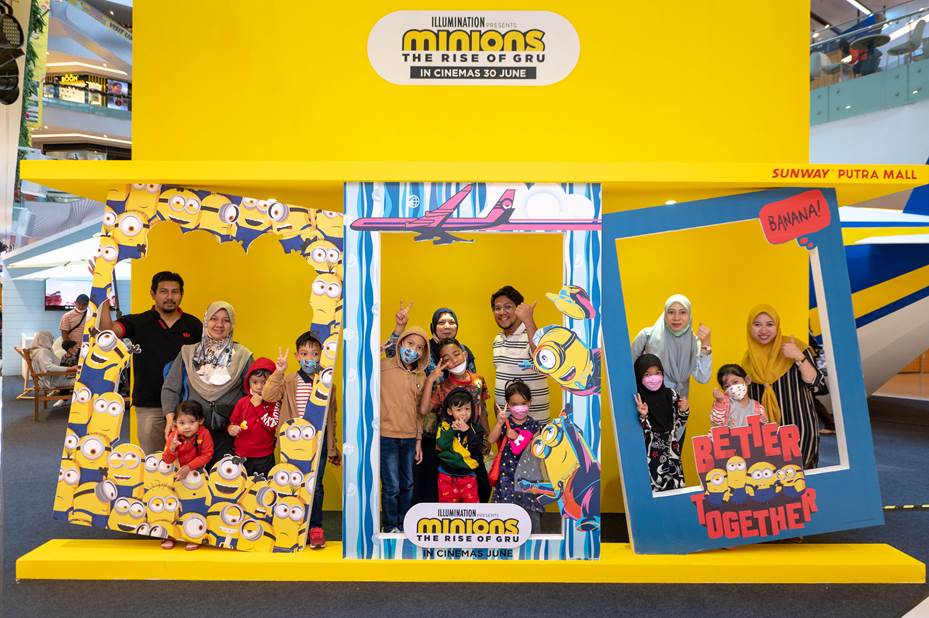 That's not all, new members of Putra Junior Club or Autsome member will also receive the Limited Edition Minions: The Rise of Gru Water Bottle for free! Register now on www.sunwayputramall.com
Every Saturday, Sunday and Public Holiday from 24 July – 11 July, 3pm and 6pm. 
25th June, 2nd July & 9th July (Saturday), 10am-11am 
            *Exclusive to Putra Junior Club and Autsome members. Pre-registration required. 
On top of this, shoppers can also redeem an exclusive redemption when they shop! Spend RM150 mall-wide OR RM100* at the Main Concourse in two (2) receipts to redeem a Limited Edition Minions: The Rise of Gru Bum Bag. All while stock lasts!
Mr. Danny Lee Yan Leng, General Manager of Sunway Putra Mall expressed his excitement for Sunway Putra Mall to participate in its first movie partnership. "We are thankful for the partnership with Illumination that with it, we are able to provide our shoppers with an enjoyable shopping experience while immersing themselves into the Minions World." says Danny.
Sunway Putra Mall is home to international, regional and national retail brands, with more than 80 Food and Beverage outlets as well as a food precinct called, 'Selera Street', that promotes local favourites. The mall continues to take significant safety measures such as proper sanitization procedures with the continuing COVID-19 and rise of Hand Foot Mouth Disease (HFMD) cases to assure shoppers a safe and hygienic environment to be around.
Minions: The Rise of Gru will open in Malaysian cinemas nationwide on 30th June 2022.
For more information on Sunway Putra Mall's Minions: The Rise of Gru campaign, visit https://www.sunwayputramall.com/minions-the-rise-of-gru/  and social media platforms.