Outdoor activities have long been praised for its benefits on physical and mental well-being, both of which have gained significant attention during the pandemic. In 2021, the Malaysian Ministry of Tourism, Arts and Culture (MOTAC) estimated a surge in outdoor activities across all of Malaysia. With increased awareness for health and well- being, adventure tourism is becoming increasingly popular among both local and foreign tourists. With more looking towards nature for their travel plans, activities like glamping, hiking, water sports, cycling and rock-climbing are progressively gaining popularity.
Inspired by DYTM Raja Muda Perlis, Duli Yang Teramat Mulia Tuanku Syed Faizuddin Putra Ibni Tuanku Syed Sirajuddin Jamalullail's vision to put Perlis on the world rock-climbing map, MyUS Venture Partners Sdn Bhd will be developing the Perlis Rock Climbing Base Camp @ Gua Kelam. The location is already well-known and popular among the climbing community. The ground- breaking ceremony was recently officiated by the Minister of Energy and Natural Resources, YB Datuk Seri Takiyuddin bin Hassan.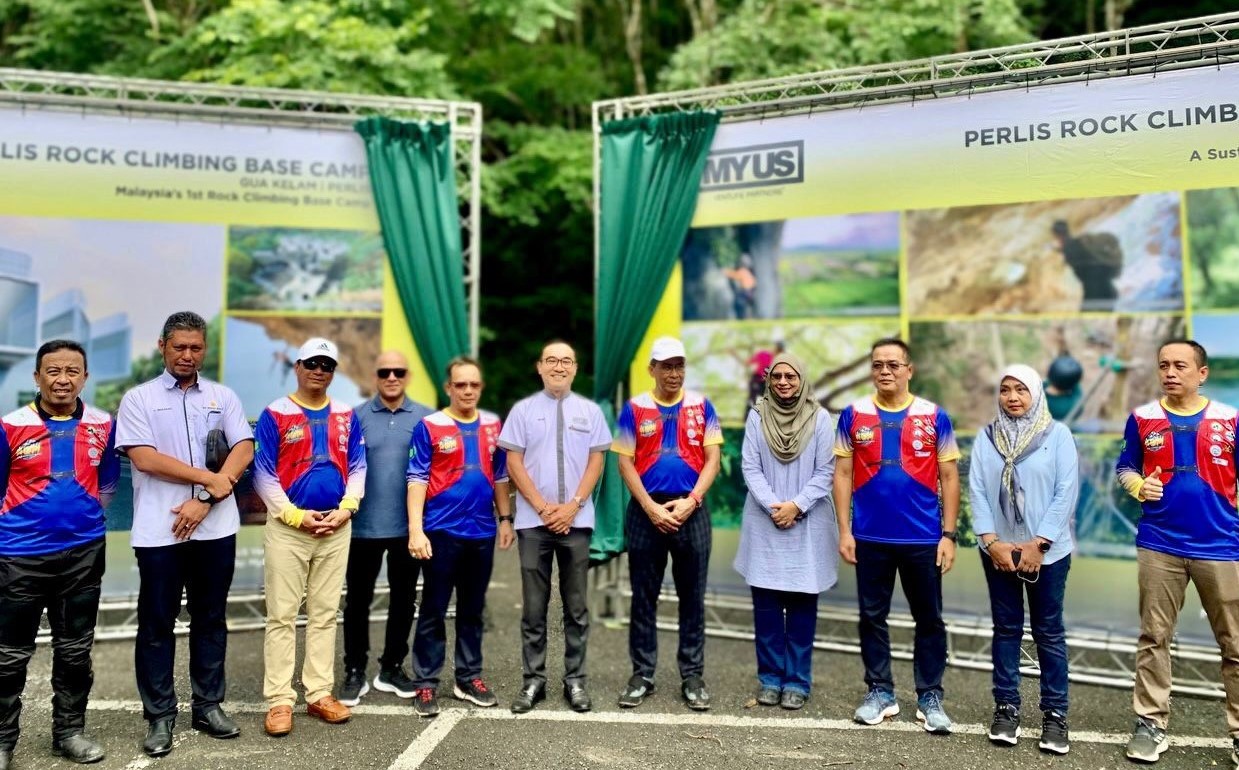 Elaborating on the base camp, MyUS Venture Partners Sdn Bhd Group CEO, Dato' Nellsen Young, said, "In designing the rock climbing activities and adventure packages, we worked closely with Perlis Climbers who are familiar with Perlis climbing routes and the best people to provide input. Apart from rock-climbing, and in collaboration with Jabatan Perhutanan Negeri Perlis, we are dedicated to promote the beautiful nature and environment in Perlis with specially designed tours and experiences. Some of the experiences that we have planned include cave exploration, tree climbing, nature appreciation tours and jungle trekking, wildlife adventure tours, eco-discovery tours, canopy walks, customised adventure tours and much more."
With a total land size 23,094 sq ft and built-up area of 9,880 sq ft, the Perlis Rock Climbing Base Camp @ Gua Kelam will comprise 40 rooms that can accommodate four pax per room and 10 premium camps that can accommodate four pax each. The facility will be managed and operated by MyEco Discovery Sdn Bhd from its management office located in Kangar Jaya, Perlis.
Perlis, a picturesque piece of land, is further complemented by its paddy fields, limestone outcrops and rustic traditional wooden houses. Often named the 'undiscovered' state, it boasts beautiful natural elements that are still untouched by development. MyUS Venture Partners Sdn Bhd's move to revamp the rock-climbing facilities follows its mission to place Perlis on the Malaysian tourism agenda, in support of the nation's ecotourism potential.
Local climbing enthusiast, Alif Ahmad, who has been involved in the sport for 15 years, was pleased to hear of the new base camp. "It's good to see a facility like this being built to support the rock-climbing community. It will certainly be a big plus point when climbers are evaluating climbing locations. Malaysia has the potential to be an international rock-climbing hub if there are better facilities and infrastructure to support the sport," he said.
At the Expo 2020 Dubai, held in late 2021, MOTAC celebrated Malaysia's ecotourism potential by aiming to make Malaysia the 'Preferred Ecotourism Destination in the World', as was outlined in the National Tourism Policy 2020-2030. Mentioning the many organisations that must collaboratively make the effort to address this goal, the Perlis Rock Climbing Base Camp further supports the nation's mission to prioritise sustainable and responsible tourism strategies and practices. For the business community in Perlis, the base camp will also offer jobs and business opportunities to locals, either in direct relation to the base camp or through elevating traffic in the state.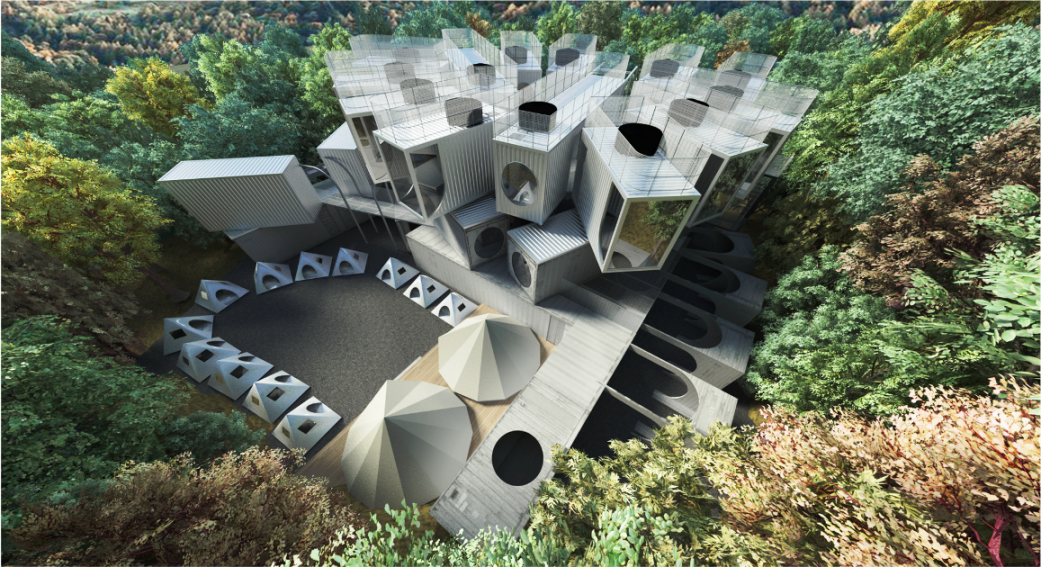 "For a long time, rock climbing catered to only to a select group of avid climbers, due to the level of expertise required. The Perlis Rock Climbing Base Camp @ Gua Kelam aims to make rock climbing more accessible to all, by facilitating the camp with the right talent and equipment, and even its own training grounds, the Eco-Adventure Centre, to accommodate beginners, amateurs to professionals alike," added Dato' Nellsen.
The Perlis Rock Climbing Base Camp will also include a rest-stop for visitors and climbers, named the Eco-Adventure Boutique Accommodation, as well as a café in the woods, for those looking for a quick bite or some refreshments.
Also in attendance at the Perlis Rock Climbing Base Camp @ Gua Kelam ground-breaking ceremony were: Ministry of Energy and Natural Resources Secretary General, Dato' Haji Rosli bin Isa; Perlis Director of Forestry, En Ag. Shaffie bin Ag. Ahmadni, Perlis State Assemblyman, YB Asmaiza Ahmad, who also serves as the Perlis Tourism Exco; YB Teh Chai Aan, representing Titi Tinggi, who also serves as Perlis Exco for Natural Resources and Environment; and Perlis Chief of Police, Dato' Surina Saad.
The Perlis Rock Climbing Base Camp @ Gua Kelam is scheduled to begin operations in December 2022, ready to meet the surge of domestic and international visitors at the end of the year, with the official launch scheduled for January 2023.
Media Contact
Kelvin Gan, Group COO [email protected]
+603 2276 0085
About MyUS Venture Partners Sdn Bhd
MyUS Venture Partners Sdn Bhd is the holding company of MyUS Group of companies which has a diversified business portfolio. The group is involved in the agriculture sector and Borneo handicrafts, with a focus on Sarawakian artisanal crafts. The group also has interests in the medical and wellness sector, providing products and services catering to the country's current needs. Through its travel agency based in Kuching, Sarawak the group provides exclusive Inbound and Outbound packages, and with The Perlis Rock Climbing Base Camp @ Gua Kelam, its business consultancy arm is currently focused on ecotourism in Perlis.