Bath & Body Works is introducing its latest Butterfly collection, a range of body care products that aims to empower beautiful and strong souls everywhere.
The butterfly represents transformation, resilience, and delightful optimism as it has long been a symbol of freedom – freedom to follow one's heart and spread their wings to fly, or take on big dreams, make sacrifices and leave a mark.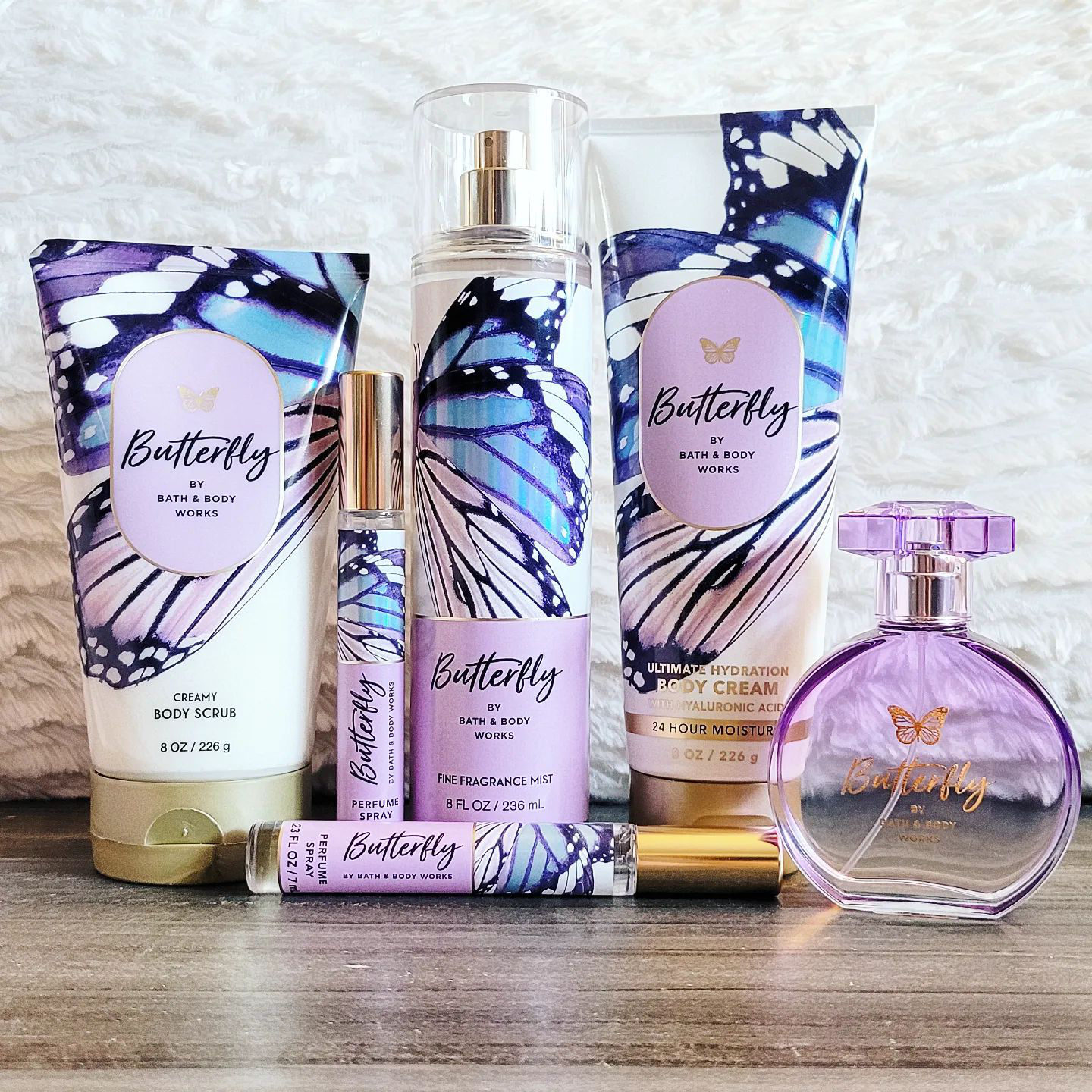 The collection mirrors this in its bold notes which capture striking scents that radiate like a hidden fragrance garden, symbolizing the beginning of where one comes to life and the strengths behind a smile.
Inspiring Sweet and Floral Fragrance Notes
With sweet and floral scents, the Butterfly collection is made with top, mid, and dry notes that blend seamlessly. The top notes are Sweet Raspberry Nectar, Sunlit Bluebells, and Almond Lead, while the mid notes are Orange Blossom Water, Tender Iris Petals, and Heliotrope Flower. The collection also has dry notes of Shimmering Sheer Vanilla, Orris Woods, and Tonka Crystals.
Meanwhile, the key fragrance notes are:
1) Raspberry Nectar
This brings a vibrant textured effect to the top of the fragrance with its juicy fruits and floral undertones. It also gives a deliciously colorful twist to the unique fragrance, while amplifying an irresistibly fresh and playful sensation on top.
2) Wild Iris
A bold and elevated floral imprint, this combines weightless decadence with soft sensuality to radiate femininity through luxurious petally floralcy.
3) Sheer Vanilla
Bringing a lighthearted fun and fluffy sensation to the fragrance, it provides a caring cocoon of soft comfort and delivers a sensual cashmere veil impression.
Bath & Body Works Butterfly Collection Products: Refreshingly One-of-a-kind
The Butterfly collection features cleansing, moisturizing, and fragrance products. The Shower Gel leaves skin feeling fresh, clean, and beautifully fragranced, while the Moisturizing Body Wash instantly hydrates and gently cleanses with a rich, creamy lather. To top it off, the Creamy Body Scrub gently buffs away dry skin for a skin-smoothing treat, and the Bubble Bath wraps you in lasting, ultra-pampering bubbles for beautifully scented skin.
The collection's moisturizing products give that extra step of love and care with the Ultimate Hydration Body Cream leaving skin feeling soft, smooth, and replenished with hyaluronic acid, as the Daily Nourishing Body Lotion gives 24 hours of nourishing moisture where the skin is noticeably softer after one use. The Whipped Body Butter also provides over 24 hours of intense moisture with whipped and fast-absorbing shea butter and cocoa butter.
Finally, the Butterfly Fine Fragrance Mist scents your skin with a light-as-air-mist that is super layerable. The Eau De Parfum and Mini EDP also give a powerful, long-lasting fragrance experience. The Butterfly Collection price range starts from RM11 to RM199.