Malaysia is a multi-racial country. We can hear different languages everywhere. People here speak Malay, Tamil, and Mandarin. Aside from that, we also use English to communicate. Actually, Malaysia has many more languages from different races. All languages are beautifully spoken. 
It is really nice to see that some people learn different languages aside from their native ones. Even at school, students learn different languages such as English, Mandarin, Tamil, Arab, French, German, and more! From this, we do not only can speak those languages but also can understand their culture.
Malaysian sometimes like to apply other languages in their daily lives. However, how true is their application of the language? Thus, media social is one of the platforms where we can check whether our application of the language is correct.
An Indian man on TikTok by the name of @divendranbaskaran likes to educate people about his race, culture, and language. Many of his followers are from other races and like to learn from him and ask him questions. A person asks him about the Tamil word 'anne.'
So, what is 'anne?' Anne is a Tamil word that means ' big brother.' Thus, the application of this word can be used for a male who is older than you. Even if the person is the same age as you are, you still can use the word as a sign of respect. 
However, you cannot use this word with your husband (if you are married). @divendranbaskaran stresses this because, in the Malay culture, some wives address their husbands as 'abang.' Abang also means 'big brother.' 
Remember, even though it is normal for the Malays, it does not mean it is normal for the Indians. So, apply the word correctly!
For instance, when you go to a 'mamak' restaurant, you can call the waiter 'anne.' That is the way to do it!
Thank you, @divendranbaskaran for highlighting this!
Want to know more Tamil words? Refer to these comments: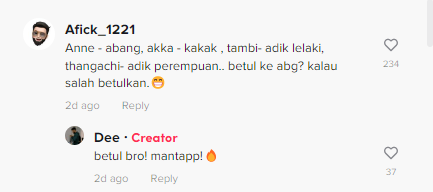 You can also check out @divendranbaskaran's TikTok for more info!
Source: @divendranbaskaran (TikTok)