In every clothes boutique or shopping mall, fitting rooms are provided. This is to ensure the comfort of the customers to have a private place to fit on the new clothes before buying them. Nevertheless, a case of a camera hidden in a fitting room in a local shopping mall is feared by many. 
Polis Diraja Malaysia (PDRM) confirmed that they had received a report regarding a viral video on social media. The viral video involves recordings in a fitting room that took place at a shopping mall.
According to Dang Wangi Police Chief, ACP Noor Dellhan Bin Yahaya, PDRM received the report on January 9. From the investigation on January 11, they found an 11-second video that was uploaded on Twitter. The video shows an incident that happened in a shopping mall's fitting room captured by a hidden camera.
"An investigation is ongoing to identify the date and location of the incident. The act is an offense under Section 509 of the Penal Code," stated ACP Noor Dellhan.
In the meantime, PDRM advises the public not to do anything that violates the law.
Those who have any information regarding the case may contact the Investigating Officer of the case, Inspector Muhammad Fikri Bin Abdul Manan at 013-4149917. People could also contact the Kuala Lumpur Police Hotline (03-21159999) or report to any nearby police station.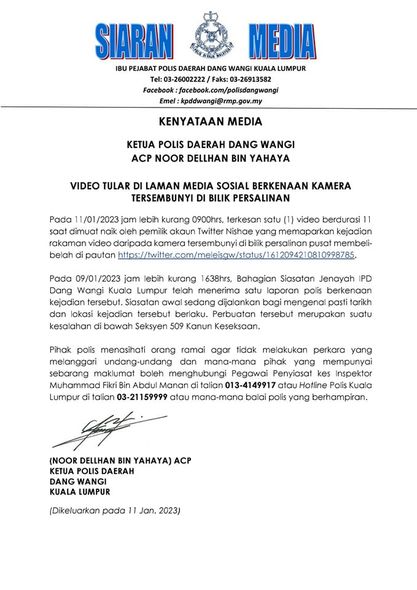 Source: Polis KL (Facebook)