Love Edition by Pandora. In conjunction with the Valentine's Day showcase we had at our Mid Valley pop-up booth, many media and influencer friends came to view the collection and enjoyed themselves by taking adorable polaroids, writing down love notes, and receiving chocolates! As Valentine's Day is coming up next week, we thought; what would be more interesting than doing a short yet fun and interesting Q&A session to discover how unique some of these love stories are?  
Of course, we began with our lovebirds, Wayne and Yuki, who just hit the 1-year mark! To commemorate their first anniversary, Wayne took the effort to gift Yuki, currently Gen Z's favorite dancer, a Pandora  Clear Sparkling Crown Ring (RM329). How they met was even cuter, where Yuki performed at his school for International Understanding (IU) Day, he immediately became her fan and fell for her at first sight. Plus point, he already has the plan to shower her with even more Pandora jewelry. For those who already own a Pandora ring from your special someone, it is best to pair it with our newest icon,  Pandora Moments Studded Chain Bracelet (RM379) which matches any style! 
Moving onto yet another sweet couple, Navinder and Ram is undoubtedly the ultimate definition of why opposites will always attract. With both individuals clearly on different spectrums in terms of personality,  Navinder is mostly the one with the vibrant energy. In contrast, Ram will be calm and collected in the relationship. Nevertheless, the polar opposites totally complement each other just fine and help ground each other making this couple totally as unique as their love should be! A cute suggestion for couples who have contrasting personalities, we suggest getting Pandora's new Two-tone Padlock  Splitable Heart Charm (RM229) where the charm can be split into two for both individuals to be worn in their own unique styles from Love Edition by Pandora.  
Parents-to-be, Tiffany, and Ji Sheng are truly the epitome of love. From dating to newlyweds, to now awaiting to become amazing parents to their baby boy, Tiffany, and Ji Sheng are not only compatible as husband and wife but they are a couple who understands each other; and share not only endless inside jokes but the same nickname 'meow'. As unique as their love, the nickname 'meow' is inspired by the fact that they also own 3 adorable cats together at home. Never a better time to celebrate this special occasion by adding the brand-new Openwork Heart & Script Charm (RM139) with the message "love starts from within" into their collection!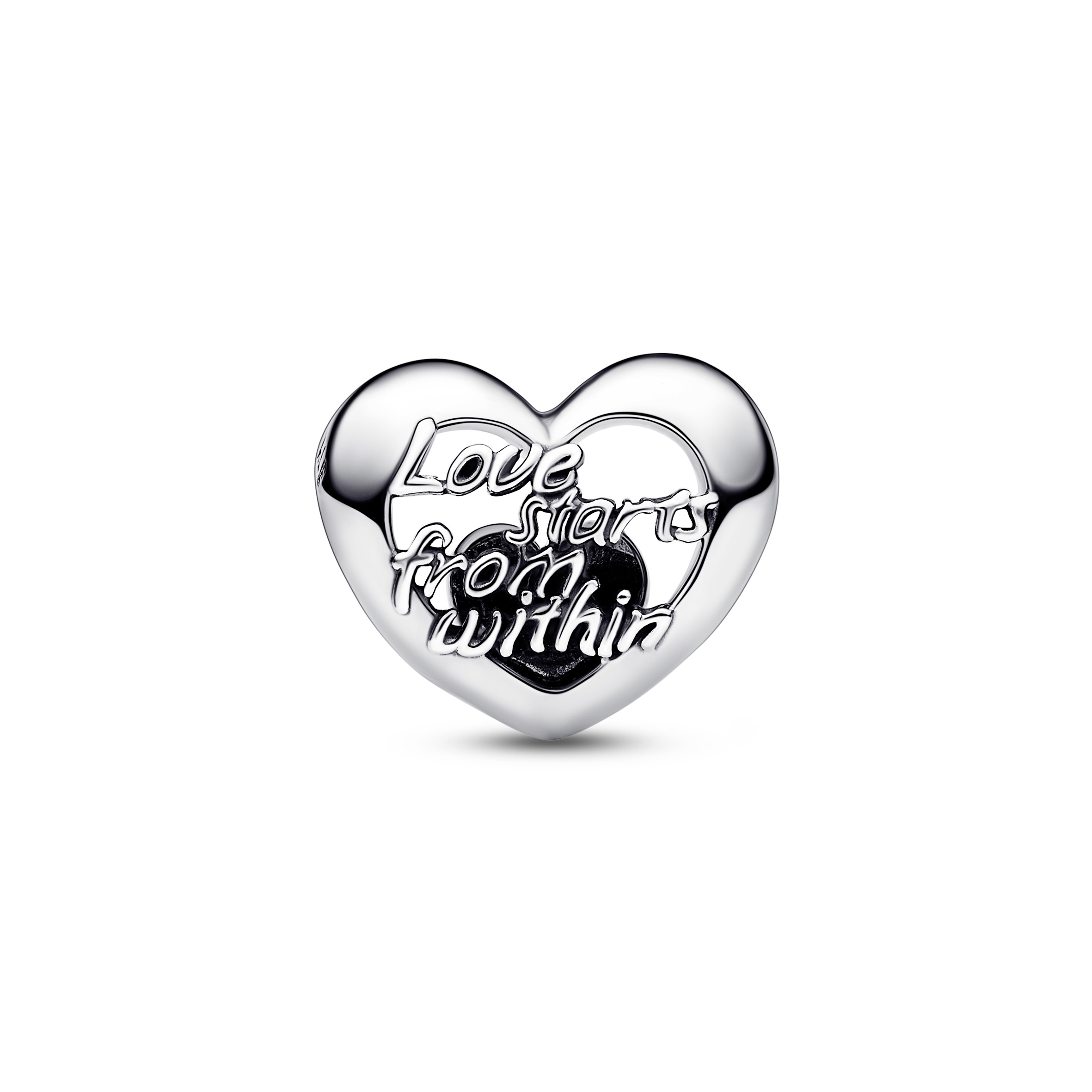 We also took some time to ask our other influencer friends what 'love' mean to them. Nina Ariff mentioned that love is to care about someone and to be able to share the love you receive with everyone else. Wei Pin also states that love is to be willing to take care of one another and does not only apply to romantic relationships, but also to family and friends, and most importantly, self-love! Treat yourself and your loved ones with Pandora's new Radiant Heart Pavé Signet Ring (RM329), with the engraving "ALL FOR LOVE".