Continuing their commitment to contribute to the well-being of those less fortunate, today Radium Development Berhad (Radium) donated RM30,000 along with two sofas to the Shelter Home for Children at Taman Overseas Union Garden.  
As part of Radium's community outreach, the donation will kick start further grants as well as solidify Radium's presence with positive social efforts. The  Shelter Home for Children houses children who have suffered trauma and are in need of a loving, supportive environment to grow.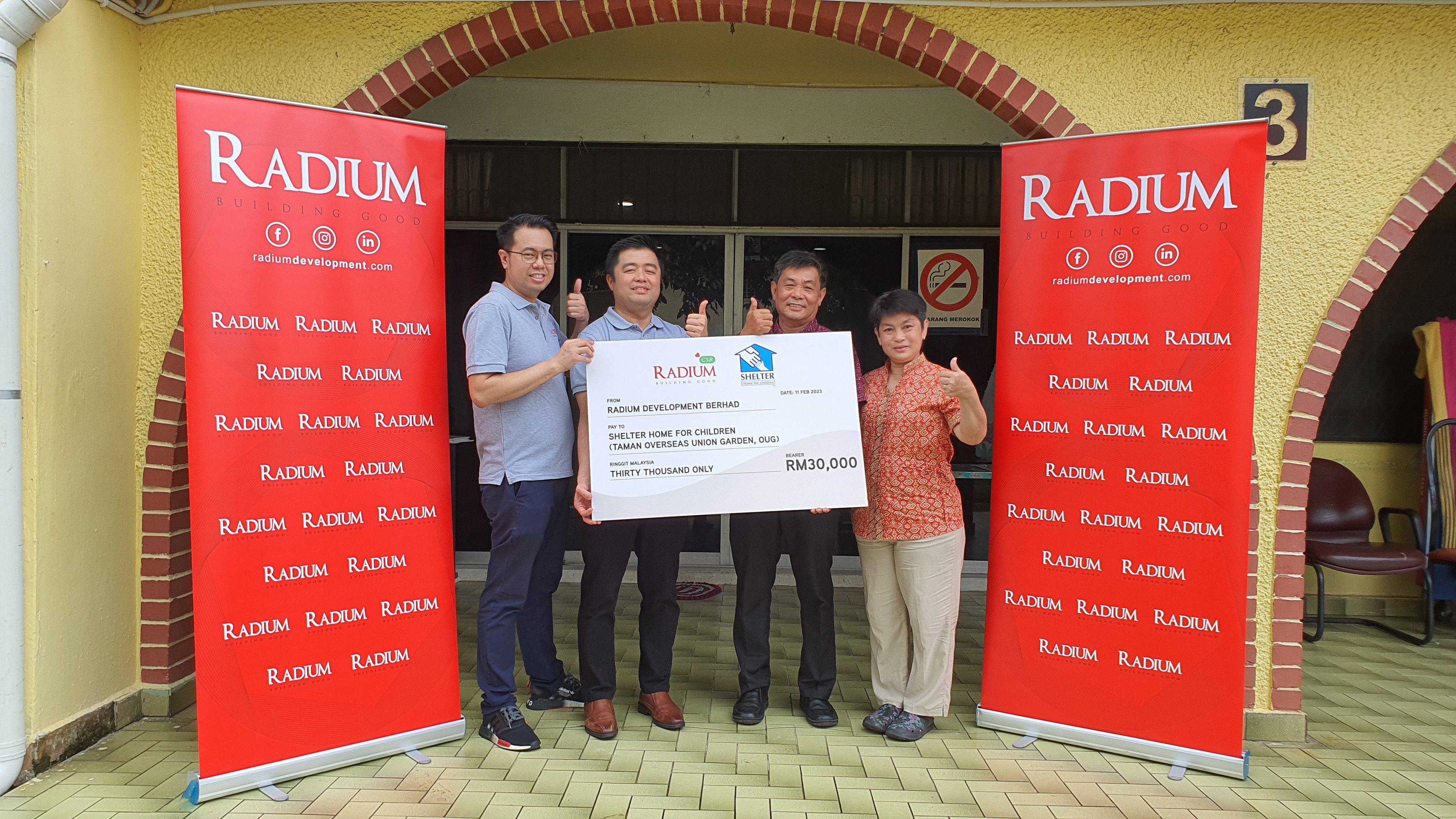 The contribution was handed over to Mr. CK Yong, Assistant General Manager of Shelter Home for Children by Datuk Gary Gan, Group Managing Director of Radium, and Mr. Chai Woon Hou, Executive Director & Head of Corporate  Affairs, Legal & Human Resources. The management team from Radium was also present to witness the occasion.  
Datuk Gary Gan said, "Our community service efforts are the basis of our commitment to society, and the Shelter Home for Children gives us the opportunity to reach out and assist children in need. As part of our Building  Good legacy, we will be commencing with more programs to cement our commitment and passion to help our surrounding community." 
"This is only the beginning of our ongoing efforts to support the ones in need in our community. Moving forward, we intend to assist additional impacted communities through our platform for community service. As we advance  our Building Good policy, we also hope to continue serving the community  and establish our Building Good tagline, "Good Heart," which refers to the  way we care and give back; keeping us closely connected to the  community." 
In addition to handing over the donation, Radium's management team and staff also sat down for a lunch with all of the children at the Shelter. The children were also given ang pows in conjunction with the recent Chinese  New Year celebrations.  
It is part of Radium's mission to provide positive and good society-building initiatives to those who are less fortunate. It is hoped that this movement will encourage others to keep on doing good and lend support to those in underprivileged communities.  
For more information and to contribute, donate, or support Shelter Home  for Children, please visit https://www.shelterhome.org