In conjunction with International Women's Day, Southeast Asia's largest integrated car e-commerce platform, CARSOME, has announced its Women Take the Wheel initiative to be rolled out in Malaysia, Indonesia, and Thailand in line with the company's commitment to be more inclusive across all its touchpoints with society.
According to CARSOME data, the number of female car buyers has risen by more than 308% in 2022 compared to the previous year. In response to feedback from its female customers on their needs and challenges when purchasing pre-owned cars, the Women Take The Wheel initiative aims to empower female car buyers with a differentiated experience and offerings, taking into consideration their request to be educated and guided especially in the technical and process-related aspects of car buying during the early stages.
CARSOME Group President & Chief Financial Officer, Juliet Zhu said: "We've heard the feedback of our female customers and recognize the challenges they face throughout their car ownership journey. In addition to providing trust, transparency, and choice through our digitized car buying and selling experience, 'Women Take the Wheel' is our way of supporting women in making informed and confident decisions. 
"This is just the beginning and we are excited to work with our women customers to bring more benefits in the months ahead. It is also indicative of our long-term dedication towards driving a more inclusive environment for more balanced representation in the automotive industry. We hope what we have built today will become a baseline tomorrow to continue advocating for women." 
As part of the Women Take the Wheel initiative, CARSOME will be piloting an elevated customer experience in Malaysia for women with 11 customer specialists at selected Inspection and  Experience Centers including PJ Automall, Kepong, Kelana Jaya, Puchong, Klang, Seremban, Melaka, Skudai, Ipoh and Bayan Lepas.  These consultants will support and guide female customers to provide them with a seamless experience right from the test drive to car ownership, after which customers will be able to access convenient after-sales support through CARSOME's digital touchpoints.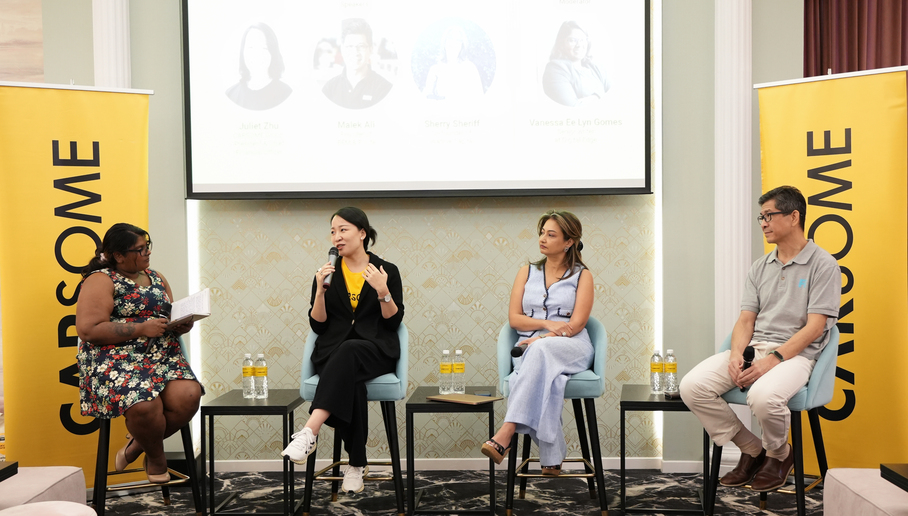 The program also kicked off with a 30-day money-back guarantee for female customers, the first such offering in the industry and free 1-month life insurance from Fi Life, one of CARSOME's partners in the Women Take the Wheel initiative. This will be applied during the campaign period from 8 – 31 March 2023. 
Parents will also be able to benefit from a Children's Corner, which is being piloted at PJ Automall. Based on the reception and feedback, CARSOME will continue to refine and enhance these initiatives aimed at providing a friendlier experience for customers. 
At the launch of the Women Take The Wheel initiative, Juliet sat down with digital entrepreneurs Malek Ali, Founder of BFM and Fi Life; Sherry Sheriff, Co-founder of Wahine Capital; as well as Vanessa Gomes, Senior Writer at Digital Edge for a fireside chat titled 'Elevating the Women Consumer Experience'. As the digital revolution sweeping across Asia changes how people access and navigate significant life decisions such as investment, insurance, and automotive purchases, the discussion was focused on how businesses can better anticipate the needs of women and cater to them more meaningfully. 
Female customers hoping to take advantage of these offers can head over to the CARSOME Autofair 2023 from 17 to 19 March 2023 at CARSOME PJ Automall. All CARSOME Certified cars booked during the Autofair will be eligible for discounts of up to RM8,000, two years' worth of warranty, and many other free gifts.
For more information, please visit CARSOME's official website.