Taking a cue from the Government's amplified efforts to boost cybersecurity awareness among the public, Courts Malaysia ("Courts") introduces #BeCyberSmart, a consumer campaign aimed to make digital and internet protection accessible and affordable to all Malaysians. Launched by Deputy Minister of Communications and Digital, YB Teo Nie Ching earlier today at Courts Mitsui Outlet Park, the dynamic cross-collaboration seeks to raise awareness of the importance of cyber literacy among the masses.
Created in partnership with F-Secure Corporation ("F-Secure"), a global cyber security and privacy company from Finland, the #BeCyberSmart campaign is in support of the National Anti-scam Campaign 2023 initiated by the Ministry of Communications and Digital (KKD) to counter scam syndicates' evolving methods. The event also saw the launch of the main highlight of the campaign, PROTECT 360, an all-in-one network security solution app that provides comprehensive protection for digital devices, such as computers, smartphones, and tablets, against various online threats, including malware, phishing, and hacking attempts. 
"There was a significant increase in cybercrime in Malaysia, especially during the COVID-19 pandemic. A total of 71,833 scams were recorded up to May 2022, which amounted to RM5.2 billion in losses. Out of the total, 68% were online scams. Looking at the critical significance of cybersecurity and cybercrime in Malaysia, the Government is committed in its action to implement multiple measures and initiatives aimed at protecting its citizens and national security. We encourage everyone to stay informed and educated on the latest cyber threats and to take proactive steps to protect themselves online." said YB Teo Nie Ching.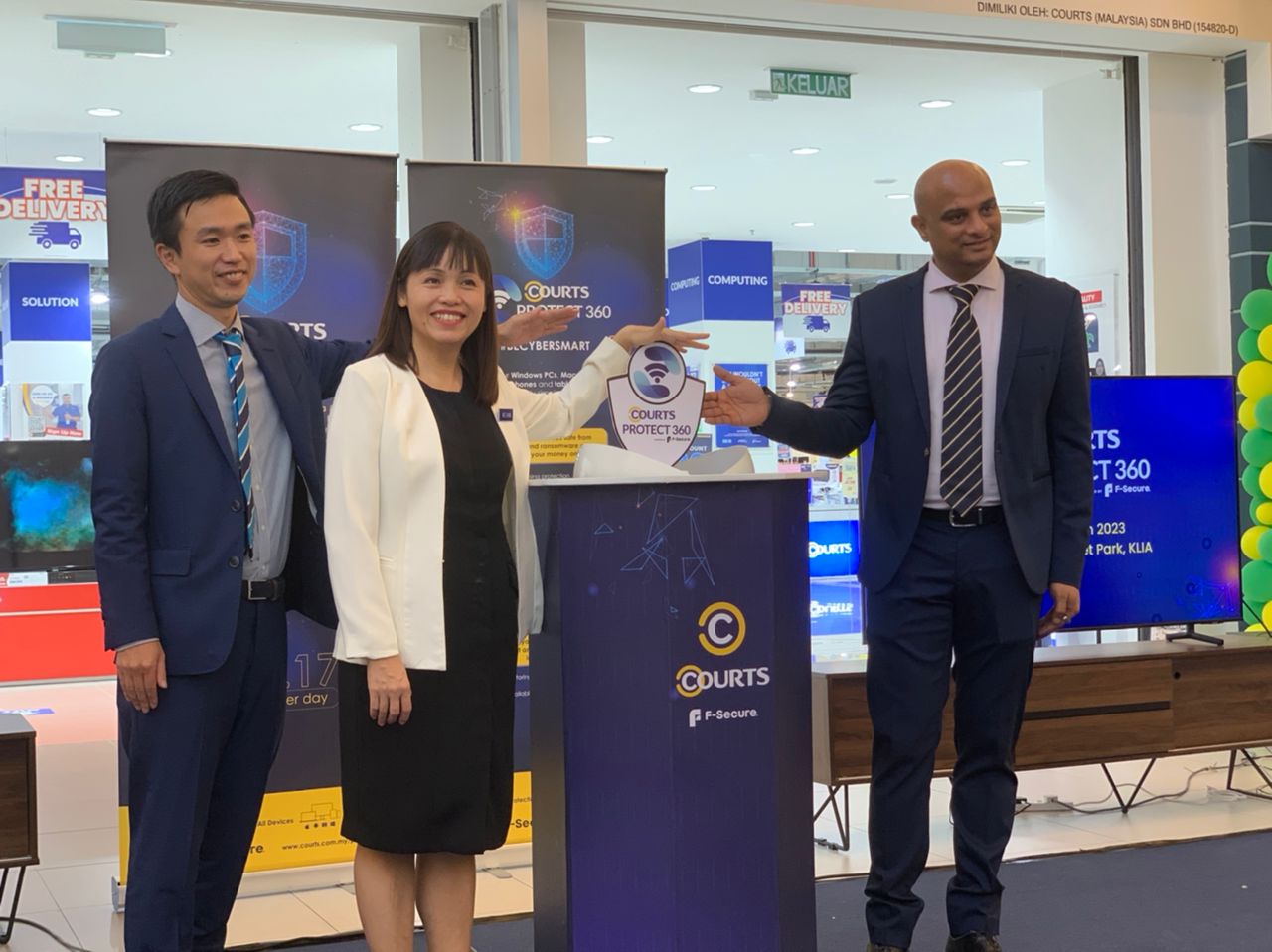 She then added, "As individuals, we all have a role to play in protecting ourselves and our communities from cyber threats. We need to take proactive steps to safeguard our online activities. I applaud Courts Malaysia and F-Secure for taking the lead in promoting cybersecurity among consumers, and I believe such initiatives are essential in building a safer and more secure digital ecosystem for all Malaysians."
According to Harry Higashiura, Chief Executive Officer of Courts Malaysia, the consumer electronics and furniture retailer has been privileged to be in the homes of Malaysians for more than three decades ago and believed it is time to be more proactive and move a step further in helping the consumers stay safe.
"Cybersecurity has become an essential aspect of our daily lives. As more and more consumers shift towards a digital lifestyle, the need for a safer and more secure digital ecosystem becomes critical. Safeguarding our digital identities has become a shared responsibility. Our collaboration with F-Secure for the #BeCyberSmart campaign and introducing PROTECT 360 for all Malaysians is timely as we strive to create a safer digital environment and empower individuals to take charge of their online security." said Higashiura.
Powered by F-Secure, Courts PROTECT 360 is offered to consumers in a range of affordable packages tailored to meet different cybersecurity needs. PROTECT 360 app is available on both iOS & Android, is easy to install, and is suitable for all age groups, making it an ideal choice for families and individuals seeking to secure their digital lives.
During his speech, the Regional Director of F-Secure Corporation, G U Renukanand, highlighted the various benefits of PROTECT360 in improving consumers' daily lives. "In a recent consumer survey, it was found that 58% of respondents had experienced at least one form of cybercrime in the past year. This alarming statistic highlights the need for robust cybersecurity measures to protect individuals and businesses from the growing threat of cybercrime. PROTECT 360 is not just a solution, it is a shield that empowers consumers to live without fear of cybercrimes. With PROTECT 360, consumers are able to shop and bank securely, safeguarding three or more devices from ransomware and viruses, and accessing data breaches and identity protection, among other benefits. By partnering with Courts, we can reach a larger audience and build a safe and secure digital ecosystem that benefits all Malaysians, consumers, and businesses alike." 
One of the standout features of PROTECT 360 is its ability to provide continuous protection for devices, ensuring that they are secure at all times. The solution also comes with available customer care, allowing users to seek assistance whenever they encounter cybersecurity issues. For more information on PROTECT 360 packages, please visit  https://www.courts.com.my/protect-360.

The #BeCyberSmart campaign which runs nationwide from March to August this year is set to feature various initiatives including awareness and education engagements on social media to promote cybersecurity best practices. There will also be a PROTECT 360 bundle promotion that offers Free PA Insurance, Free PROTECT 360, the option to upgrade to a payment protection plan, and an extended warranty on products for those looking for more holistic coverage.