MYAirline is set to launch a new route connecting Kota Kinabalu and Tawau from 18 April 2023 onwards. This new route is  MYAirline's first to connect two Malaysian cities other than Kuala Lumpur. 
This connectivity within Sabah gives a chance for passengers to discover more of what the state has to offer. This includes exploring the natural beauty of its scenic islands, local dishes with freshly caught seafood, handmade crafts, and many adventure getaways. It further strengthens the ties between the largest economic generators in the state by offering faster and more reliable connections to travel on.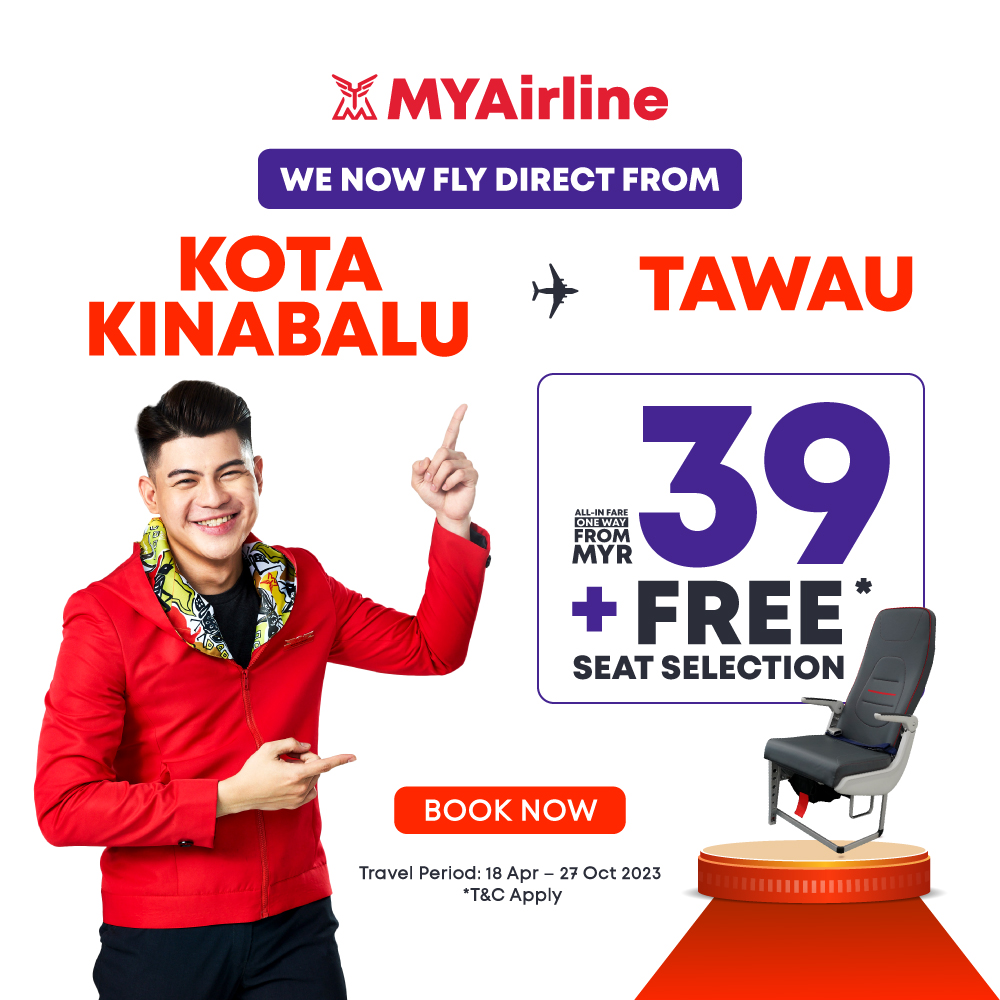 MYAirline will commence once-daily flights from Kota Kinabalu to Tawau with all-in fares from as low as MYR39*. These low fares are available for booking on MYAirline's  website and mobile application from 2 to 5 March 2023. 
"We are pleased to announce that MYAirline is launching our first route connecting two Malaysian cities other than Kuala Lumpur – Kota Kinabalu and Tawau," said  Rayner Teo, Chief Executive Officer of MYAirline. "This new route not only connects two vibrant cities in Sabah but also supports the local economy by increasing accessibility for locals and tourists alike. As such, we want to welcome everyone on  board and invite them to explore the beauty of Sabah by experiencing MYAirline where we value customer service, and the safety of our passengers" 
MYAirline will also increase its frequency from Kuala Lumpur to Tawau as well as Kuala  Lumpur to Kota Kinabalu from 18 April and 22 April 2023 respectively, resulting in two flights per day for Tawau and four flights a day for Kota Kinabalu. 
In celebration of this additional frequency, MYAirline has also announced an Extra  Flights promotion which runs from 2 to 5 March, enabling passengers to travel from 18  April to Tawau and 22 April to Kota Kinabalu from MYR129* and MYR119* respectively. 
"The new Kota Kinabalu to Tawau route, combined with the increased flight frequency to two existing routes, will provide more travel options and greater accessibility for our passengers. We believe that everyone should have access to convenient and reliable air travel, and we are proud to make this possible with our expanding network. More than half of our passengers flying on MYAirline are headed to destinations within East Malaysia and we are looking to achieve a larger percentage in the next few months," added Rayner. 
MYAirline's current route network comprises of eight destinations within Malaysia, with flights to Kuching, Kota Kinabalu, Langkawi, Kota Bharu, Penang, Sibu, Tawau, and Miri.
Grab your tickets early to fly on all our routes including this new one with all-in fares from MYR49* during the Cuti Cuti Malaysia campaign. This campaign has a booking period from 6 to 12 March 2023 with a travel period from 14 April to 30 June 2023. 
Also, don't miss our Final Call Ramadhan promotion that offers all-in fares from as low as MYR39*. Book from 6 to 7 March 2023 and travel from 20 March to 13 April 2023 to grab these low fares. 
For more information on the schedule of flights mentioned in this announcement,  please refer to Annex A. 
*All-in fare includes airport tax. Flights and fares are subject to availability and are for one-way travel only.