NIVEA, the World's No.1 skincare brand received an award today from the Malaysia Book of Records for the 'Largest Participation in Anti Dark-Spot Challenge' which witnessed thousands of Malaysians coming forward with positive 'tested and proven' testimonials on the revolutionary NIVEA LUMINOUS630 Anti Dark-Spot Serum. More than 90% of Malaysian real users agreed that this groundbreaking ingredient – LUMINOUS630 is the effective solution in fighting against dark spots. 
In his acceptance speech, Mr. Ng Hock Guan, Country Manager of Beiersdorf Malaysia & Singapore expressed his gratitude by dedicating the award and recognition to all the real users of NIVEA LUMINOUS630 in Malaysia. "It is our joy to witness the successful journey of thousands of real users of the revolutionary NIVEA LUMINOUS630! Receiving the award and recognition from the Malaysia Book of Records is a significant achievement for us – affirming what we know and believe in – the successful and effective solution to dark spots found in NIVEA LUMINOUS630! Being recognized for having most users tested and proven, and giving positive reviews – this is truly a defining milestone for NIVEA in Malaysia.".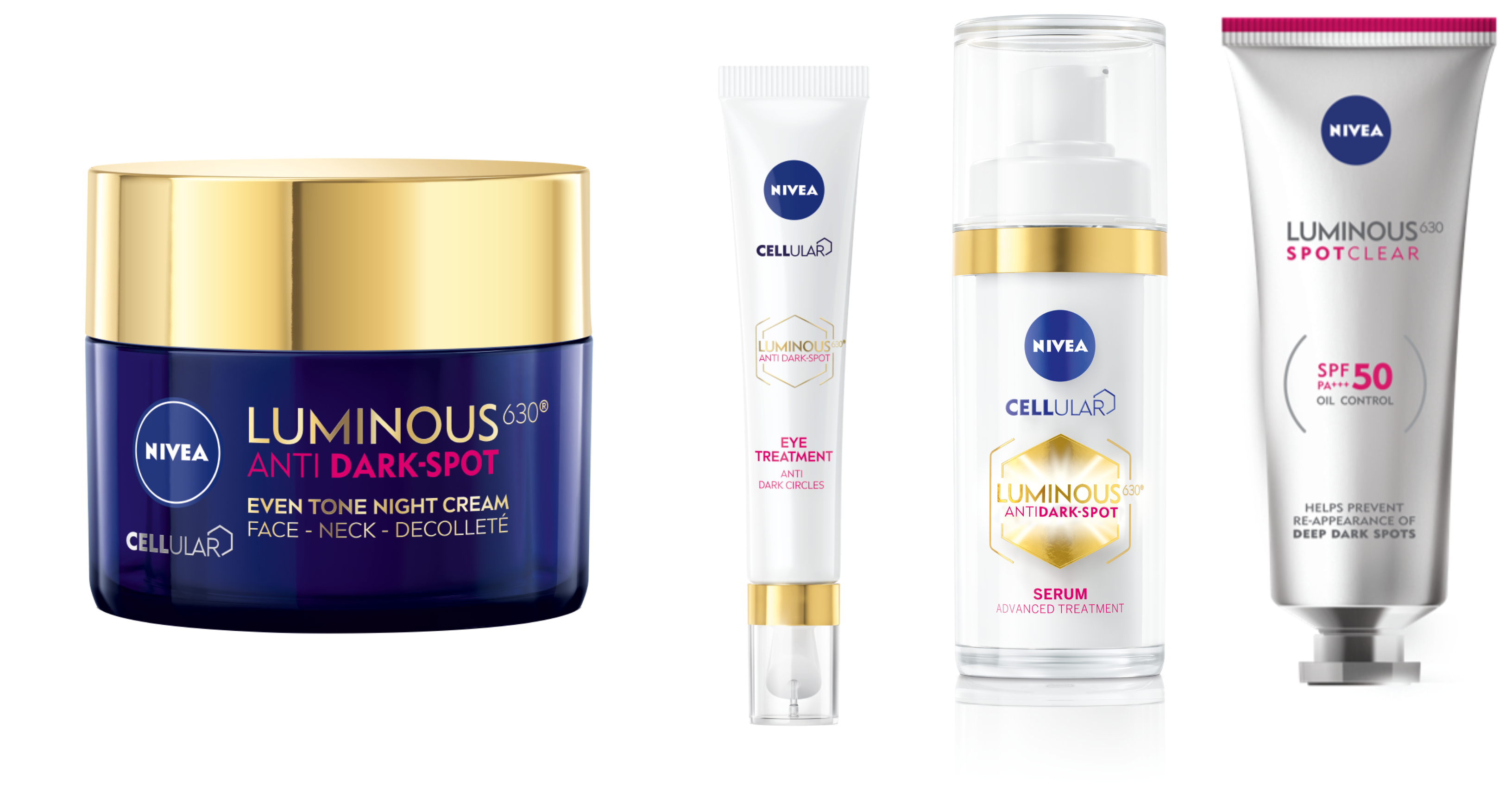 Mr. Ng shared that his team was very encouraged by the many positive reviews they received. One user Nur Lyliana binti Mohd Suffian from Kuala Lumpur had this to say about NIVEA LUMINOUS630: "This is a very good product. My dark spots really reduced after using it. Actually, I have been worried about my dark spots problem for a long time now. Thanks to NIVEA for giving me not just spotless skin but also a boost in my self-confidence. Now I can be more confident in going about my day and meeting people."
At the event, an expert sharing session by Dr. Shazril Shaharuddin provided greater insights into the science behind NIVEA LUMINOUS630. Dark spots are one of the biggest skincare challenges faced by millions worldwide and many struggle to find the right solution. Tyrosinase inhibitors are the most common and safe solution widely available in the market. However, most of these are ineffective or slow to show results due to the fact that the actives are tested on mushroom enzymes, which mostly do not work on human skin. This is what sets NIVEA LUMINOUS630 apart. The breakthrough innovation ingredient was tested with human tyrosinase for inhibitor screening and has proven to be 10x more effective in reducing dark spots than other renowned brightening ingredients in the market. The patented and clinically proven LUMINOUS630 is endorsed by the Institute of Dermatology and published in the world-renowned Journal of Investigative Dermatology, JID. 
NIVEA LUMINOUS630 is a result of 10 years of extensive research and filtering through 50,000 compounds by skin scientists in Germany. The NIVEA LUMINOUS630 Anti Dark-Spot Serum is a breakthrough anti-dark-spot creation formulated to reduce dark spots, and fine lines and improve skin luminosity in just 2 weeks without harming the skin. 
Ng added, "We are so excited to bring this breakthrough innovation to our customers so that all Malaysians can personally experience the journey of getting spotless, youthful & luminous skin! I am so proud to share that in just over 2 years, NIVEA LUMINOUS630 has become the No.1 anti-dark-spot serum in the world. In a recent survey amongst local consumers, we received amazing feedback where 99% agreed that the product helped provide them with spotless skin!"
Present at the event is Harith Iskander together with Bernard Hiew as the hosts along with celebrities Fattah Amin, Nabila Razali, and Danny Koo who also shared their concern about dark spots and their own personal experiences with the NIVEA LUMINOUS630. Thousands of ordinary Malaysians have 'tested & proven' the effectiveness of NIVEA LUMINOUS630! What about you? Experience the efficacy of NIVEA LUMINOUS630 for yourself and witness the remarkable results within 2 weeks! 
The NIVEA LUMINOUS630 Anti Dark-Spot Serum and its full range are available at all Watson's outlets and online at NIVEA's Official store. The range consists of day and night skincare, as well as eye treatment products. For more information about NIVEA products and the latest updates, please follow www.facebook.com/mynivea or visit https://www.nivea.com.my/.