It is certainly gearing up to be a radiant and shimmering Raya this year at IOI Malls, with a plethora of activities, giveaways, performances and treats for the entire family right up to 1 May 2023! That's right, IOI Malls is inviting everyone to light up their festive season with Eid Bersinar in IOI City Mall in Putrajaya and IOI Mall in Kulai, and Kilauan Raya in IOI Mall Puchong, for a gleaming celebration unlike any other. 
"We're really going all out and pulling out all the stops to make this the biggest Raya celebration  ever in all three IOI Malls. We've put together an all-encompassing celebration with both traditional and modern elements to light up the festivities. Raya is a major celebration in Malaysia and living in a multi-racial country, we unite in celebration of all our festivals. This is THE time to celebrate with our friends and family members whom we have not met for the past two years due to the pandemic, so join us in our IOI Malls this Raya," said Chris Chong, Head of Retail, IOI Properties Group Berhad.
IOI City Mall, Putrajaya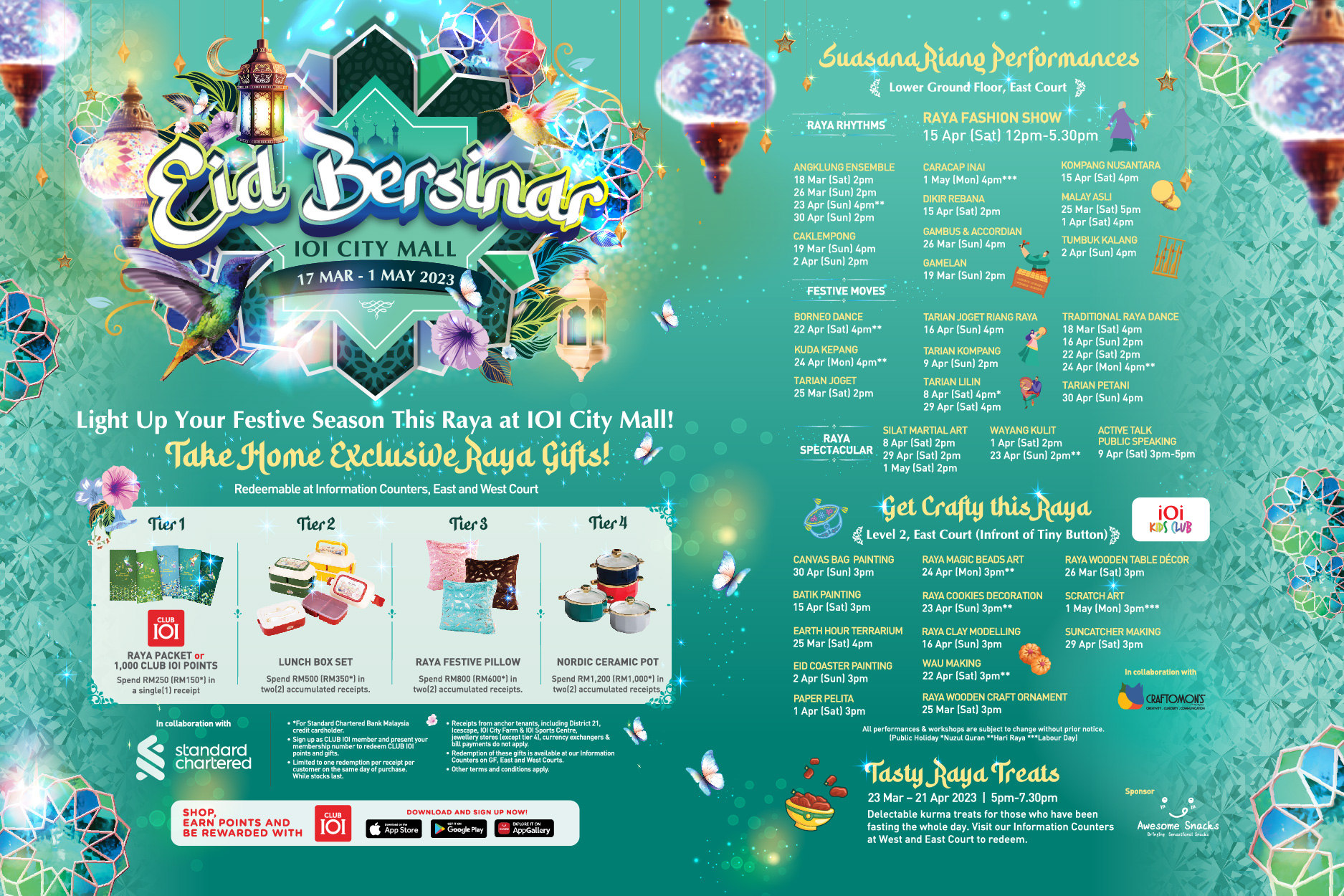 In IOI City Mall in Putrajaya, visitors are in for a variety of entertainment, happening every weekend at its LG East Court. Dance along to a variety of festive performances including traditional Raya dances such as  Joget, Tarian Lilin, Kompang, Tarian Etnik Borneo, Kuda Kepang, Tarian Petani and Tarian Ceracap Inai. 
Move along with the Raya Rhythms lineup which includes a variety of performances such as Angklung, Dikir Rebana and Kompang Nusantara. Also, not to be missed is the Raya Spectacular which features traditional wayang kulit and silat performances, as well as an Active Talk public speaking session. 
Meanwhile, children (and those young at heart) are invited to get crafty this Raya at IOI City Mall with special IOI Kids Club workshops taking place every weekend (from now until 1 May 2023) at L2 East (in front of Tiny Button). Watch them unleash their creativity as they indulge in crafts which include batik painting, clay modelling, wau making, Raya cookie decoration, magic beads art, suncatcher making, canvas bag painting and scratch art. 
A hot and sizzling Raya Fashion Show will take centre stage at LG, East Court on 15 April 2023, 12pm to 5.30pm. Showcasing Raya collections and exclusive pieces by local designers and celebrities with the likes of BOKITTA, LARNEY, FIZIWOO, SITI KHADIJAH, SOFEAROSE, and JOVIAN – all in one place! What's more, this showcase is replete with a dikir rebana and kampung nusantara performance! So this is something you definitely do not want to miss. 
Visitors are in for a surprise with the Gashapon Bonanza – all you need to do is spend a minimum of RM100 in a single receipt and you will stand a chance to spin and win exciting vouchers from participating outlets on the spot via the counter at LG, East Court. There'll also be tasty and delectable kurma (dates) treats which visitors can redeem for free at the information counters located at West Court and East Court!
If you are planning a buka puasa or even a family-day Raya outing with your family and friends, head over to  IOI City Mall Putrajaya as they have a wide selection of restaurants and cafes such as the renowned Chef Wan, Madam Kwan's, Christine's, Congkak, Din by Din Tai Fung and Kenny Hills. Alternatively, those in the vicinity may also order from IOI SHOPZ and enjoy free delivery with minimum. RM20 spending.
For more details on the activities at IOI City Mall Putrajaya, visit https://www.ioicitymall.com.my/. 
IOI Mall Puchong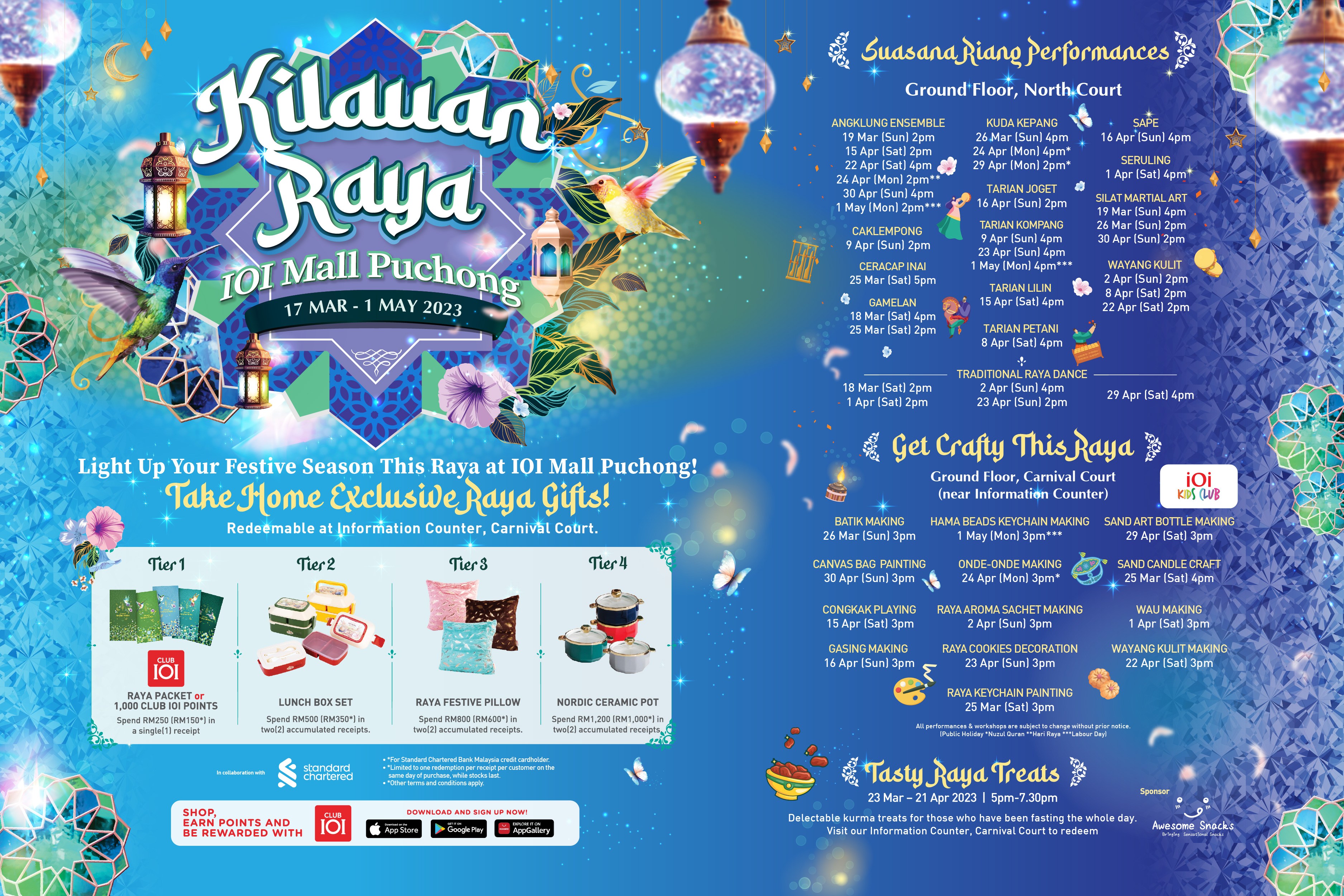 In IOI Mall Puchong, visitors will be able to experience the festive Raya Rhythms performances at Ground Floor, North Court every weekend, which features angklung ensembles, kuda kepang, sape, caklempong, ceracap inai, gamelan, tarian joget, tarian kompang, tarian lilin, tarian petani, seruling, silat, wayang kulit and traditional Raya dances. 
There'll also be a host of IOI Kids' Club workshops near the information counter at Ground Floor, Carnival Court, which will give participants the chance to pick up new skills, just in time for Raya, including canvas bag painting, congkak playing, gasing making, hama beads keychain making, onde-onde making, aroma sachet making, cookies decoration, sand art candle making, and wayang kulit making. 
Similarly, visitors at IOI Mall Puchong can redeem free kurma at the information counter in Carnival Court, courtesy of Awesome Snacks. You can check out more details at IOI Mall Puchong's website at https://www.ioimp.com.my/. 
IOI Mall Kulai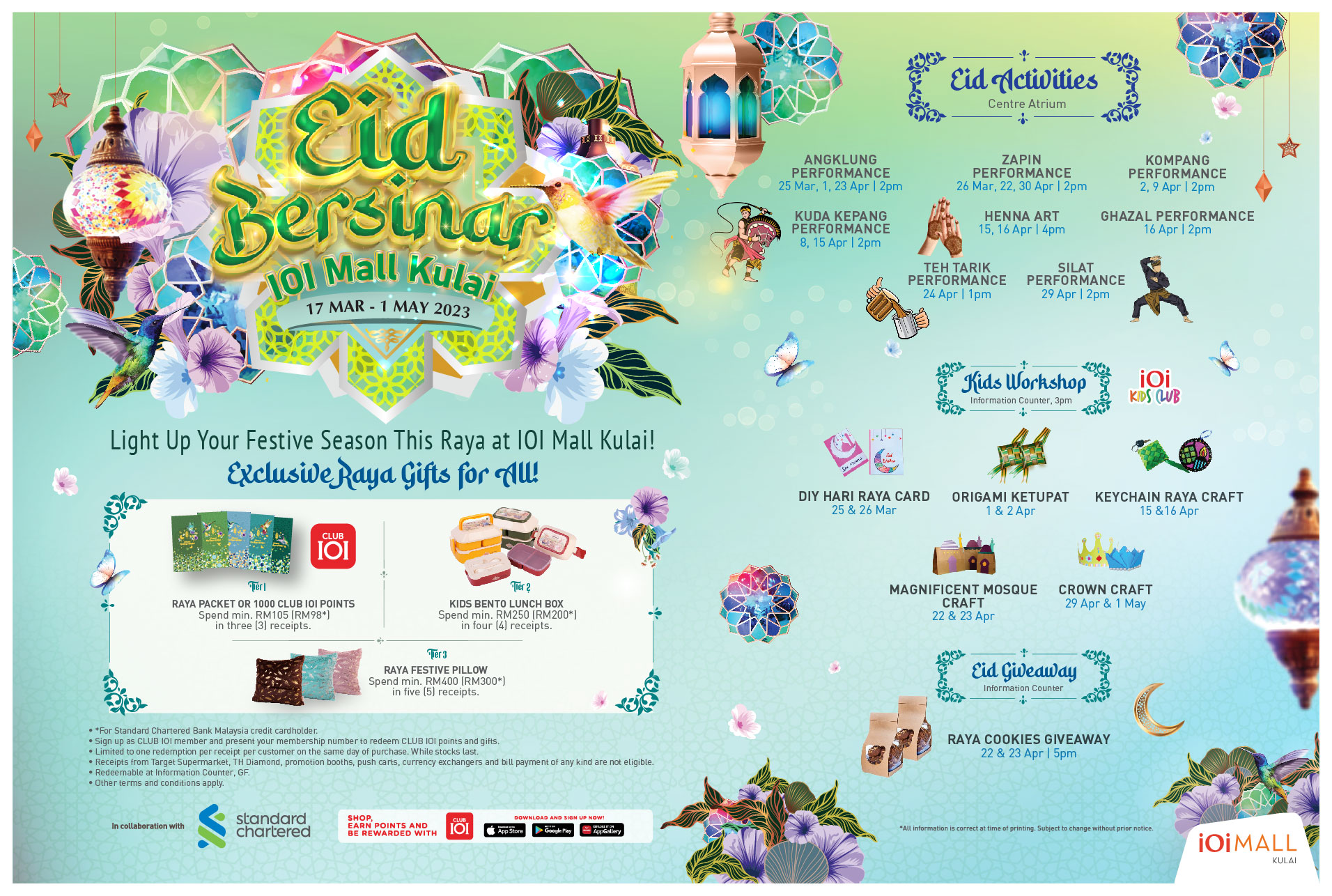 Further down south, visitors in IOI Mall Kulai will be treated with a myriad of Eid activities and performances happening at the Centre Atrium including kompang, zapin, kuda kepang and ghazal performances, as well as a henna art showcase. IOI Kids' Club workshops are also available to entertain the little ones here with keychain craft, magnificent mosque craft and crown craft sessions. On 22 and 23 April 2023, there will be a giveaway of Raya cookies at the information counter at 5pm daily. 
Meanwhile, the Raya celebrations at IOI Mall Kulai will take on cyberspace with the Stop the Gift Online Contest. More information is available on IOI Mall Kulai's website at https://www.ioimall.com.my/. 
To add to the festivities, all three malls will also incorporate a special Raya gift giveaway, where CLUB IOI members can redeem gifts such as Raya packets, 1000 CLUB  IOI Points, festive pillows, ceramic pots and lunch box sets.  In collaboration with Standard Chartered Bank, this limited-time campaign will allow CLUB IOI members a chance to redeem premium items as they spend in any IOI Malls. Visitors who are not members of CLUB IOI will be eligible to participate when they sign up at any information counter at any IOI Mall. 
IOI Malls prepare for Raya Aidilfitri. So, what are you waiting for? Gather the entire family and join in the fun and excitement at IOI City Mall in Putrajaya, IOI Mall in Kulai, and IOI Mall Puchong for a radiant celebration unlike any other. Remember, the festivities will continue right up to 1 May 2023, so be sure not to miss out on the exciting lineup of events, workshops, giveaways, and performances. Make this a Raya to remember and create memories that will last a lifetime with your loved ones at IOI Malls.
Be sure to download the CLUB IOI app and sign up as a member in IOI Kids Club prior to joining any of the IOI Kids Club workshops.