The much-awaited event of the year is finally here! The world  premiere full-scale show of the Sacred Riana, who is the world's most famous and bizarre  illusionist, is all set to grace the Kuala Lumpur Convention Centre stage on July 15th, 2023. Her  spine-chilling act will leave you breathless, as she brings her unique brand of magic to Malaysia.  
The Sacred Riana hails from Indonesia, who has gained international fame after winning the  second season of "Asia's Got Talent" in 2017 and British Got Talent in 2019. Meanwhile, Riana was  also one of the finalists in America's Got Talent: The Champion. She was also featured on Forbes  Asia's 30 Under 30 list. She is a renowned gothic-inspired magician which leaves the audience  spell bounded. Her eerie goosebump stunts and enigmatic personality have captured millions of  hearts.  
Mediaberg Productions, the show organiser says the audience can expect to witness a  spectacle act of illusions, mind-bending tricks, and loads of spooky surprises. "With an  incredible talent like Riana infusing her signature horror theme, which is also a favourite genre within  the Malaysian viewers, we know for sure that this unique style of magic act will be a hit amongst  the Malaysian audience. Her creepy persona with her long hair covering half of her face and  holding Riani, her Annabel-like doll that accompanies her on stage makes it even more terrifying.  According to the show organiser, Riana will be pushing the boundaries of conventional magic  which promises nothing short of mind-boggling. Her eerie stage presence and supernatural abilities  will have you questioning how was this actually possible.  
This show welcomes adult audiences and kids from the age of 7 provided that they are  accompanied by an adult. Mediaberg has taken all the required safety measures without  compromising on any matters. Thus, the audiences can come and witness the once in a life time  experience on the 15th of July 2023.  
Mediaberg Productions has been in the entertainment lime light for more than two years. The entire  team of Mediaberg are super passionate to bring you yet another international act after the  success of a fusion concert. Mediaberg is keen to create more opportunities to bring various  international artist and talents collaborating with various Malaysian stars mainly to broaden the  opportunity in the live performances arena.  
Tickets for The Sacred Riana Conjuring Live in Kuala Lumpur are now available for purchase. Don't  miss out on this unforgettable experience – get your tickets now from  www.ticket2u.com.my/tsr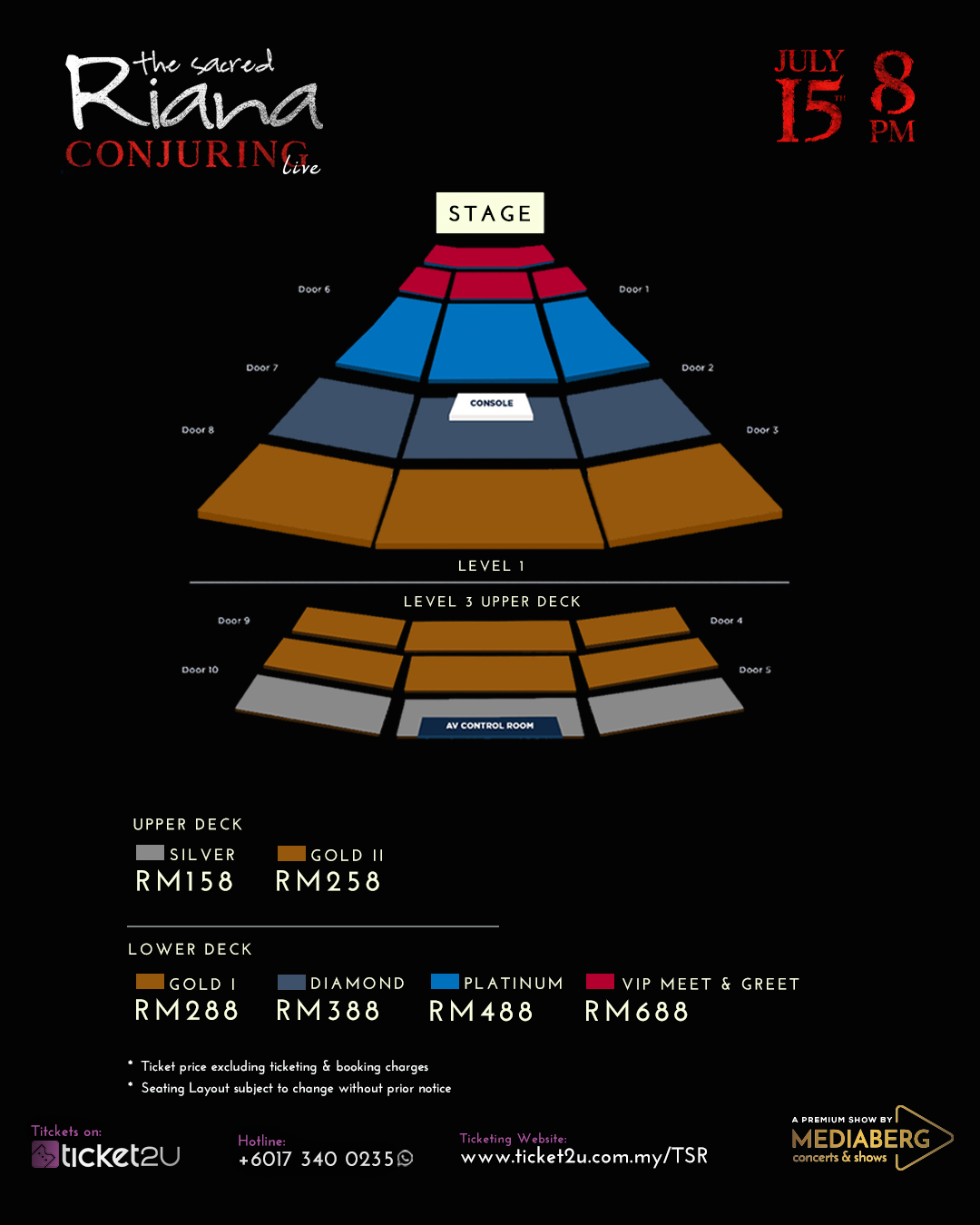 For more information, follow us on Instagram at www.instagram.com/mediaberg 
Prepare to be amazed, astounded, and left in awe as The Sacred Riana conjures up a night of  magic you'll never forget!