The long awaited 2023 iKON WORLD TOUR TAKE OFF has changed the venue to the prestigious Axiata Arena, Bukit Jalil on 22nd July 2023 at 8pm. Concert-promoters Jojo Events and My Events International announced the change in venue today as Axiata Arena had become available for the event after an unexpected booking cancellation by a third party.
They believe that Axiata Arena is the best possible venue for the concert and they believe that Axiata Arena, with its state-of-the-art facility and impressive capacity, can provide the fans with the best immersive concert experience in one of the region's most iconic venue.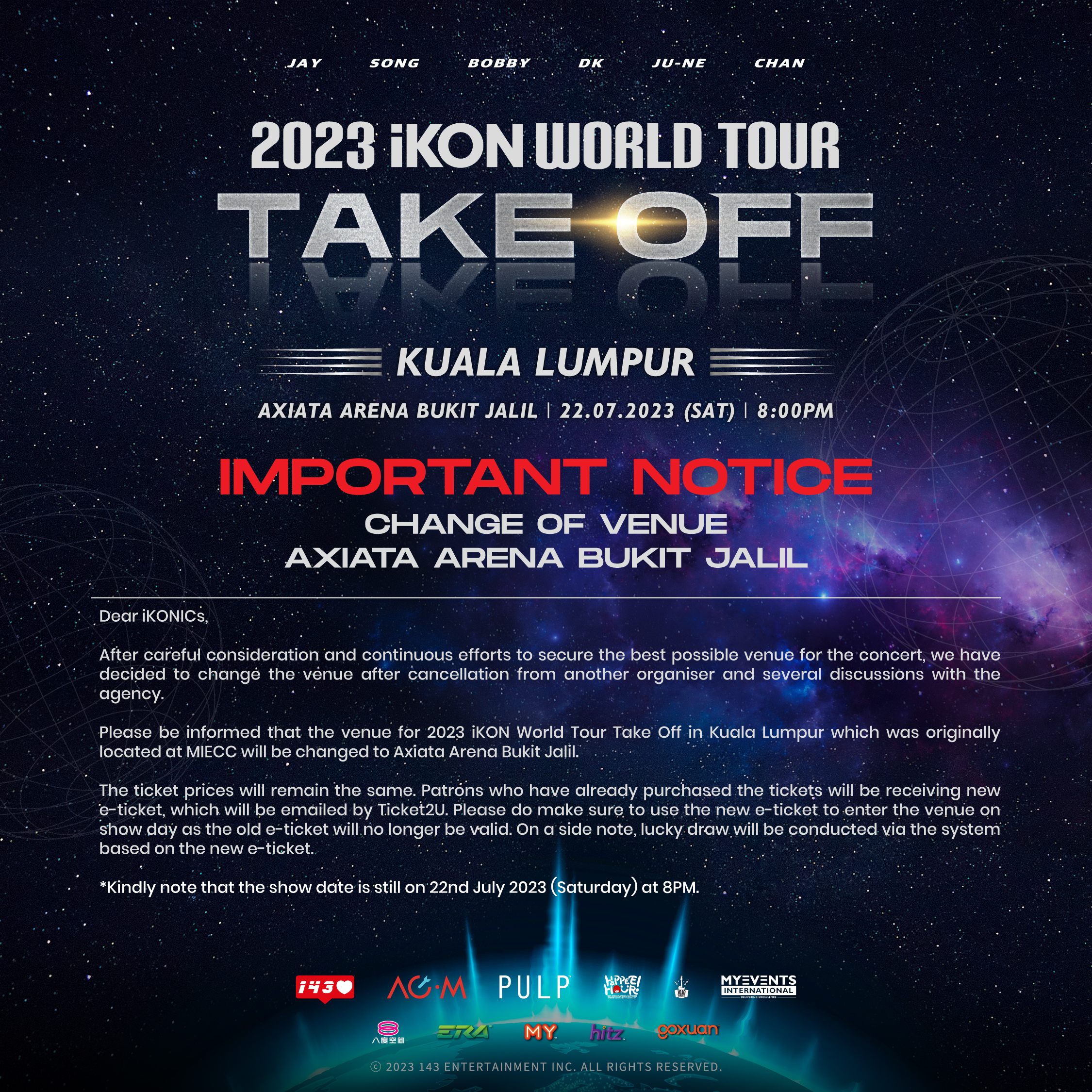 Pursuant to this, the ticket category for CAT 1, CAT 3 and CAT 4 will remain. However, there will be changes for CAT 2, while CAT 5 will be added as an additional category to accommodate to the capacity of the new venue. Due to this, there will be a temporary migration from the Ticket2u platform and the relaunch of the ticket sale is set to take place on 28th June 2023 on Wednesday, at 12pm onwards.
The Organisers have added the lowest category to make it more affordable for the students priced at RM198. Tickets for the concert are available for purchase at various price ranges (RM198, RM388, RM438, RM538, RM838, RM1038, RM1088) subject to ticketing fees. Fans can enjoy an additional 15% discount for only CAT 1 ticket purchase with the promo code "IKONKL15". To secure your spot and experience spectacular performances by iKON, visit www.ticket2u.com.my.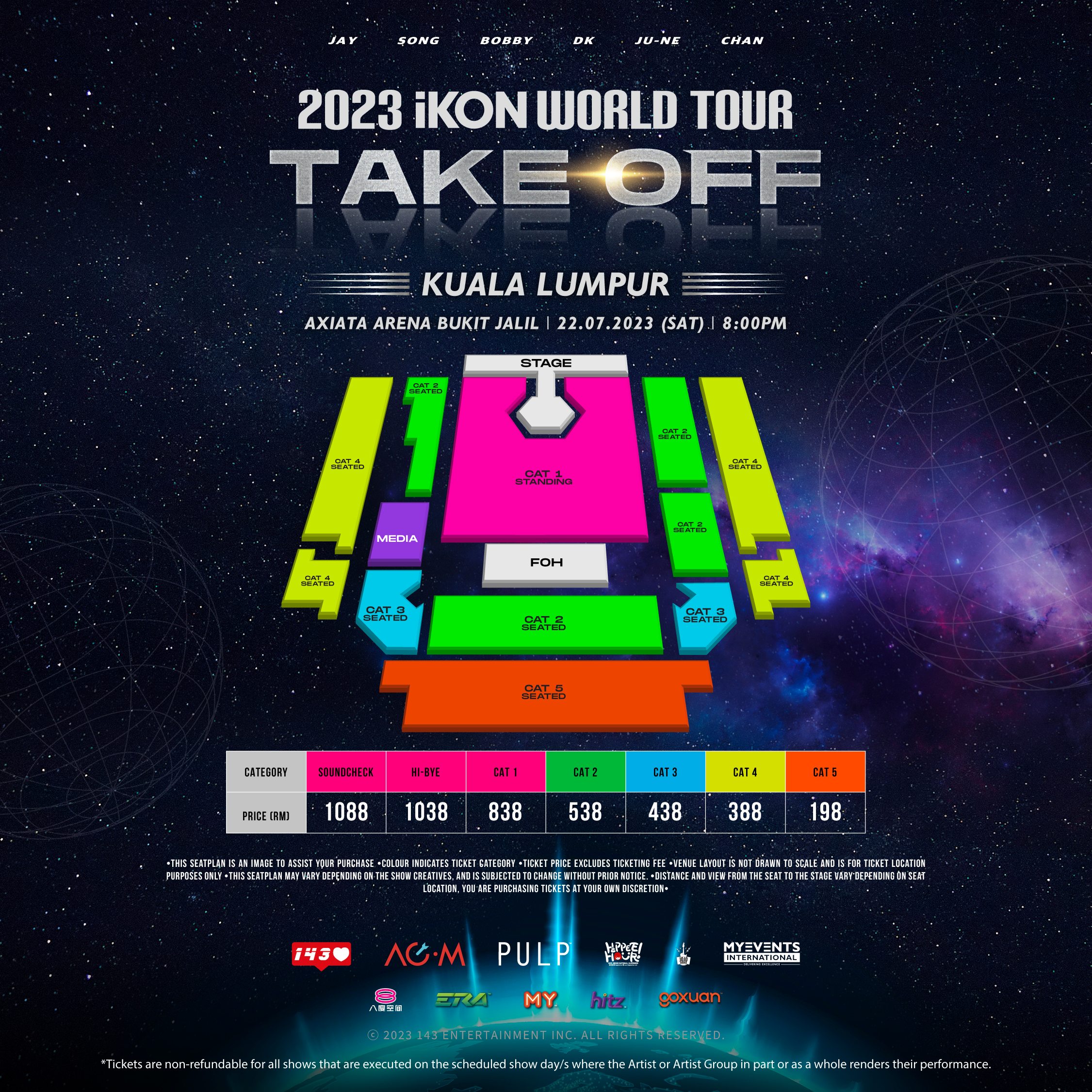 As for existing ticket holders, the updated venue information and seating plan will be emailed to their registered email account.
The Organisers are very happy to provide the fans with a secure and congenial seating, adequate parking space, public transportation, food trucks, surau, and many more amenities! The Organisers will be taking all measures to ensure that the fans' interest and enjoyment is top priority. Their team is currently working diligently on the floor plan design, ensuring that every detail is meticulously crafted to prioritise fans enjoyment and create a memorable experience.
On board, they have their esteemed partners for the 2023 iKON World Tour Take Off to fully support them throughout the event. 8TV has been designated as the Official TV Partner and Era FM, MY FM, Hitz FM and Go Xuan FM as the Official Radio Partner.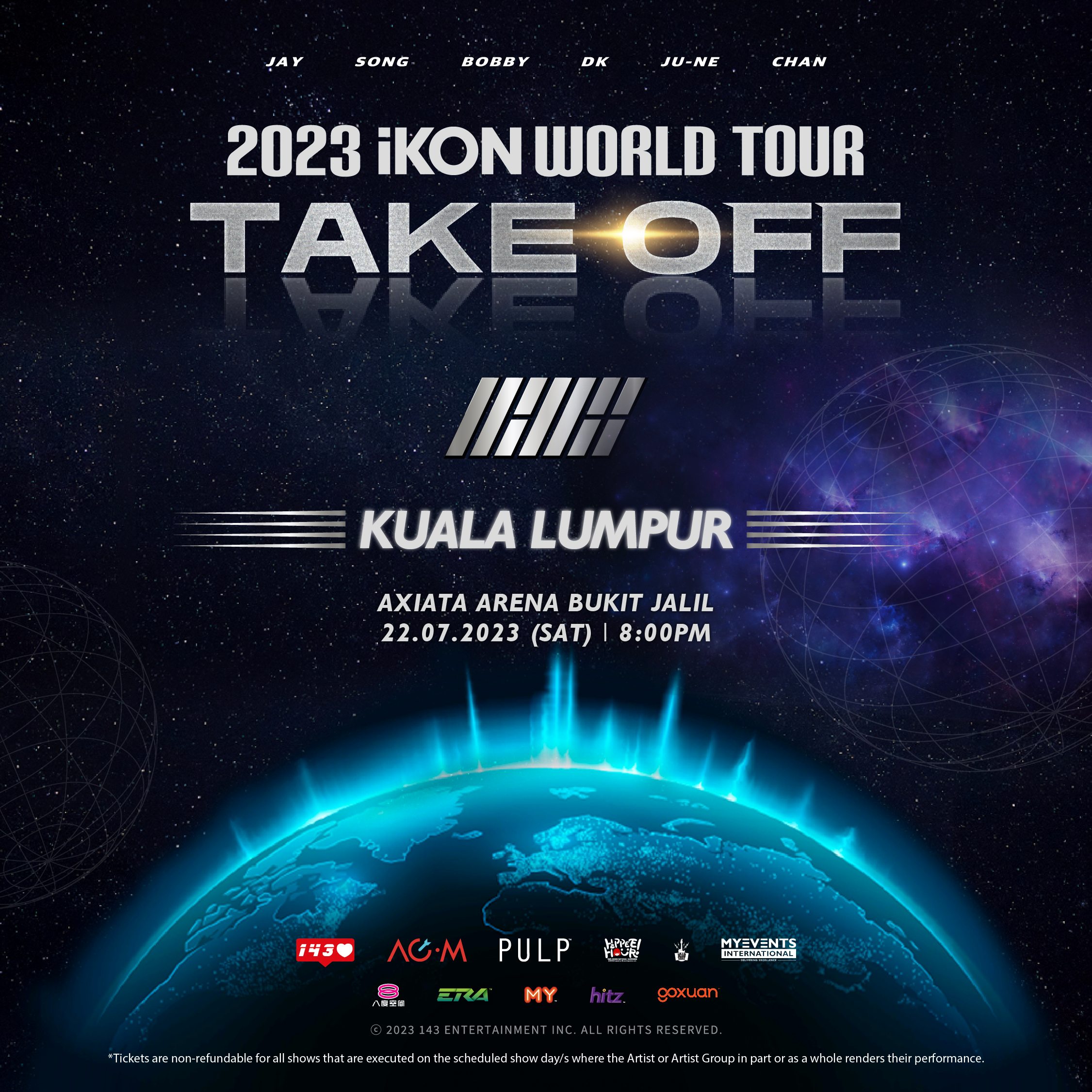 Prepare to be transported on an unforgettable musical voyage as iKON enters the stage, captivating hearts with their outstanding sound quality, bright graphics, and thrilling dance moves. Keep an eye out for more news and surprises as the iKON World Tour Take Off kicks off in Kuala Lumpur on 22nd July 2023.
ABOUT THE ORGANISERS
Jojo Events Sdn Bhd is recognised as the company that delivers quality artists, dependable services and innovative events to its corporate clients, sponsors and agency clients at competitive rates. It's a wholly-owned Bumiputera company, owned by the flamboyant YAD Tan Sri Syed Yusof Tun Syed Nasir aka Jojo, to his friends and associates, has been promoting concerts of internationally renowned artistes since the mid-90s such as the unforgettable MICHAEL JACKSON HISTORY TOUR.
My Events International is a unique event company that provides the finest solutions and services to clients throughout Malaysia and beyond. The company has been delivering excellence and going beyond limitations for the past 16 years. My Events International has vast experience in organising trade exhibitions, conference, festivals, concerts and gala awards. Its mission is to provide cutting-edge solutions and services while building strong relationships with their clients. More than a decade since establishment, their presence has touched global standards. Over the years, the company have successfully set up base in Malaysia, UAE, India, United Kingdom, Arab Saudi, Philippines, Pakistan, Thailand, Nigeria, South Africa and Rwanda.
For more information, visit;
Facebook – My Events International Instagram – @myeventsintl
Twitter – @myeventsintl_
Tiktok – myeventsintl