More than just a long-lasting hydrator, the three new hydra creams and one hydra gel are specially formulated with result-driven 95% natural origin ingredients to meet growing customer's demand for natural skincare that helps visibly reduce skin pigmentation, even out skin tone, delay signs of aging, revitalise dull and tired-looking skin and normalise oily and acne-prone skin.
What makes the Hydra Range products so unique is the innovative 8 different sizes hyaluronic acid, the first of its kind to be launched by a Malaysian skincare brand, that draws and locks in moisture deep into the skin, layer by layer. This hydrating effect is further enhanced by another moisture- boosting ingredient, saccharide isomerate (Pentavitin), clinically proven to remain in the skin for up to 72 hours even after washing. Together with Niacinamide (Vitamin B3), beauty most sought after moisture-boosting ingredient, the skin is instantly quenched, strengthening the skin barrier, preventing moisture loss. Whatever the skin condition, the skin will benefit from the hydrating effect which remains with regular use.
The launch of the new Hydra Range is prompted by popular demand from loyal users of Garden of EDEN 100% plant-based serums. Garden of EDEN is a niche boutique brand that was launched in Year 2000 that special- ises in concentrated beauty serums that target at improving common skin conditions of pigmentation, dry, dull and sensitive skin, aging skin, oily and acne skin and scars. Many are satisfied with the therapeutic oil serums. But they wanted more. They wanted a cream and gel version of the ROSA E Pigmentation Serum, the GRAPE E Anti-aging Serum, the PRIMROSE E Radiant Skin Serum and the ROSA T Anti-Acne Serum.
This began the long search for the optimum combination of natural beauty ingredients that are clinically proven for their emcacy. To meet growing demand for functional skincare, consumers are seeking out products that promise to deliver multi-skin benefits, easy to wear, good skin feel, affordable, natural that is kind to the skin and mother earth. The end result is the Garden of EDEN new Clean Beauty Hydra Range Creams and Acne Gel helping to increase the number of discerning consumers to consciously raise the bar for cleaner environment while educating them on skin health and well-being.
"It has always been Garden of EDEN's promise to deliver plant-based products that are effective yet kind to the skin and the environment," said Mr Chew Soon Keong, the founder and MD of Maxwell Pharma, and a pharmacist by profes- sion. All the new hydra range products are dermatologically tested suitable for even the most sensitive skin as reflected in the brand's tagline "Trusted Natural Skincare"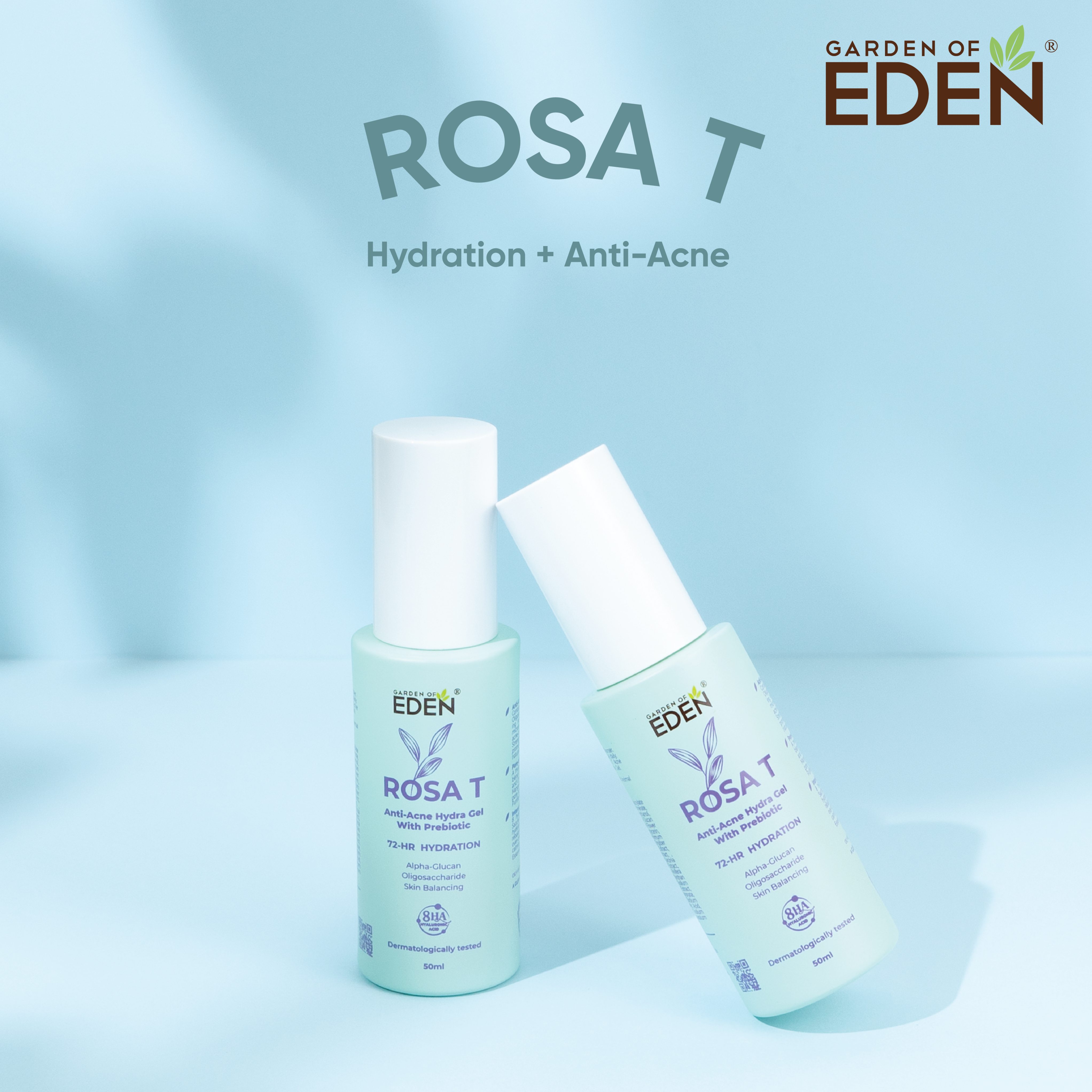 Every Hydra Cream and the acne gel is carefully crafted to include trusted verified ingredients that work to help activate the skin's own natural healing powers from within. It is the brand's mission to empower users to understand their skin condition and make conscious choice in selecting skincare that bests suits their skin. For example, acne users will benefit from the ROSA T Anti-Acne Hydra Gel infused with prebiotics, to rebalance the skin microbiome. This new approach in acne management uses prebiotics, a-glucan oligosaccharide, a natural sugar to selectively promote the growth of healthy skin-friendly microbes while limiting the growth of harmful P.acne bacteria on acneic skin. Prebi- otics increase the skin defense against acne bacteria promoting healthy skin, reducing acne breakouts, and acne-free skin, naturally. This hydra product comes with other skin-health extracts from mangosteen, cinnamon, ginger and Burnet root, all rich in natural tannins, anti- oxidants and anti-bacterial to minimise pores, reduce oily skin and redness.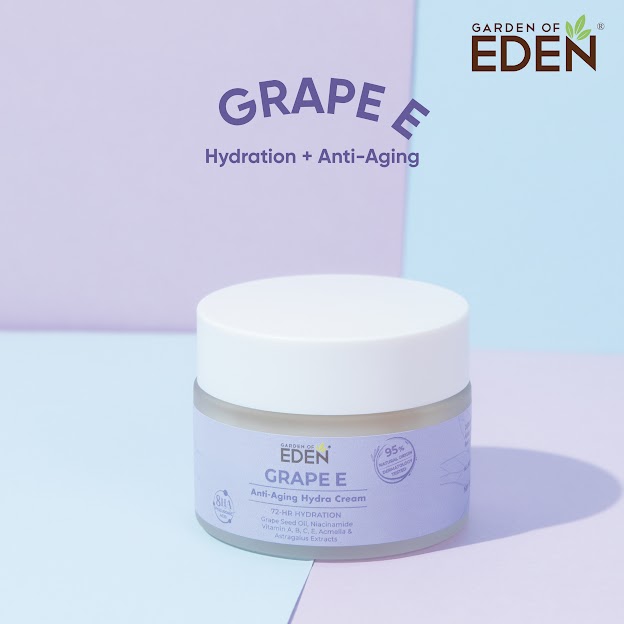 The GRAPE E Anti-Aging Hydra Cream is expected to be a real winner in the anti-aging category and value for its money. It has an impressive anti-aging ingredient list. It contains all-time classic anti-aging Vitamins A, C, E, B3 (Niacinamide) and B6, plus super food Goji Berry and Grape Seed Oil – a powerful pack of antioxidants to neutralise free radicals, strengthen skin barrier, protect and boost collagen, firming skin and slowing down the signs of aging , restoring youthful look. This product is infused with Silver Vine extract to give added skin luminosity. Perfect protection for urban living that complements the GRAPE E Anti-Aging Serum .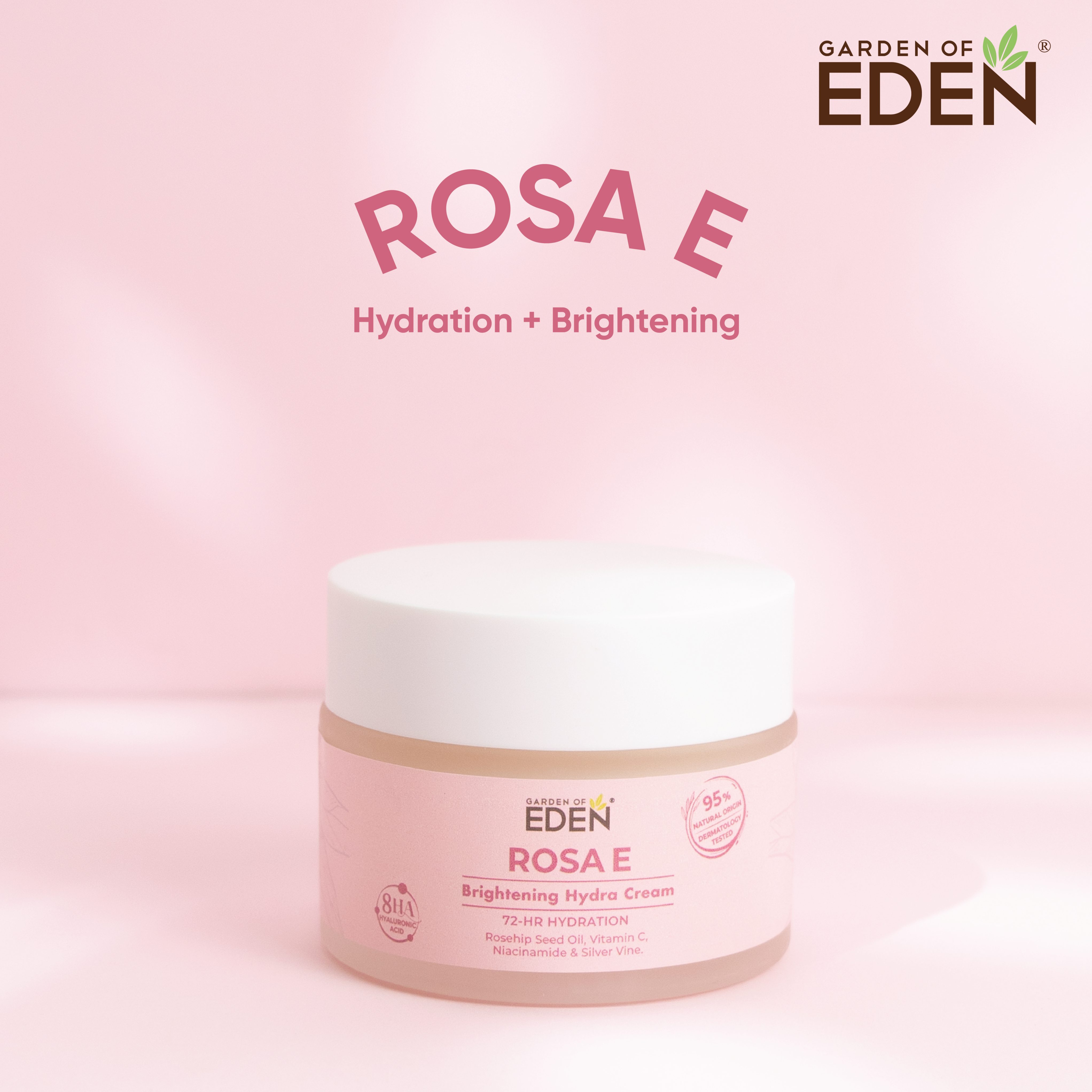 For the ROSA E Pigmentation Serum users or for those seeking an effective day-long moisturiser with good skin brightening effect the choice is the new Rosa E Brightening Hydra Cream that contains natural skin lighteners Vitamin C, Hibiscus, cucumber and mulberry extracts clinically verified to reduce melanin and pigmentation before, during and after melanogenesis. Like the GRAPE E Anti- aging Hydra Cream, the ROSA E Hydra Cream is fortified with Silver Vine extract to give the skin a clear translucency look while firming and lifting it.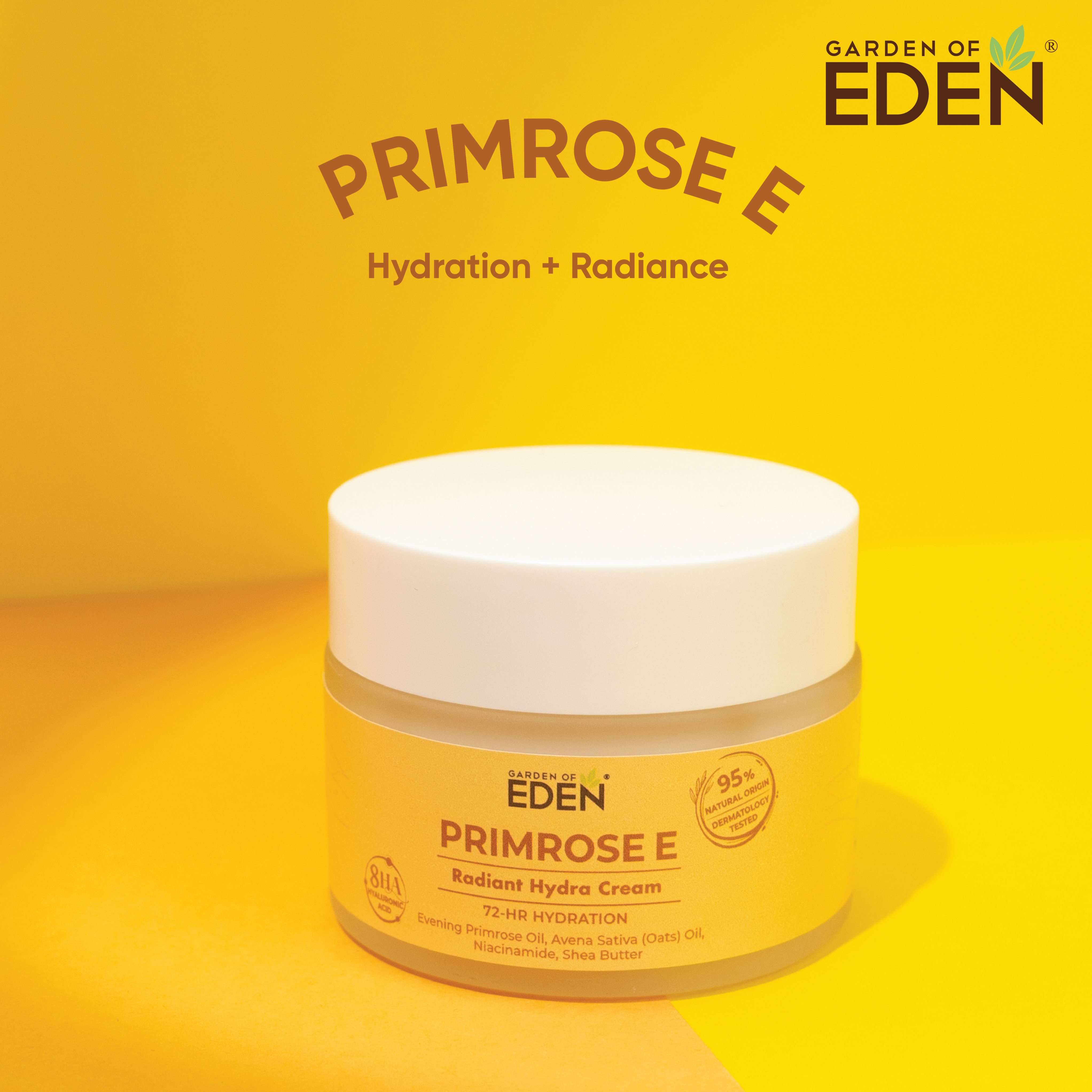 The PRIMROSE E Radiant Hydra Cream is perfect remedy for extremely dry, dull and lack-lustre skin. This ultimate hydration cream contains huge dose of humectants such as 8 types of Hyaluronic Acids, Sac- charide Isomerate (Pentavitin) and natural glycerin that draw moisture into the skin restoring dry sensitive skin to give off a soft natural glow. This product is formulated with added shea butter and skin protective colloidal oats rich in skin regenerative ceramide for skin barrier repair and softer, smoother skin. This herbal glow cream contains energy-boosting ingredients from the Caper flower buds, rose root and mulberry leaf extracts that help boost cellular energy by increasing the number of mitochondria that provides power to the skin cells , energising and recharging tired and dull skin. Energised, the skin regains its natural glow and radiance.
Garden of EDEN new Hydra Range offers discerning consumers four different clean beauty hydra products with a promise of intense continuous skin hydration plus the benefit of visible improvement to their skin condi- tion be it uneven skin tone, skin aging, tired and dull skin or oily and acne skin . Enjoy the silky smooth cream and gel infused with a heavenly scent of essential oil and well-being.
You can find Hydra Range products on website, Guardian, Watsons, Alpro Pharmacy, and selected pharmacies nationwide