HUAWEI AppGallery, the leading global app distribution platform together with ZUS Coffee esteemed high-quality coffee brand, and beloved mobile game Ragnarok Origin (ROO) are joining forces to announce a collaborative campaign revolving around the highly anticipated Velvet Crème Poring Latté. This mouth-watering limited-edition drink was carefully crafted to capture the excitement and happiness felt when starting a new adventure with a partner, while seamlessly blending elements of gaming, specialty coffee craftsmanship, and technological innovation.
Experience the captivating Velvet Crème Poring Latté with the three-party campaign until 31 July 2023. The limited-time pink-hued drink pays tribute to the enchanting story that unites gaming, love, and technology, offering an unforgettable taste experience. Immerse yourself in this limited-time treat at any ZUS Coffee and explore the perfect blend of gaming and coffee culture. As an added bonus, customers who purchase the Velvet Crème Poring Latté will unlock exclusive user benefits that will enhance their enjoyment to the fullest. 
From now until 31 July 2023, this tripartite campaign promises an array of exciting activities and exclusive rewards for participants. The enchanting Velvet Crème Poring Latté, a delightful drink boasting a pink hue and sweet flavour, is set to captivate taste buds. Coffee aficionados are encouraged to savour this limited-time, refreshing and invigorating beverage that will allow them to experience the perfect fusion of gaming and coffee culture.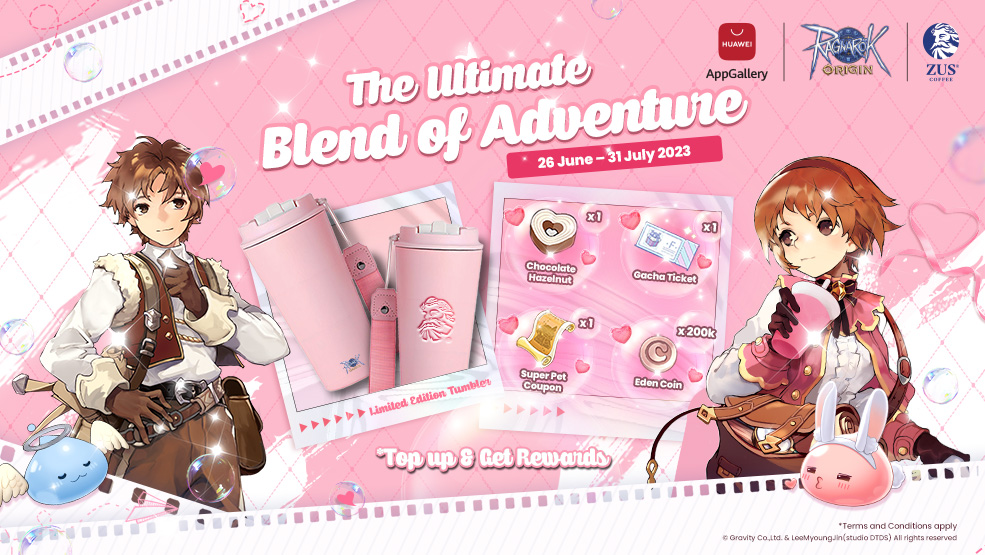 In addition to the Poring Latté experience, the campaign presents exhilarating opportunities for in-app purchases and user rewards on HUAWEI AppGallery. Players of Ragnarok Origin are invited to download the game from AppGallery and get exclusive rewards. Some of the rewards that gamers are able to unlock*: 
Special in-game gift packs for a total spend of RM500 and above

Limited-edition "Original Love" Tumbler for a total spend of RM1,000 and above, only on eWallets. 
The in-app purchases activities will run from now until 31 July 2023. Terms and conditions apply. Log on here to learn more: https://bit.ly/ag_roo_zus_campaign2023
Players can download Ragnarok Origin from AppGallery at https://bit.ly/42xfq2d. 
Boasting a remarkable two-decade legacy in the gaming industry, Ragnarok Origin holds a cherished place in the hearts of passionate gamers. It provides players with a nostalgic journey, allowing them to relive extraordinary adventures alongside their beloved characters while sharpening their skills on exciting battlegrounds. With visually stunning maps and the revival of beloved job classes, gamers can fully immerse themselves in the captivating and diverse world of ROO. For an enhanced gaming experience, players can indulge in the seamless and optimized gameplay offered by the HUAWEI P60 Pro.
Rei Xiao, Director of Mobile Ecosystem Business Growth, Huawei APAC Region said, "We are thrilled to join forces with ZUS Coffee and Ragnarok Origin in this campaign. The launch of the Velvet Crème Poring Latté and the opportunity for users to download Ragnarok Origin from AppGallery epitomise our commitment to integrating technology and lifestyle. Together, we are creating a unique experience that combines the best of coffee and gaming for our users to enjoy."
Terence Ho, Co-Founder of ZUS Coffee elaborated, "We have created Velvet Crème Poring Latté as a tribute to the joy, adventure, and emotions that gaming evokes. We believe that this drink will become an enjoyable part of Ragnarok Origin players."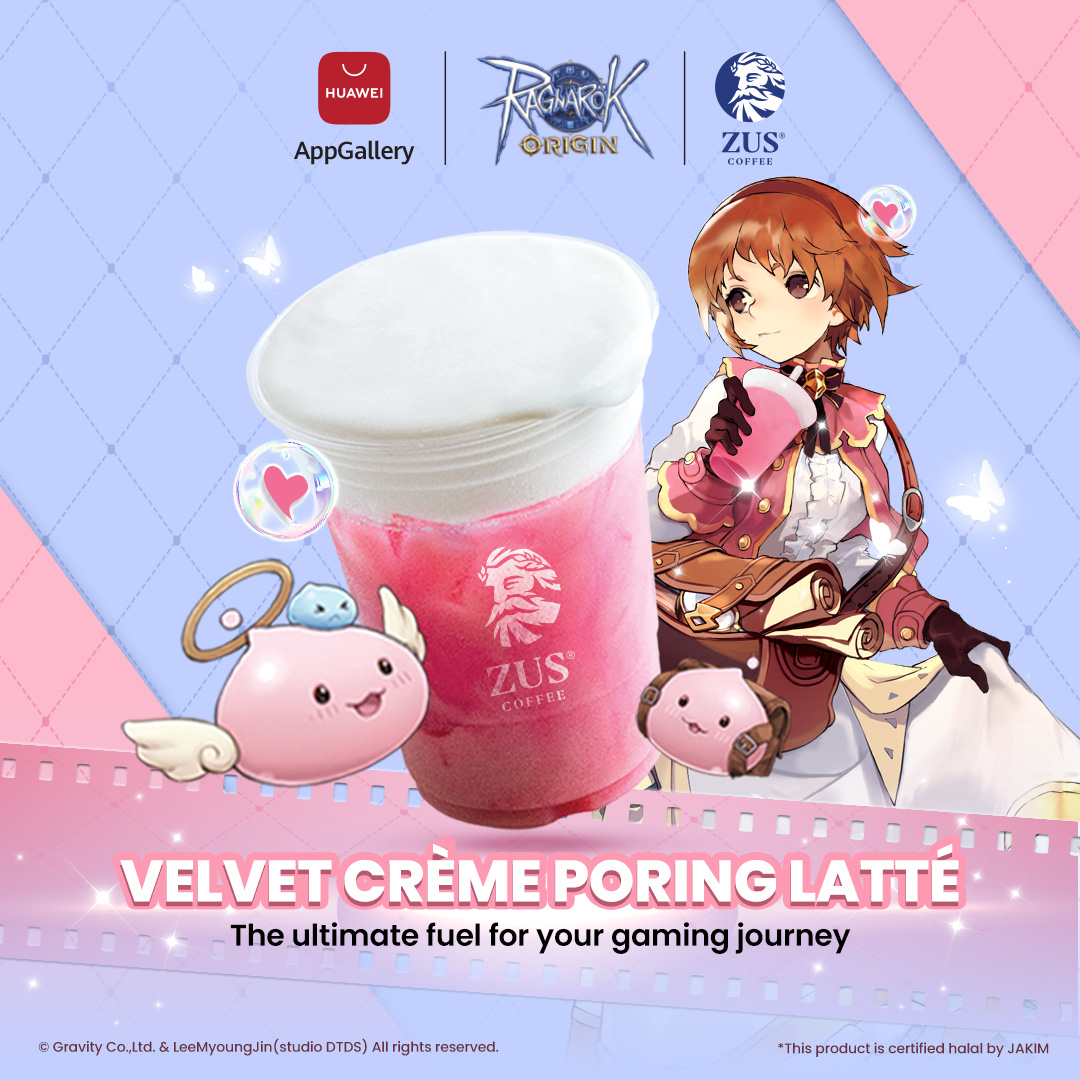 Harry Choi, President of Gravity Game Hub added, "The Velvet Crème Poring Latté, inspired by Poring, the iconic adorable monster in Ragnarok Origin, allows our gaming community to experience the fantasy world in a different space, and as part of their daily lives. Avid fans can also catch up over a drink and their gaming happenings. It is also an opportunity for other gamers to discover the world of Ragnarok Origin, bringing the nostalgic charm of the game to a wider audience. Join us in exploring the diverse and visually stunning world of Ragnarok Origin, available now on AppGallery."
HUAWEI AppGallery is available for Android phone users. To download the app, follow these steps: 
Go to the download link and click on "Install" to have AppGallery on your Android device.

Download HMS Core and click on "Install".

Create a HUAWEI ID and log in.

Start downloading apps and games and enjoy AppGallery's exclusive benefits and rewards.
Download AppGallery now: https://bit.ly/40VRapY
Join the AppGallery Discord channel to unlock additional perks and exclusive benefits: https://discord.gg/6C3fyEsQt3