Stepping into the massive shoes of an icon is no easy feat but Break Free is a band that is up for the challenge and exceeds expectation at every turn. Fresh from an enthralling tour internationally and ready for its Southeast Asia debut, the band is set to bring the best of legendary rock band Queen to Malaysia for an unforgettable four-night concert, CONCERT OF THE CHAMPIONS – LONG LIVE THE QUEEN, at Zepp Kuala Lumpur from September 20-23, 2023.   
Milestone Entertainment is excited to bring this European band to Kuala Lumpur. Get ready to sing along to Queen's iconic greatest hits, including "We Will Rock You," "Radio Ga Ga," "Bohemian Rhapsody," and many more. Their greatest hits captivate and resonate generations of music enthusiasts.
  As the countdown to their concert begins, Giuseppe Malinconico (Lead Vocal), Federico Kim Marino (Drummer and Vocal), Paolo Barbieri (Guitarist & Vocal), Sebastiano Zanotto (Bassist & Vocal) from Break Free gives fans an insight into the creative process behind their one-of-a-kind performance that pays homage to Queen while adding their own originality to the mix. 
5 minutes with Break Free, about the magic and wonder of Queen
Q: Can you tell us about the origins of your band and how you all came together?  
A: As a band, we came together through a shared passion for Queen's music. Some of us, like Giuseppe and Kim, had previously played together in a band called Mugaen. The idea of paying homage to Queen struck us, and we quickly joined forces with Paolo and Sebastiano, whose exceptional musical skills emulate Brian May and John Deacon. This led to the formation of Break Free, with a mission to celebrate the extraordinary music of Queen.  
Q: We know the story behind your band is the inspiration to celebrate Queen, but why did you all choose Queen out of all the iconic bands out there?  
A: Queen has been an immense source of inspiration for each of us since our childhood. As lifelong fans, we deeply admire their groundbreaking music, electrifying performances, and the powerful legacy left behind by Freddie Mercury. Their songs have a timeless quality that resonates with people of all generations, and their ability to captivate audiences is unparalleled. By honouring Queen, we aim to preserve their spirit and share the magic they brought to the world with fans everywhere.   
Q: Can you share some of the challenges you've faced as a band and how you've overcome them?  
A: We face the challenge of delivering an authentic Queen experience while infusing our own energy into the performances. It requires meticulous attention to detail and a deep understanding of each band member's style and nuances. We overcome these challenges through dedicated practice, continuous refinement, and a shared love for Queen's music. By constantly honing our craft and striving for excellence, we aim to provide audiences with an unforgettable show.  
Q: What does your creative process entail when channelling Queen & stepping into the persona of Freddie Mercury?  
A: Our creative process involves meticulous study and analysis of Queen's performances, as well as Freddie Mercury's stage presence. Giuseppe, our lead singer, focuses on capturing Freddie's body language, vocal timbre, accent, and pronunciation to create the illusion of witnessing the legend himself on stage. The rest of us also meticulously recreate Queen's sound, movements, and energy, paying attention to the smallest details. Through intensive rehearsals, constant refinement, and a profound respect for Queen's music, we strive to honour their legacy authentically.  
 Q: What do you consider to be the most rewarding aspect of being a musician who carries the name, Queen?   
A: The most rewarding aspect of being musicians who carry the name Queen is the opportunity to bring joy and happiness to fans around the world. When we see the smiles on their faces and witness their passion for Queen's music during our performances, it's a truly gratifying experience. We take great pride in being able to recreate the magic of Queen's concerts and provide fans with an unforgettable experience. The knowledge that we are keeping Queen's legacy alive and inspiring a new generation of fans is incredibly rewarding!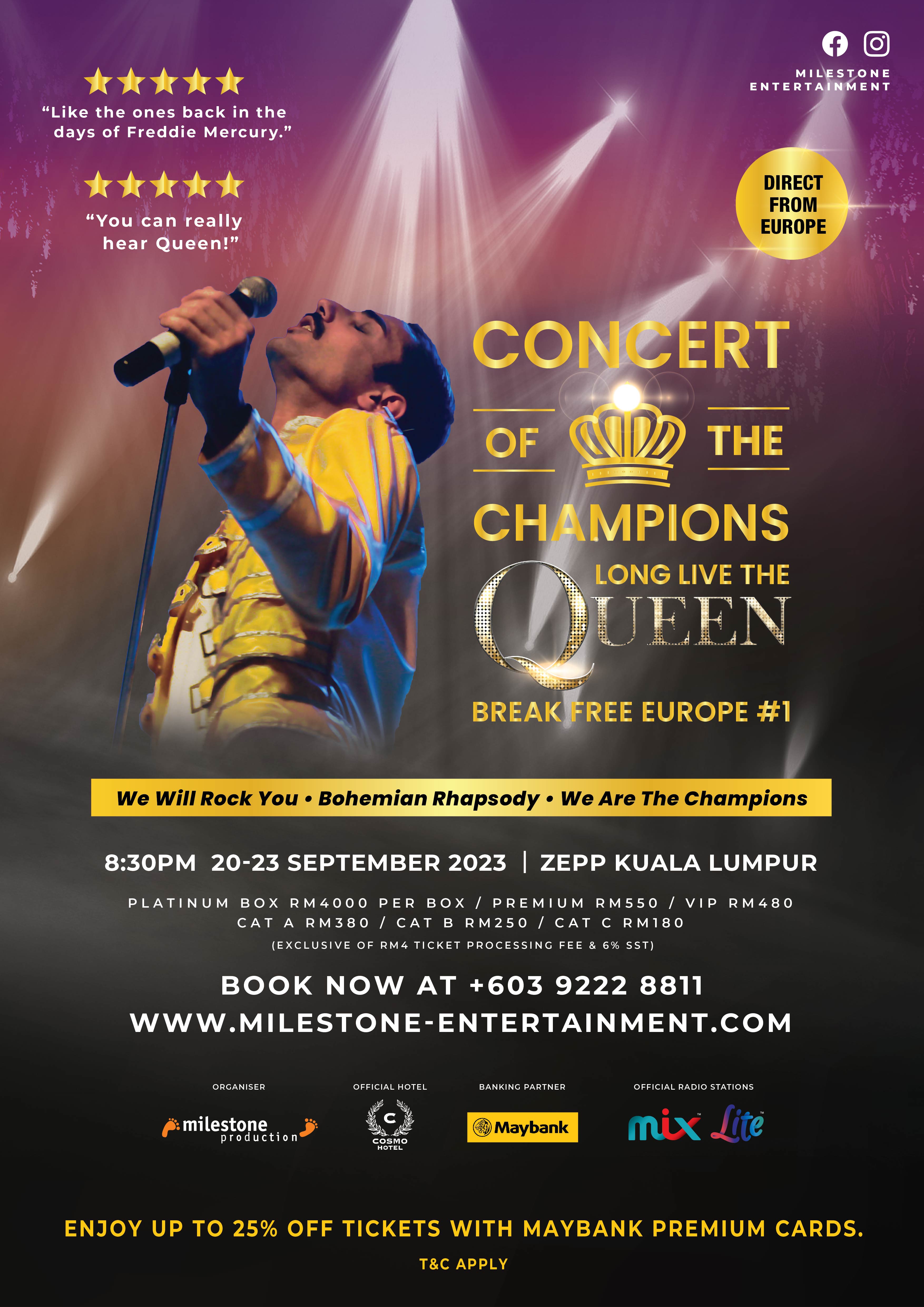 Show Date : 20th – 23rd September 2023    
Venue : Zepp Kuala Lumpur    
Time : 8:30PM Starts  
Ticket Prices:  
Platinum Box RM4,000 per box | Premium RM550 | VIP RM480 |  
CAT A RM380 | CAT B RM250 | CAT C RM180    
*Ticket prices are subject to RM4 ticket processing fee & 6% SST    
Exclusive offer for Maybank Cardmembers*    
20% off for purchase of any TWO tickets (20th or 21st September show)    

15% off for purchase of any TWO tickets (22nd or 23rd September show)   
Exclusive offer for Maybank Premium Cardmembers*   
25% off for purchase of any TWO tickets (21st September show)   
*Applicable only for bookings made from 19th June to 23rd September 2023 at www.milestone-entertainment.com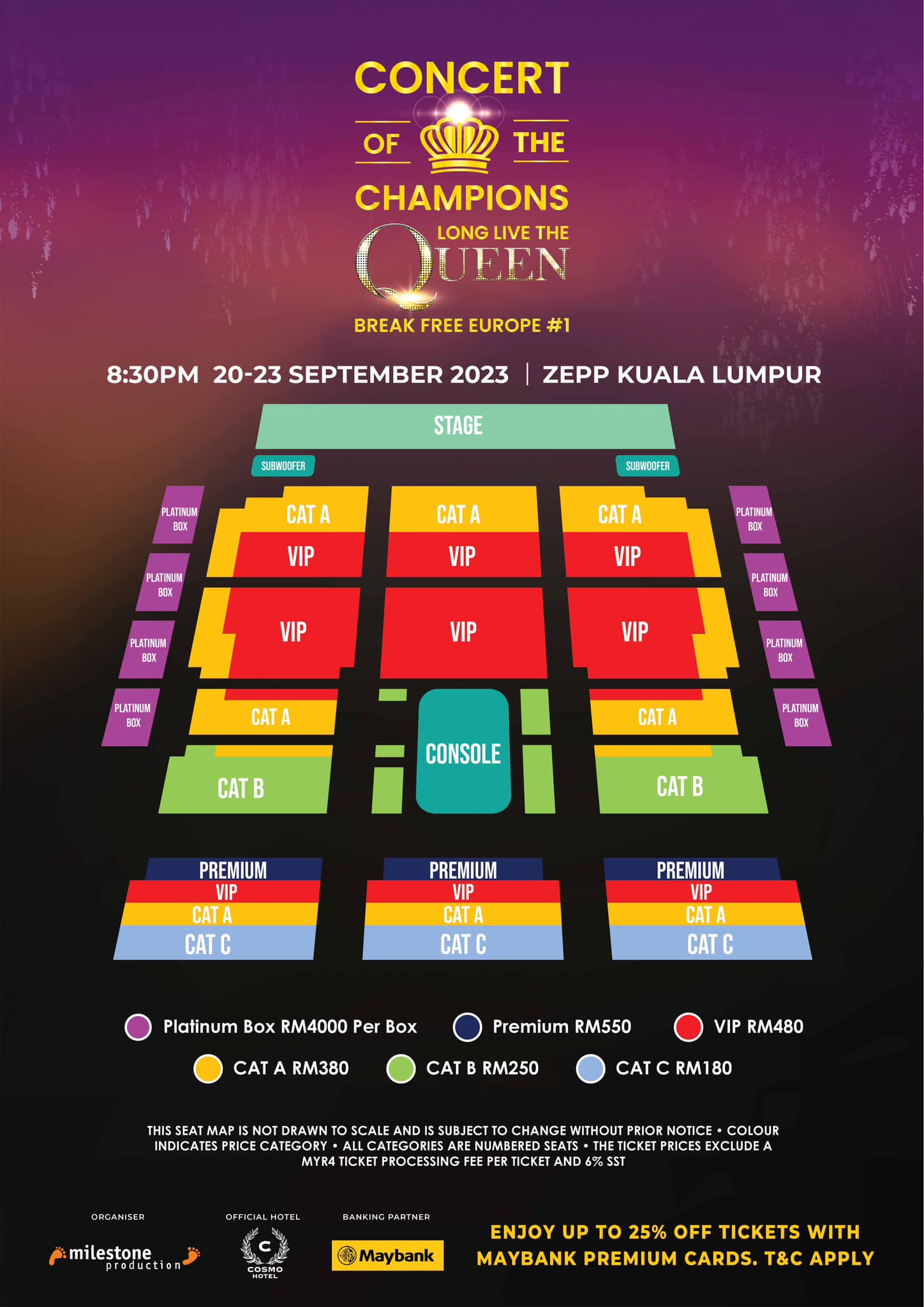 About Milestone Entertainment
Milestone Entertainment is the show production arm of Milestone Production. We pride ourselves in producing and delivering high impact local and international live performing acts to the local scenes since 2002. As one of the biggest live entertainment show production companies in Malaysia, we work closely with many parties in producing world class shows from local productions to West End London and Broadway US, cirque and children shows. Some of our past successful shows like "Madagascar The Musical," "Yannick Bovy Celebrates 100 Years of Nat King Cole," "Remembering Whitney – The Greatest Love of All," "Rumour Has It – Adele Her Life and Songs," "Jersey Boys," "Thriller Live," "Saturday Night Fever The Musical," "Mama Mia! The Musical," and many more. With many world class show productions under our belt, the show management division has gone on to win the Gold Award in Integrated Marketing (B2B), Bronze Award in Excellence in Public Relations and Bronze Award in Sponsorship Activation.    
For more information, please contact:  

Jess Wong / Sha

  

Milestone Entertainment    

Aw Li-Ann / Syahirah Amran

   

INK PR   

T

el:   

Mobile:  

  

E-mail:   

+603-7932 1001  

+6012-515 3755 (Jess)   

+6012-332 3024 (Sha)  

  

Tel:   

Mobile:   

   

E-mail:   

+603-7499 2882 / 2883   

+6012-207 8285 (Li-Ann)   

+6018-234 9619 (Syahirah)   
Follow our social media accounts for more show details and updates.   
Facebook: Milestone Entertainment  
Instagram: milestoneentertainment.show