In the latest patch on July 19th, PlayPark Streetballers has announced their upcoming Season 4 events which will start on the 1st of August till the 31st. There are tons of rewards for new and returning players up-for-grabs, including a NEW CHARACTER RELEASE so be sure to login to the game with your friends! Here are some of what's coming to Season 4 of PlayPark StreetBallers:
Get Ready for Season 4
New Season Begins: 1st August – 31st August ç? 
The court is heating up as Season 4 kicks off on August 1st! Get your game face on and prepare for the ultimate streetball showdown. It's time to show off your skills, dominate the court, and claim victory!
Season 4 Ranked Ladder
Reach Platinum IV for Exclusive Rewards!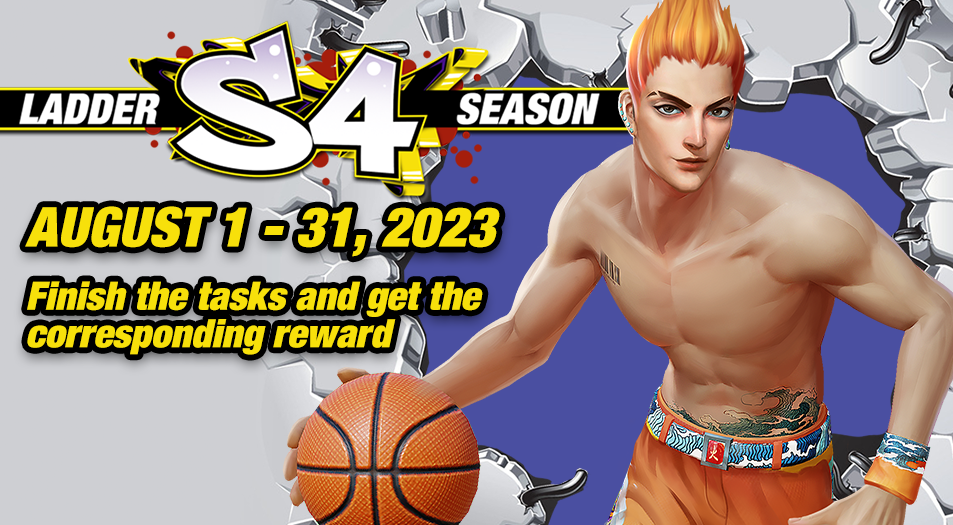 Ranked ladder reset incoming! Climb your way up to Platinum IV and unlock an exclusive skin for Dwight! Can you handle the intensity of the competition and rise to the top? Prove your worth on the asphalt and reap the rewards!
Event Duration: August 1 – 31, 2023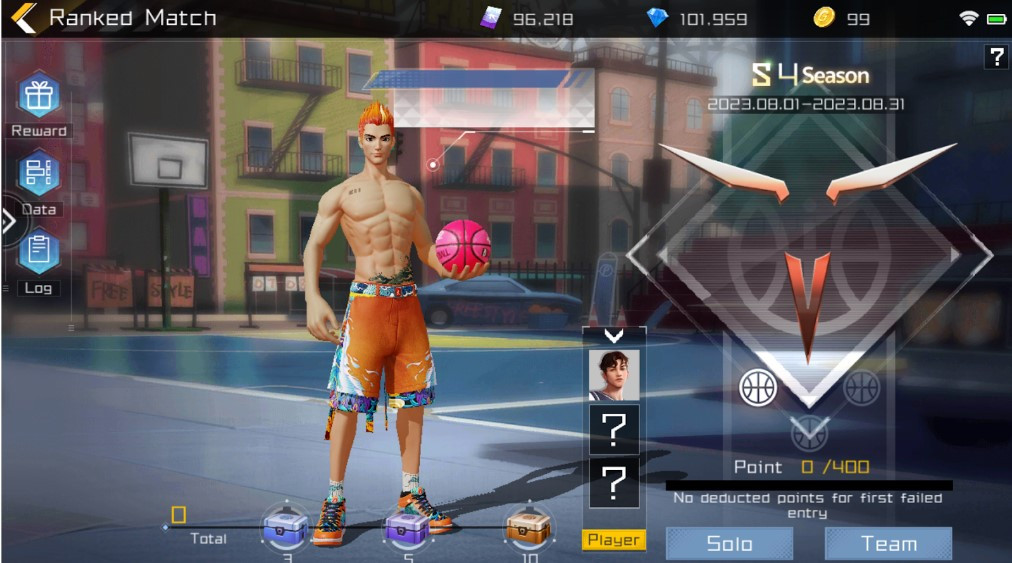 How to join:
Tap "Ranked" in the screen menu

Achieve a Platinum IV rank or above and win 30 times during the Season 4 Rank event.

Once accomplished 30 wins Dwight skin will be automatically sent via in-game mail.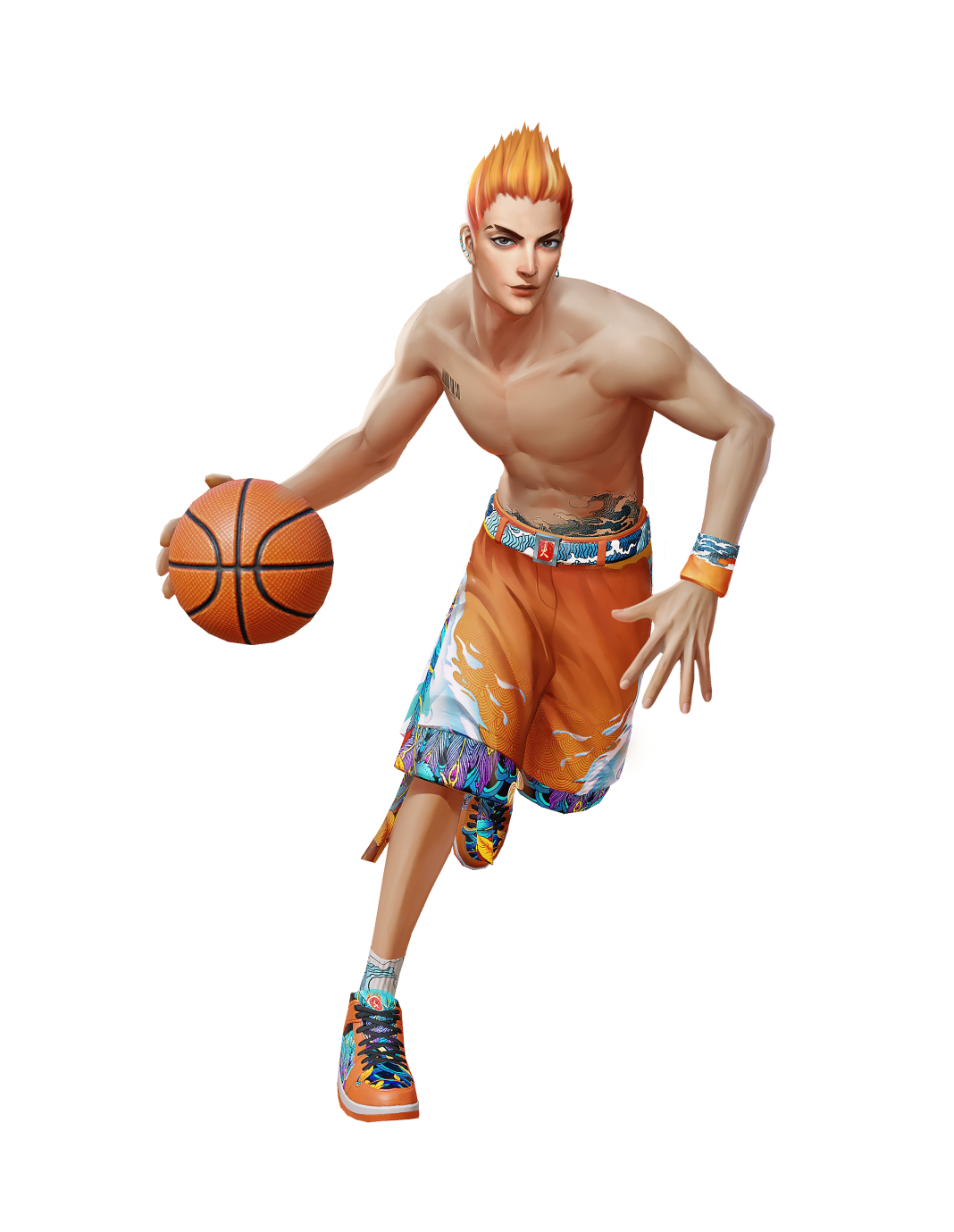 Season 4 Party Challenge!

Party up and level up! Engage in various activities and complete tasks to conquer the Season 4 Party Challenge. Earn rewards along the way with our two-tier system: go free for limited rewards or opt for the paid tier for even more exclusive goodies! The choice is yours!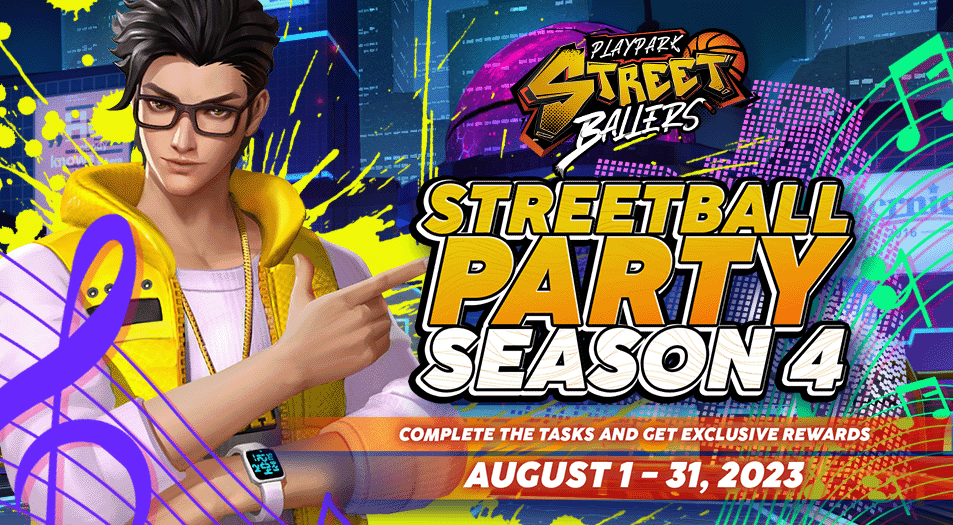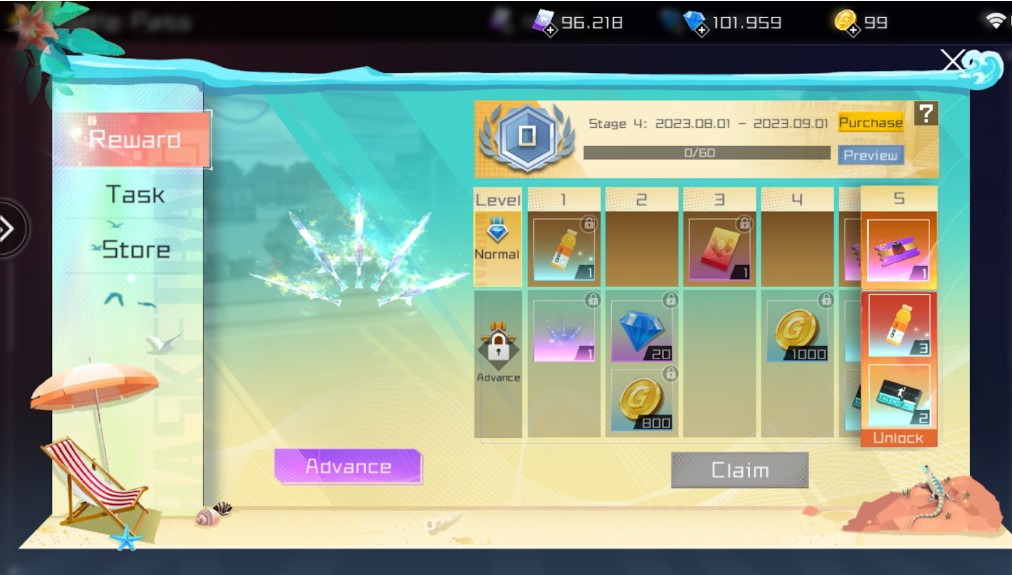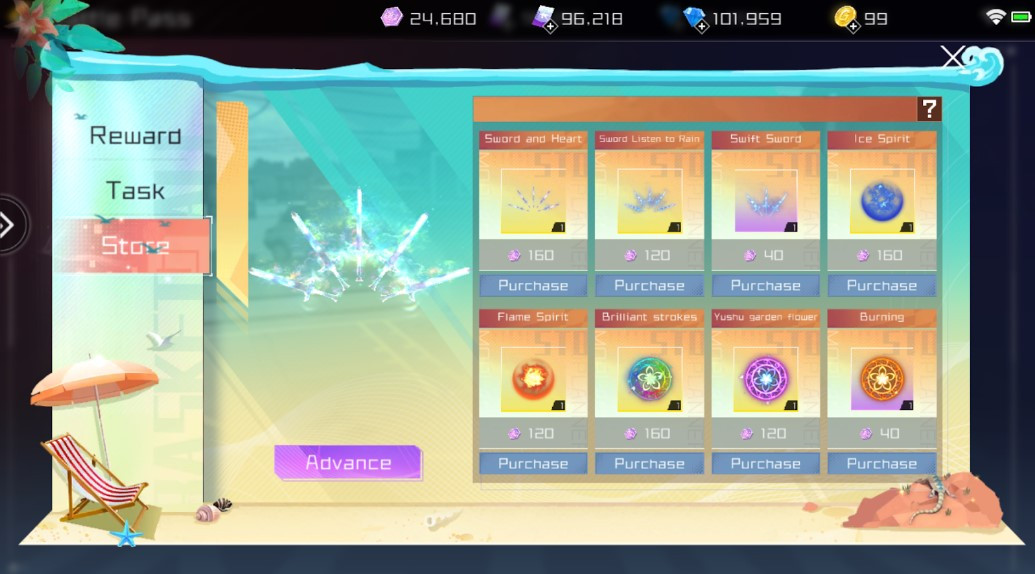 Event Duration: August 1-31, 2023 How to join:
Click the "battle pass" icon in the top right part of your screen

Tap "Streetball Party"

Finish the daily task and claim the rewards (The daily tasks activities resets every 6:00 AM (GMT+8)

You can purchase the "ADVANCED PARTY" to receive extra rewards:
Lvl 100 Sword and Heart (Back Fashion)
Lvl 50 Sword Listen to Rain (Back Fashion)
Lvl 1 Swift Sword (Back Fashion)
Welcome New Baller: Anya!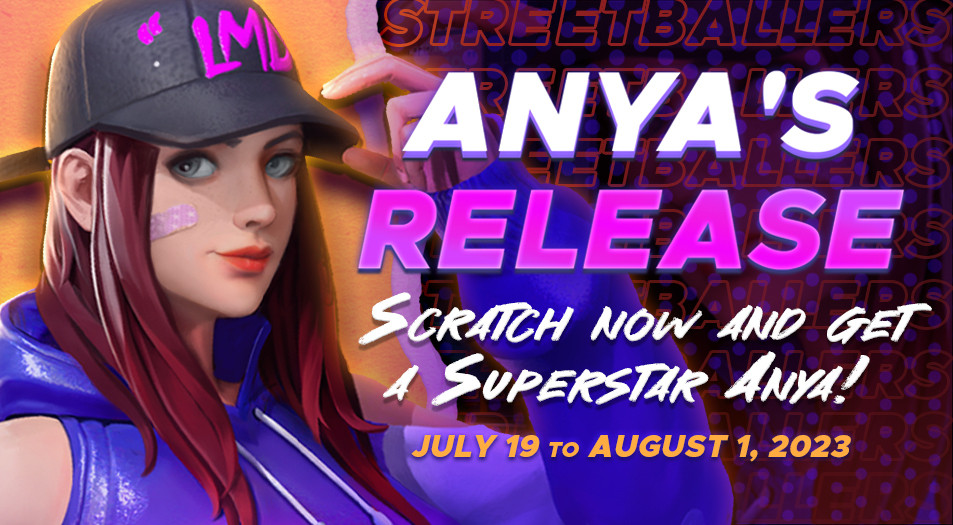 Introducing our newest baller, Anya, the sharpshooting shooting guard! With her expert 3-point shooting and unparalleled flexibility, she's a force to be reckoned with. Watch her create space, outwit defenders, and score with ease. Utilize her unique skills in faking shots and mind-bending illusions to leave your opponents stunned!
Event Duration: July 19 – August 1, 2023
Lucky Scratch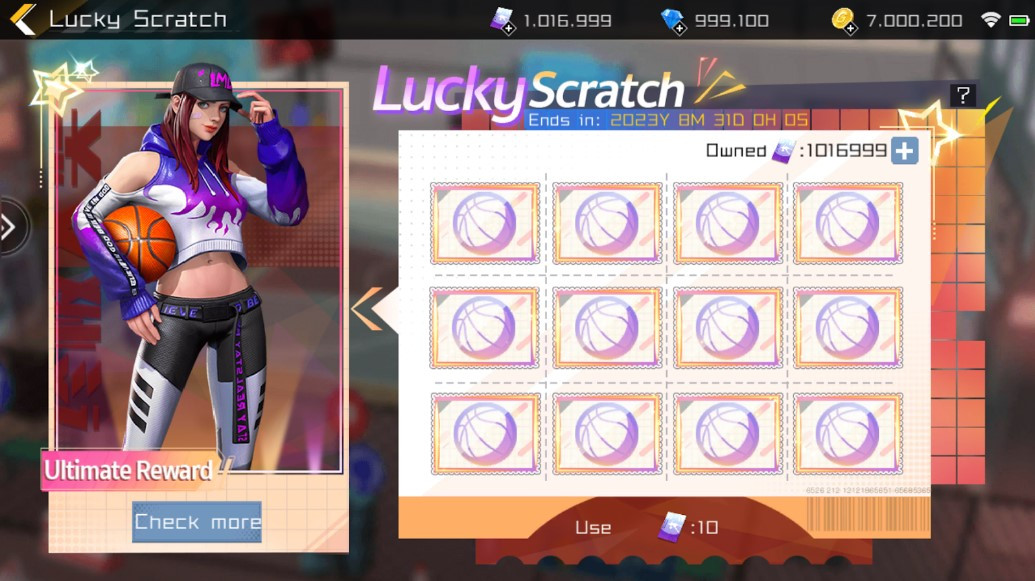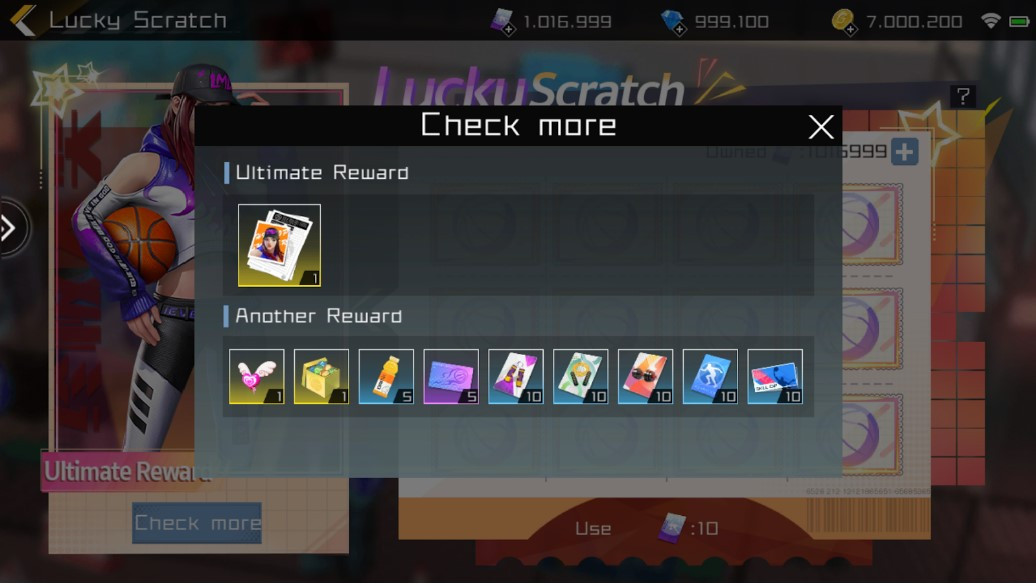 Scratch now and have a chance to win the ultimate reward superstar "Anya".
Mechanics:
Click the "Lucky Scratch" icon in the top right part of your screen

First scratch will be 10 coupons then additional coupons will be added to the succeeding scratch cards.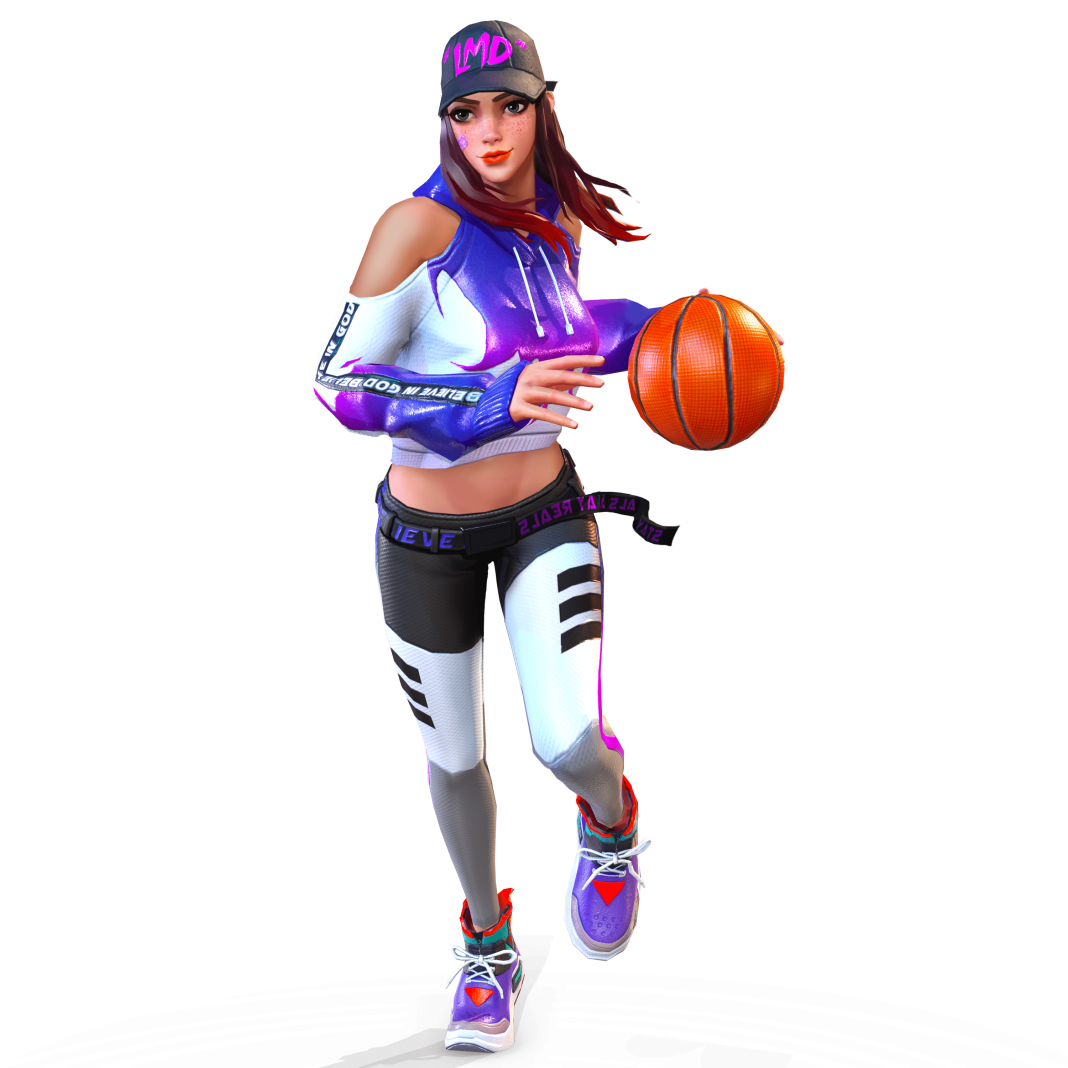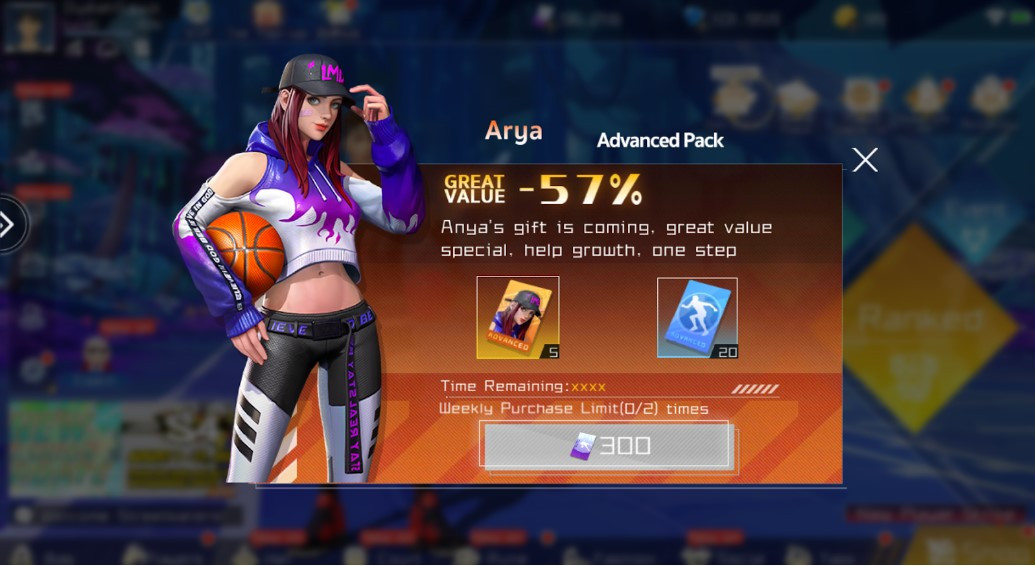 How to join:
Click the "Adv Pack" icon in the top right part of your screen

You can purchase the package for only 300 coupons. Weekly purchase limits 2/2.
Package Includes:
5pcs Anya Adv Card

20pcs Adv Card
But wait, there's more! Prepare for some jaw-dropping surprises during Season 4. We've got secret tricks up our sleeves, and you won't want to miss out on the excitement! For more details visit our patch update. See you in-game Ballers!
Lace Up and Let's Ball!
It's time to hit the court and take your game to the next level. Season 4 promises intense action, new challenges, and unforgettable moments. Don't miss out on the streetball fever – update now and get ready to own the asphalt!
What is PlayPark StreetBallers?
PlayPark StreetBallers, the mobile street basketball game with full 3D graphics is has been unleashed! The game features quick play sessions and you can finish a game in under three
minutes. There are many characters in different basketball positions to choose from, with each position having its own special skills.
At the beginning of the game, you are given the opportunity to choose a character for free. Among the free characters provided are Whitney, Brigdet, Julio, Dwight, and BANG.
Each character has their own unique skills and attributes based on their respective positions (Point Guard, Power Forward, Center, Small Forward, and Shooting Guard).
Small Forward (SF)

is a position played both inside and outside the paint. It is both an assistant and a scorer. Small Forwards are dangerous in any scoring distance: near, medium, and far.

Center (C)

If you love to mix it up under the ring, then Center is the position for you. They guard against the opponent's close-range scoring. Centers have high jump skills to rebound the ball under the board well and are considered to be the pillar of the team.

Shooting Guard (SG)

Shooting Guards are point hunters. Deadly at long range, Shooting Guards use their high mobility and extreme accuracy to create an opening for a basket.

Power Forward (PF)

Posterize opponents with unstoppable and screenshot-worthy dunks with Power Forward characters. They place a lot of emphasis on breaking through the opponents' defenses and scoring points at close range thanks to their strength and vigor.

Point Guard (PG)

Slippery and fast, Point Guards favor speed and agility to bring the ball home. They slip past defenses big or small, and have the most accurate passing ability out of all positions. These players make plays that bring in the points.



You can choose a character that suits your playstyle or any character that looks 'good-looking' in your eyes.
Character Customization
In this game, players have the freedom to customize their characters according to their preferences.
The game offers a wide range of options for players to choose from in terms of clothing, hairstyles, outfits, shoes, and more, to cater to the tastes and preferences of the players.
Choose your own arena design
In addition, you can also design the basketball court according to your own taste.
There are various location options to place your dream court.
After that, you can choose the court surface, graffiti design, backboard structure, hoop and net design, and decorations around the court, including placing a mascot on the court.
You can choose 4 different gameplay modes – 3v3, 2v2, 1v1, or Custom.
Players can choose their preferred gameplay mode, whether it's 3v3, 2v2, 1v1, or they can create their own game mode
Build your own club with your homies!
Not only that, if you play this game with friends, you can create your own club within the game.
In the 'Club,' players can hone their talents and exchange skills with other players from Southeast Asian regions such as Malaysia, the Philippines, Indonesia, Thailand, and Singapore.
Fast & Easy Gameplay: Win within 3 minutes.
Unlike other online games, each match in Playpark Streetballers only takes three minutes*.
*Not including extra time.
This can help players, especially casual players, to plan their playtime efficiently in this game.
Moreover, the game also utilizes a user-friendly interface, making it suitable for anyone new to the gaming world.
If you are still not proficient in controlling your character, Playpark also provides guides for players through the game's official website.
Download Playpark Streetballers now at https://streetballers.playpark.com/SB_TheStoly