As the year draws to a close, the anticipation of Joy accompanies the approaching Holiday season. With this in mind, The Coffee Bean & Tea Leaf® Malaysia welcomes Malaysians on an enchanting journey to Discover Joy. Whether you yearn for the embrace of familiar flavors or the thrill of seeking new ones, A Little Bit of Joy in Every Cup awaits!
"This year, we at The Coffee Bean & Tea Leaf® Malaysia place Joy at the center of our Holiday messaging, because it is such an attainable emotion, yet at the same time perceived as elusive. One thing we realized, however, is how it is often experienced naturally," said Fiona Rodrigues, Head of Marketing & Innovation at The Coffee Bean & Tea Leaf® Malaysia. "As such, we want to encourage everyone to embrace these precious yet fleeting moments, with our handcrafted beverages and delectable bites serving as the pathway to Discover Joy. Together, let us make this season truly exceptional, be it in discovering the joy in creative endeavors, basking in the presence of cherished friends and family, or reacquainting with your inner self – one sip at a time."
For those seeking the cozy embrace of the season, The Coffee Bean & Tea Leaf® Malaysia returns with the much beloved chocolate peppermint pairing. Whether you choose the Double Chocolate Peppermint Ice Blended® (small RM 17.90, regular RM 19.90), Double Chocolate Peppermint Latte (hot / iced) (small RM 16.90, regular RM 18.90), Gibraltar Peppermint Latte (hot/iced) (regular RM15.90), Peppermint Cream Cold Brew Coffee (small RM 14.50, regular RM 16.50) or Double Chocolate Peppermint Cocoa (hot / iced) (small RM 15.90, regular RM 17.90), a perfect cup of Holiday happiness awaits!
A joy for the bold and adventurous, The Coffee Bean & Tea Leaf® Malaysia introduces a dash of spice to bring the year to a flavorful close. Our chocolate and chili pairings bring a new dimension of taste and heat to uplift your spirits for the Holidays! This includes the Chili Chocolate Ice Blended® (small RM 17.90, regular RM 19.90), Chili Chocolate Latte (hot / iced) (small RM 16.90, regular RM 18.90), and the Cold Brew Black with Chili Cream Cap (small RM14.50, regular RM 16.50).
Not forgetting the incomparable joy of a filled belly, we are excited to present a delectable Holiday spread to satisfy your cravings this Holiday season. For those that desire a quick bite before getting back into the Holiday festivities, we have the Cinnamon & Raisin Swirl, as well as the Panettone Frost. Meanwhile, the delightful Lil' Joy Cookie, Jolly Breadman, and Jingle Wonderland will be a source of joy for kids and those young at heart.
If you're a cake lover, get ready to indulge in Holiday sweetness inspired by both international and local traditions – the Winter Speculoos is a tribute to the Belgian spiced shortbread cookie, while the Minted Frost infuses a local pandan twist into a minty-chocolate cake. And of course, not forgetting some Holiday staples – the Happy Holiday Log is now joined by the new Cozy Carrot Log and Snow-kissed Chestnut Tart.As for hearty dishes that make up the perfect Holiday dinner, we have the Grandma's Chicken Sandwich, Grandpa's Pepperoni Pizza, the plant-based Magic Elf Pie, Smoked Duck Pizza, and Smoked Duck Aglio Olio. Keeping things light and fresh, the Tom & Pep Salad is the perfect way to begin or round out your Holiday meal.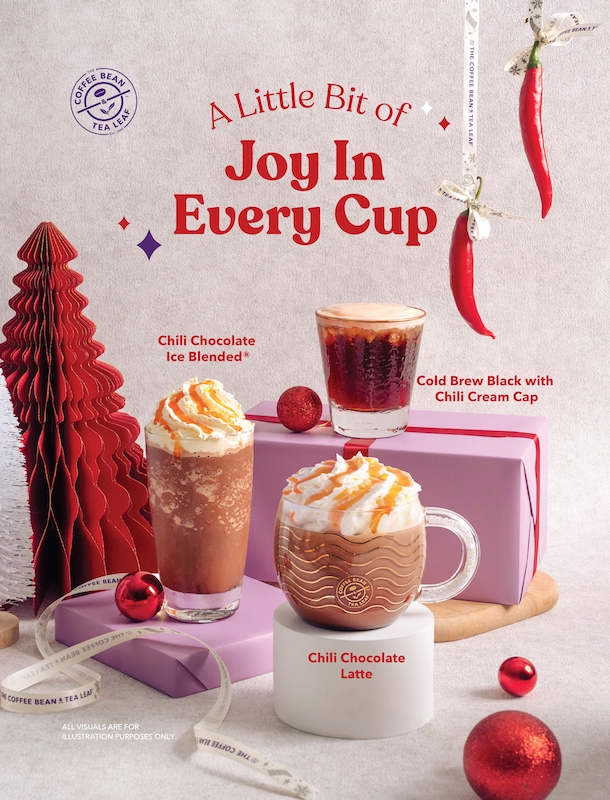 If the above kindles your Holiday enthusiasm, prepare for some added excitement – as we also have half a million black coffees for just RM2 up for grabs throughout the season! Look out for an upcoming promotion towards mid-November, where you can spend a minimum of RM10 in a single transaction and receive a voucher for your next visit, that will entitle you to a 12oz Today's Brew, 12oz Americano (hot/iced), Gibraltar Americano (hot/iced), or 12oz Cold Brew Black for only RM2** – a perfect pairing to go with our Holiday treats!
** Terms & conditions apply, while stocks last.
Sip & Explore Holiday Joy Edition with The Coffee Bean & Tea Leaf® Malaysia
Building on the immense success of Sip & Explore that has taken place throughout Summer, The Coffee Bean & Tea Leaf® Malaysia is thrilled to announce the return of this exciting community-driven series as part of its festive celebrations!
At the heart of the brand lies a commitment to foster curiosity and awake the inner explorer within local communities, all while celebrating our local talents. This Holiday, The Coffee Bean & Tea Leaf® Malaysia looks forward to spread Holiday cheer through a range of exciting experiences, inviting Malaysians to express their creativity, unwind to live music, embrace the magic of storytelling, or embark on a holiday adventure. 
Stay tuned to The Coffee Bean & Tea Leaf® Malaysia's Instagram page to learn more about the upcoming Sip & Explore activities taking place throughout November and December – which will kick off with Sip & Shine happening on Saturday, 18th November, 2:30PM – 4:30PM at The Coffee Bean & Tea Leaf® @ Tree Square Mall, Penang. 
For more information about the latest offerings from The Coffee Bean & Tea Leaf® Malaysia, news and promotions, visit our  Facebook page www.facebook.com/CBTLMalaysiaPage, Instagram account @coffeebeanMY, TikTok account @coffeebeanMY, or website www.coffeebean.com.my.