The coronavirus spread has raised a lot of question especially among parents who breastfeed their babies if they have tested with Covid-19.
However, according to a statement by the National Lactation Center, it states that the virus does not infect via breast milk. Even if you've tested positive for the virus or suspect you have it, experts say it's likely safe to continue nursing your child.
As long as you take the proper precautions and feel physically well enough to do so.
The National Lactation Center is urging mothers to continue breastfeeding your baby by following the steps listed below:
Always practice high levels of hygiene such as washing your hands frequently with water and soap or hand sanitizer.
For mothers with signs of respiratory infections such as cough, fever or difficulty breathing, seek medical attention immediately at a nearby health facility
If coughing, always practices good coughing habits such as covering mouth and nose with a tissue when coughing or sneezing and washing hands and isolating baby except during breastfeeding.
If the mother has been positively diagnosed with COVID-19, the mother should use face masks during breastfeeding and should wash hands with proper techniques before and after holding the baby.
If the mother has severe symptoms due to COVID-19 infection, it is advisable to express breast milk and get a healthy person to provide breast milk to the baby using a clean spoon and/or cup.
"Breastfeeding is the best in many situations. May all mothers and babies in Malaysia be protected," added the National Lactation Center.
Covid 19 tidak menjangkiti melalui susu ibu.

Dan disebabkan susu ibu mempunyai banyak manfaat, diseru semua ibu untuk terus menyusukan bayi. pic.twitter.com/IMoFAMrapg

— Nimelesh (@HausofHilton) March 19, 2020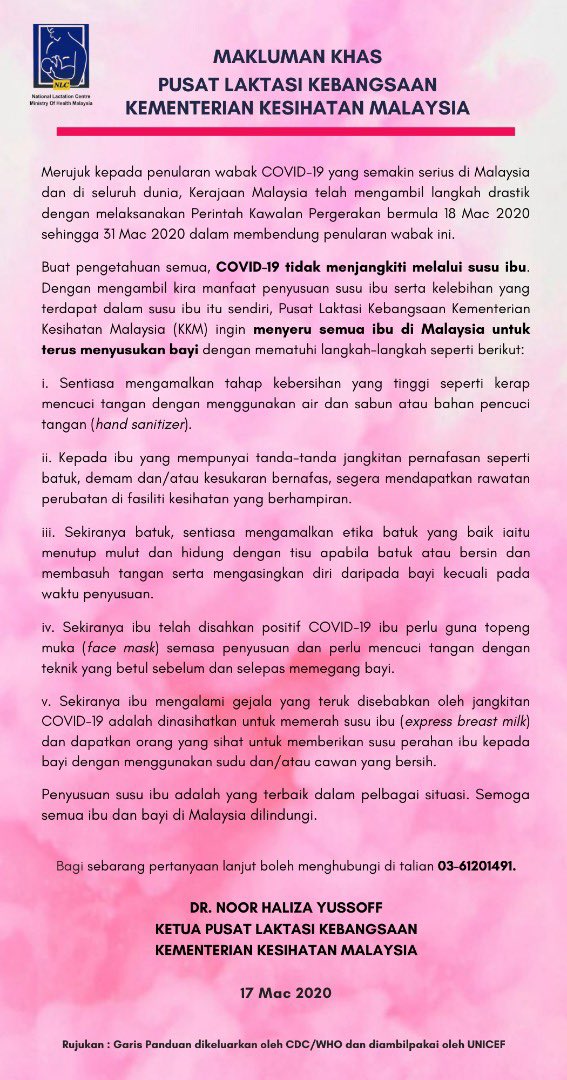 Source: National Lactation Center via Dr. Nimelesh