The Malaysian Ministry of Health recently confirmed that there was a case of the first " Sporadic" Covid-19 infection in the country.
A statement released through the MOH's official Facebook account stated that the case was for the first time detected in isolation and randomness in Malaysian society.
"Sporadic" means that a COVID-19 positive patient has no history of travel to an infected country and has no contact with COVID-19 patients.
Here are the statements uploaded by MOH: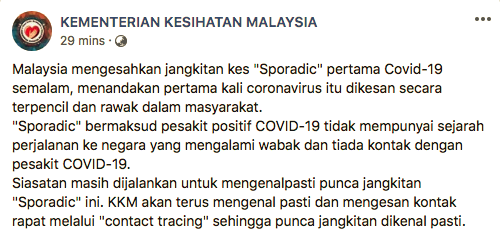 COVID-19 : Kes sporadik pertama dikesan di negara ini semalam – KKM pic.twitter.com/P1suPLezQ5

— BERNAMA TV 🇲🇾 (@BernamaTV) March 12, 2020
More infection of this infection will follow.
The World Health Organization (WHO) has officially declared the Covid-19 epidemic a pandemic following a growing number of cases and deaths across the globe.
Source : Kementerian Kesihatan Malaysia