A huge congratulation to Lieutenant Lohappriya Manisegaran who is the first Malaysian-Indian woman that has successfully become a Royal Malaysian Air Force Pilot. This would be such a memorable and also proud moment for her and all of her family members. The journey is definitely tough and she finally achieved the goal of her life.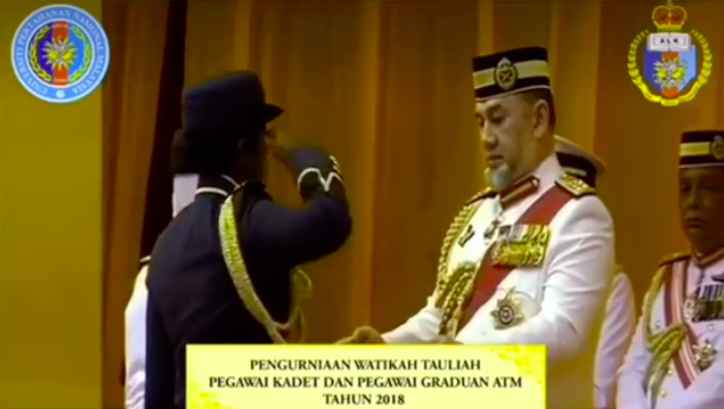 This respectable woman named Lohappriya Manisegaran is a born and raised Malaysian-Indian woman. Her name is currently trending across all the various social media platforms for being the first Malaysian-Indian to finally become a legitimate pilot of the Royal Malaysian Air Force (RMAF).
Lohappriya Manisegaran who is originally from Klang is one out of all the 38 trainees who were being presented at the Flight Wing Presentation Ceremony for the Basic Flight Course Series 81/18 and also Basic Helicopter Flight Course Series 60/18 at the Aerospace Hall, Air Force College (KTU), Head Batas that is located in Alor Setar, Kedah specifically on the 9th of October 2020.
RMAF stated that, out of all the 38 receivers, eight of them are fighter pilots, 15 of them are prospective pilots, and the other 15 of them are helicopter pilots. All of them will be serving in the three branches of the Malaysian Armed Forces. Malaysian Army (TDM), the Royal Malaysian Navy (TLDM), and the Royal Malaysian Air Force (TUDM).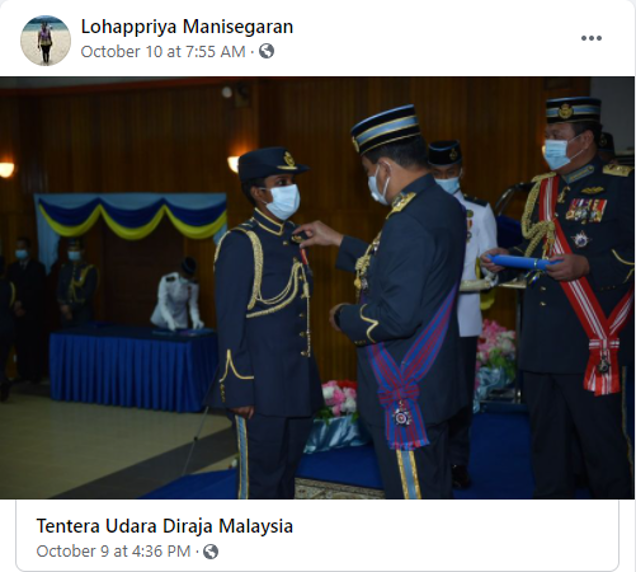 She finally managed to finish her degree from the National Defence University of Malaysia (UPNM) in the year of 2018. For that amazing achievement, Lohappriya Manisegaran and also all her friends were honored by Sultan Muhammad V, the 15th Yang di-Pertuan Agong. Lohappriya Manisegaran shared that, it actually was a tough journey of almost six years that show her being presented with the letter of commission as a UPNM Cadet Officer at Perdana Camp, Sungai Besi in Kuala Lumpur.
Lohappriya Manisegaran, has achieved the rank of lieutenant and now is also a proud RMAF pilot. Proudly to receive the award, Lt Lohappriya Manisegaran is truly an inspiration for being the first Malaysian-Indian woman to become a prestigious pilot of the RMAF. She also took the chance to post a posting on her personal Facebook social media platform. There, she has shared a photo of her, receiving the Flight Wing.
Sources: Facebook Lohappriya Manisegaran, Facebook Chandran Periasamy, Facebook Tentera Udara Diraja Malaysia.