It is never an easy journey to get the ideal shape and also the ideal weight for someone. Despite all the challenges, the goal can definitely be achieved if we keep consistent with our dieting plan and also believe in our own capability to lose our own weight.
In the process, the diet that has been followed is not limited to what we usually eat only, but it is also including the amount of exercise that we have been doing all this time.
According to the Facebook post that Jamilah Stella shared in the Facebook Group named "Diet Suku Suku Separuh", she successfully managed to lose the total amount of 19Kg of her body weight in the 9 months period of time. Follow her experience below.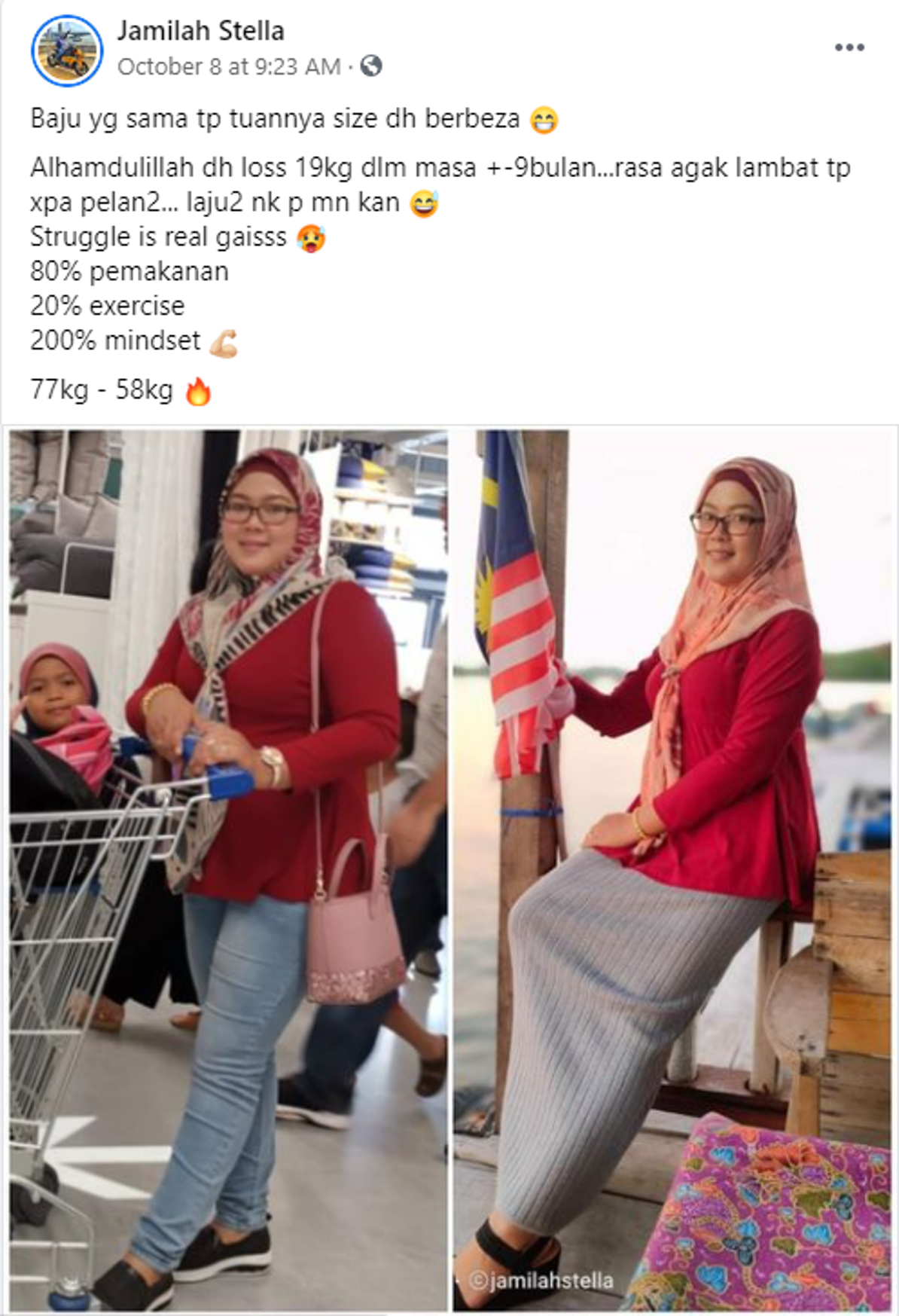 "The same outfit, but the size of the owner has changed"
"Alhamdulillah, I have lost 19Kg in the period of more or less 9 months' time… Feels like slow progress but it is okay as long the result is there.. What is the rush for right. The struggle is real guys.. 80% dieting of food.. 20% exercise.. 200% mindset.."
"77Kg – 58Kg"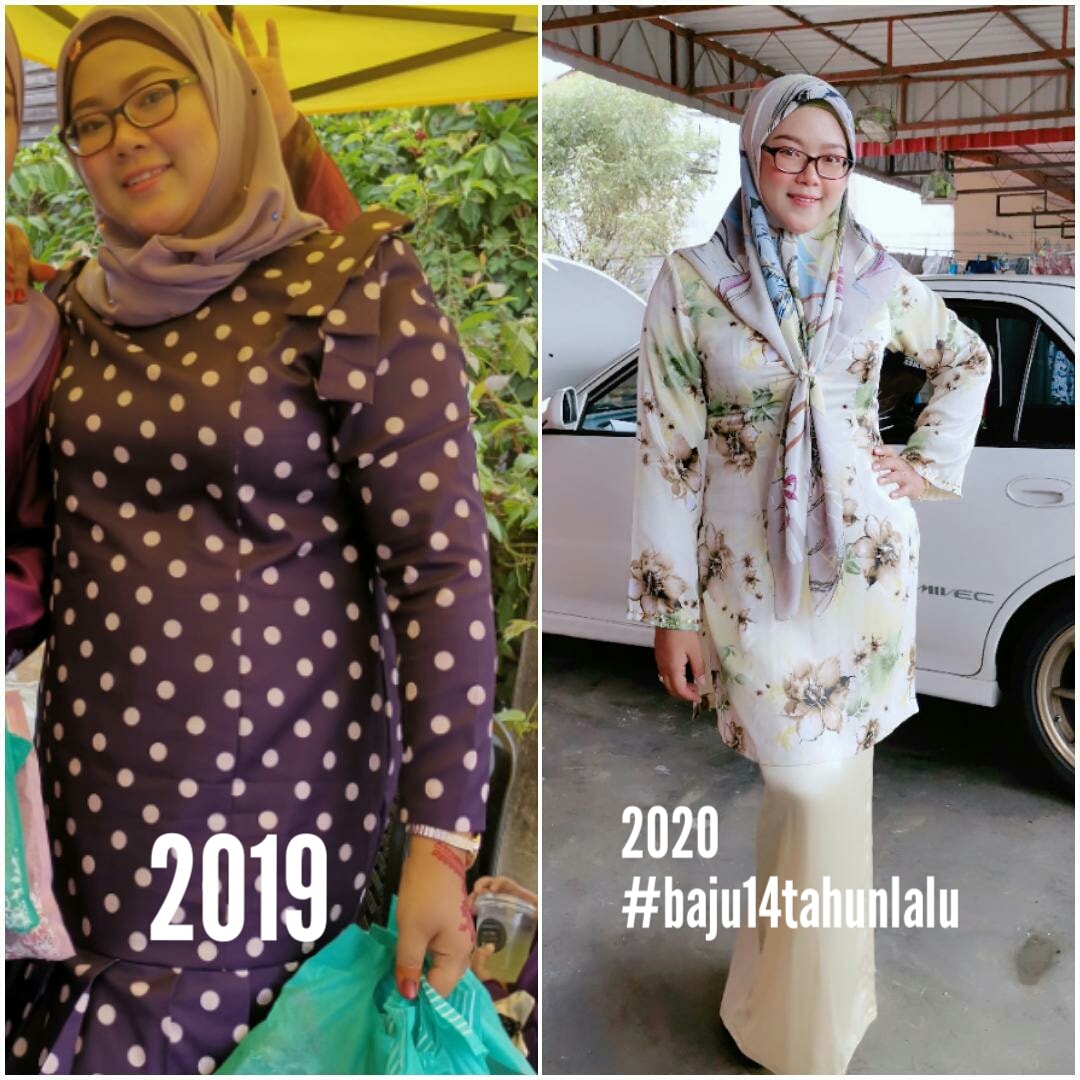 Based on her other posting that she posted, Jamilah Stella who is a proud mother of three children started her diet in the month of November 2019.
I could never have imagined that I could get back my body figure when I was a single woman. The truth is, I am a mother of 3 children. I honestly used to feel that it is so hard to diet. I don't have the determination in me to be healthy. The result was, my weight is near to become 80Kg. I feel so scared when I look back at all my old pics.
Starting from the month of November 2019, I have started my diet journey and my pure intention is to lose a bit of my weight because the first reason was I used to get teased by many people.. Of course, fat people always got body-shamed by others. It is a normal thing. The second reason was I have noticed that there are a lot of cholesterol deposits that existed under the eyes and also around my neck.. Allah, I am so scared at that time.. The third reason would be that I have been feeling tired quickly if I am doing any activity even though I am such an active person. 
My tips are very easy.. Make something as your target
As for me, I target an outfit that I have bought 3 years ago but I could not fit it anymore.. I make that as a drive for me.. Because I feel sad every time I look at that outfit. But, with all the efforts of diet that I have practiced for almost 7 months, Alhamdulillah I am able to fit into that outfit again. I fee that is such a cost-saving strategy as I do not have to buy another outfit for this year's "raya" celebration.
Mental has to be strong for 200% because all the challenges come from every corner of your own life. I am grateful to be able to get support from my surrounding especially my own husband. He supports me from the financial aspect of buying all the certified stuff for my dieting plan.
When it comes to eating, I always eat on time if I am at home.. Even if I am traveling, I would also try to eat on time.. This matter has always been a reason for me to have a quarrel with my husband.. I have to eat on time so that I could avoid the feeling of hungry and also avoid excessive eating.. The way I cook at home is surely 100% clean eating because we could control the amount of salt and also oil that we used.. If I eat outside, I would always make sure to follow the quarter half portion of eating.. Don't be lazy to exercise even it's a mild exercise.
I also shared all the menus that I have been following during my dieting time all these while.. These are the menu that I have cooked myself. Who knows that this menu could inspire you guys to follow. Hopefully, all my tips would be very useful for everyone and I hope all of you guys could achieve the ideal healthy body that you want. 
Starting from November 2019 with 77Kg
Now is the month of June 2020 with 60 Kg
Total weight loss is around 17kg
#slimwithoutusingproduct