The journey that has to be faced for anyone to get their ideal weight would be so much easier and even more fun when you have partner to do it together. You can go through your diet and also exercise together with your partner. This is what happened with a woman named Eka Harun and her husband who embrace this kind of journey together.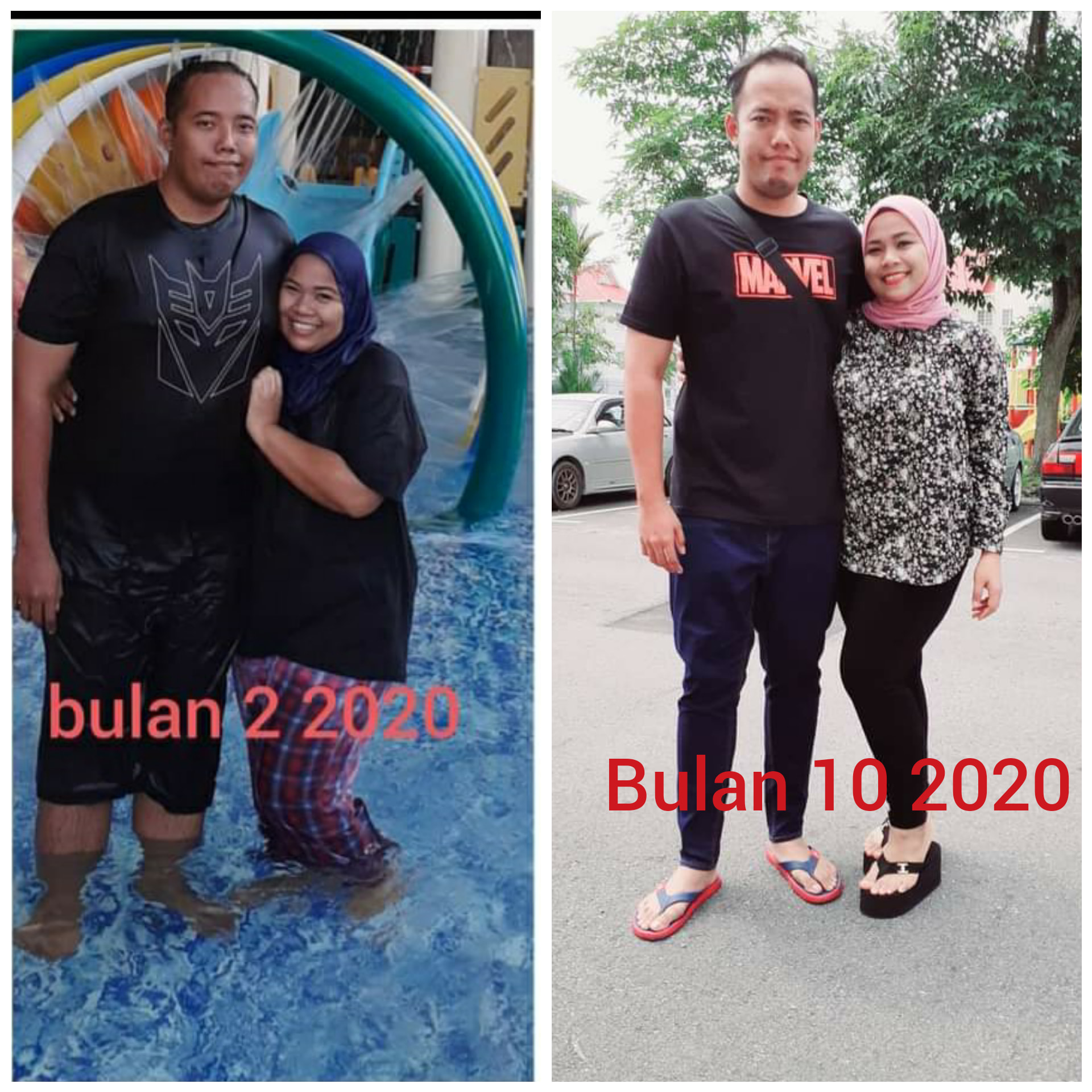 Both of them have successfully cut down in a total of 13 kilograms of their weight together. They have been starting this fantastic journey together since the month of February in the year of 2020. Eka Harun shared that she started the diet because she wanted to follow the footsteps of her husband who wanted to finally change. She also decided to do this because of her doctor's advice so that she could get a better cycle of her menstruation.
She also has decided to share her overall experience in a Facebook community called the Diet Suku-Suku Separuh (DSSS) community. This is what she has shared:
Assalamualaikum everyone.
Alhamdulillah, with Allah's will, my husband and I finally are able to lose some weight of ours all this while. 
As the saying goes, it is okay to go slow as long as it works. My husband loses weight from 120 kg to 107 kg, while I lose my weight from 90 kg to 77 kg. All that we have to do was to watch what we eat and also to get some exercise. I, myself feel so scared when I look back at myself in the black shirt like in the picture. Luckily, I have realized that I need to do something and change myself from being this big in size.
Both of us are only 31 years old but we already look older than how we suppose to look. There are people that have asked us what are our height. My husband is 190cm, while I am just only 158cm. If I don't wear my obviously high shoes, I'm just a short person. 
I am determined to lose my weight is actually because of my doctor's suggestion. This is because my previous weight is 90kg and it has affected my hormone to be unstable. I also have not got my menstruation for the whole 5 months. That is why my doctor suggested me to lose some of my weight so that my menstruation would be normal again and organized as usual.
I do eat as usual and I don't even do that kind of extreme diet for me to lose my weight. I make myself to normalize with the eating pattern of quarter-quarter-half, but I totally left out sweet drinks from my diet. This is because, sugar existed even in our own food, so it is totally ok if we do not drink sweet beverages at all.
It was not easy at first, but I become used to it in the end. In shaa Allah, all of you can do it too.
You have to always be discipline, never give up okay. Keep praying towards Allah so that everything would be easy and also doable.
These are some of the advice that she gave on how to make the diet process easier:
1) Get rid of 5kg in the first month by doing the "eat clean" technique.
For the first month of the process, my husband and I just did the "eat clean" technique. We only eat foods that are broiled and also grilled. Due to that, we managed to lose in a total of 5kg. When entering the second month, you can eat foods that you normally eat like always but still in the quantity of quarter half.
When I am on my diet, I am very scared to eat all the fried food like "Pisang Goreng", "keledek goreng" or even "keropok lekor". I am also very scared to drink sweet beverages like boxed drinks or even ice-cream. I totally avoid all that until I lost about 8kg to 10 kg during my diet.
2) Exercise if you over eat.
We have to be very disciplined if we ever wanted to diet. We got to have a strong will and unbreakable determination to lose weight. I also exercise a lot during my diet process. If I ever overeat, I will make sure to do some exercise. I could say that almost every day I would do some exercise. 30 minutes of exercise or even 1 hour long of exercise. The shortest exercise would be in 15 minutes. It does not matter to do Tabata exercise, Zumba or even cardio. As long as you can burn some fat here and there.
According to Eka Harun, her husband's work at the airport really helps a lot because her husband needs to walk a lot there.
She also added, "I exercise even more than my husband because he usually walks a lot at his own workplace. He works at AirAsia. The airport is so huge, so he definitely walks a lot rather than me.
Her husband also did some heavy lifting exercise while at home, added Eka Harun.
3) Getting healthier and also rarely out of breath
Eka Harun shared that both of them are getting healthier after they have lost some weight. Even better, she who always suffer from shortness of breath now rarely experience it anymore. She believed this is because of their transformation in her weight.
Sources: Facebook Diet Suku Suku Separuh, Facebook Siakap Keli.