Coca-Cola Malaysia and QSR Brands (M) Holdings Bhd – franchise owner and operator of KFC and Pizza Hut, announced a multi-year partnership in Malaysia. The three biggest names in the beverage and quick service restaurant industries aim to serve and make each mealtime more magical for every Malaysian as they liven the menu boards of more than 740 KFC stores and over 440 Pizza Hut restaurants across the country. 
Malaysians can now enjoy their favorite KFC or Pizza Hut meals with Coca-Cola Rasa Asli, Coca-Cola Zero Sugar, Sprite, Fanta, as well as Heaven and Earth teas. The entire Coca-Cola beverage lineup will be available in fountain dispensers, as well as ready-to-drink formats such as cans and bottles.

"We are proud to have our drinks served alongside KFC and Pizza Hut's popular food offerings. We are excited that this partnership represents a significant synergy to provide diners with our refreshing range of beverages in responding to ever-changing consumer needs," said Louis Balat Joseph, Chief Executive Officer, Bottling Investments Group for Singapore, Malaysia, and Brunei.
There is magic at mealtimes. Coca-Cola, KFC, and Pizza Hut – all believe in that same philosophy of making meals more enjoyable for Malaysians. "At Coca-Cola, our philosophy as a brand and as a company has always been about being part of and celebrating moments when friends and families come together over a meal and an ice-cold drink of Coca-Cola or any of our delicious and refreshing beverages," said Amruta Vaidya, Franchise Director, Coca-Cola Malaysia. 
Beginning August, Coca-Cola Malaysia is the beverage supplier of KFC and Pizza Hut serving diverse refreshing Coca-Cola drinks in selected KFC and Pizza Hut restaurants. All 1180+ KFC and Pizza Hut restaurants nationwide are projected to fully transition to serving the products by early September.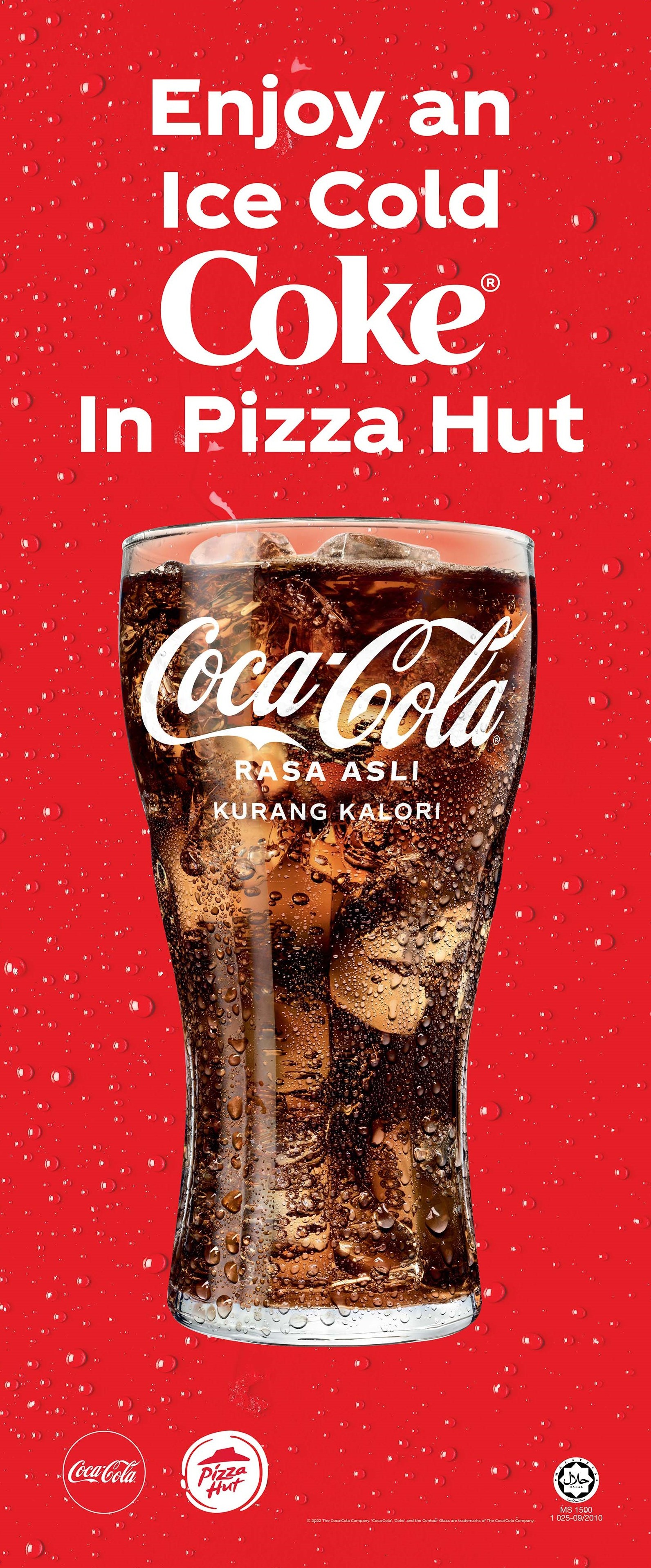 "As a leader in Malaysia's retail food industry, QSR Brands through KFC and Pizza Hut is committed to consistently serving high-quality products while remaining agile and relevant for all. We are committed to raising the bar in terms of service delivery, innovation, and customer satisfaction. Over the last two years, we have been able to grow despite the prevailing challenges by innovating all areas of the business and will continue to do so. We believe this partnership will further widen our reach and we hope to delight our customers further," said Nehchal Khanna, Chief Executive Officer & Managing Director, QSR Brands (M) Holdings Bhd.
The popular product, Coca-Cola Zero Sugar, which will be widely available in KFC and Pizza Hut stores, is part of Coca-Cola Malaysia's expanding Healthier Choice Symbol-certified portfolio. Coca-Cola Malaysia remains committed to supporting efforts to reduce sugar intake among Malaysians while delivering great-tasting drinks that people love.   
With this partnership, the company strengthens its legacy and presence in the food and beverage industry, where its refreshing beverages are being offered at all KFC and Pizza Hut restaurants nationwide.