Leading healthcare partners, Lung Cancer Network Malaysia (LCNM), AstraZeneca and Qualitas Medical Group have partnered again, this time with three leading tertiary private cancer facilities; Beacon Hospital, Subang Jaya Medical Centre and Sunway Medical Centre to provide free lung cancer screening to Malaysians. This partnership between healthcare partners will further broaden the public's access to receive cutting-edge Artificial Intelligence (AI) screening technology (Qure.ai) at primary care clinics and subsequently, be further investigated with a low-dose computed tomography (LDCT) scan at the three partner tertiary care hospitals.
The free AI-lung cancer screening programme was kicked off by Dr. Anand Sachithanandan, Cardiothoracic Surgeon and President of LCNM alongside Dr. Sanjeev Panchal, Country President, AstraZeneca Malaysia based on the shared intention to close the gaps on early lung cancer detection.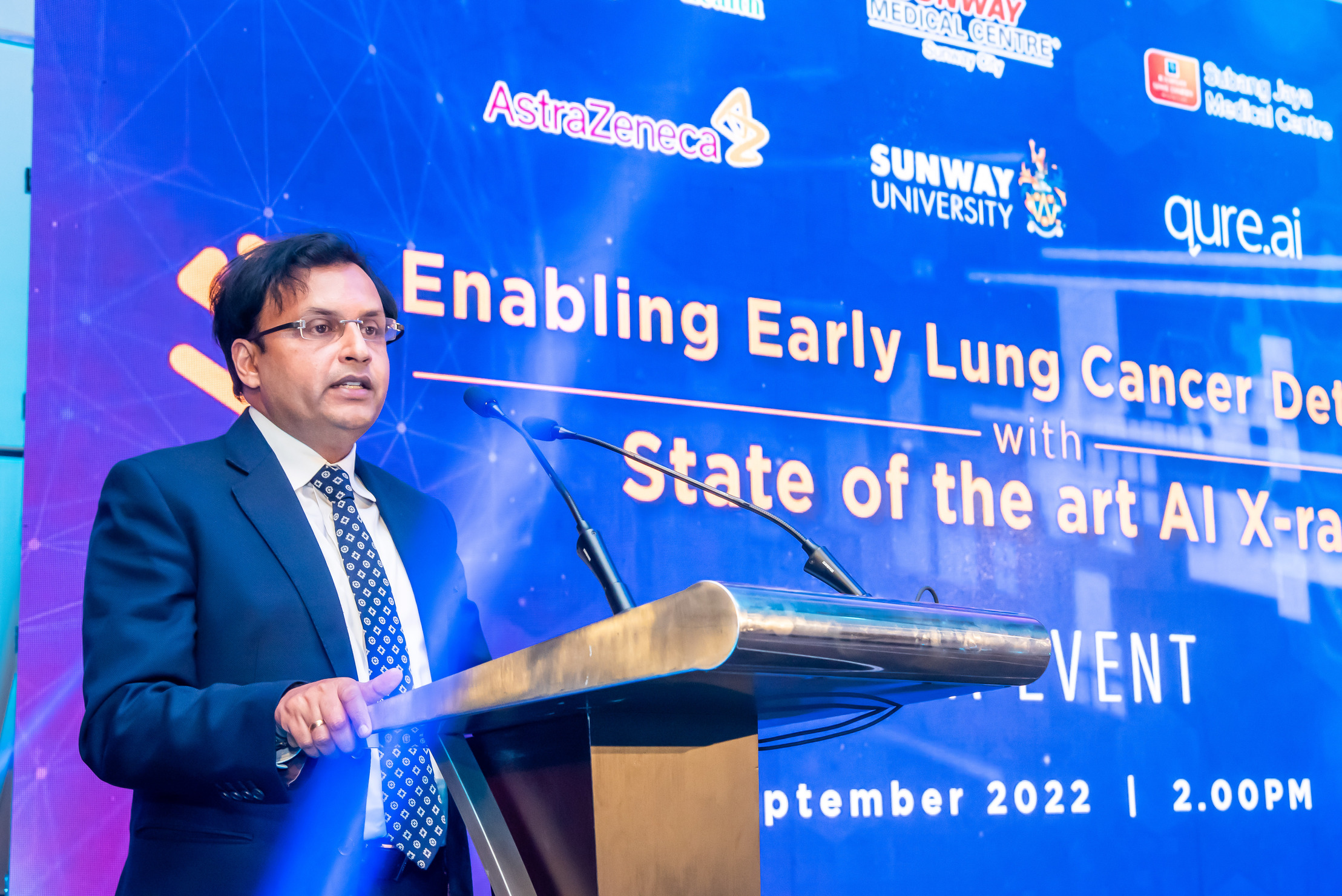 Lung cancer is the second most common cancer and the leading cause of cancer-related deaths in Malaysian men, where majority of these cases are detected late, giving lung cancer the worst survival of all major cancer types in this country. Through the establishment of this programme, Malaysians – especially those who may potentially be in the high-risk category such as current or former heavy smokers – will be able to detect the early presence of cancer through use of advanced technologies before it is too late. 
Detection of early-stage disease is vital as treatment and prognosis is very much stage-dependent. According to Dr. Anand, the poor prognosis amongst lung cancer patients is largely attributed to the fact that most patients often present with advanced disease as often there are no warning signs or symptoms in the early stages. With a multi-disciplinary and multi-modality therapy approach, lung cancer detected at an early stage carries a very good prognosis as it is amenable to curative treatment and more cost-effective to treat. 
"Family history and air pollution are emerging significant risk factors for the rising trend of lung cancer in non-smokers. This collaboration utilising AI technology for cancer screening is the first-of-its-kind in Malaysia and will help address the unmet need of lung cancer detection in non-smokers," said Dr Anand. 
This alliance signifies a unique multi-stakeholder collaboration between selected Qualitas primary care clinics and three specialist hospitals to provide patients with access to cutting-edge AI technology (Qure.ai) and LDCT imaging. With improved access, the AI X-ray interpretation tool which utilises deep learning algorithms to detect abnormalities in chest radiographs can improve sensitivity for the detection of lung nodules which is often the first sign of a possible lung cancer. Suspected cases will then be further investigated with a non-contrast LDCT scan, a well-proven screening method that reduces lung cancer-related mortality in high-risk individuals. 
"AI chest x-rays will enhance diagnostic accuracy and expedite referral of suspected cases to a relevant lung specialist. With more swift investigation and intervention, better survival rates can be expected. Innovative medical advancements such as this deep-learning AI algorithm machine is a huge step forward and potential game-changer for the medical industry. We hope to create an impactful stage shift and detect more early lung cancer in the community," Dr. Anand further explained.      
Commenting on the partnership, Dr. Sanjeev Panchal said, "Through this second collaboration with the Lung Cancer Network Malaysia, Qualitas Medical Group and now with the tertiary hospitals, we hope to broaden patients access to early lung cancer diagnosis to reduce the mortality rates in Malaysia. The integration of innovative technologies such AI for lung cancer screening starting at the primary care level is evidence of how early screening can improve the timely referral of high-risk individuals to tertiary hospitals for further diagnosis using LDCT imaging and ultimately save lives. AstraZeneca's ambition is to go beyond the pill to create a robust health ecosystem which promotes early diagnosis to reduce the disease burden and improve the accessibility to screening and treatments."
The healthcare partners hope that this initiative will pave the way for other like-minded industry partners to join the coalition to help broaden patients access to affordable and innovative lung cancer diagnosis in the country. 
For more information on the free screening campaign, please visit: https://www.lungcancer.net.my/free-ldct-lung-screening-programme-2/