Following the success of ASICS Sportstyle on the GEL-Kayano™ 5 OG "Nasi Lemak" (2019) and GEL-LYTE™ III "Kuala Lumpur Twin Towers" (2020), Malaysian streetwear store HUNDRED% together with SneakerLAH, Malaysia's biggest sneaker event, as well as ASICS Malaysia, join forces to reveal yet another locally inspired sneaker, honoring the Malaysian roots.
This year, the concept behind the collaboration for ASICS's most prominent silhouette, the GEL-LYTE™ III, was inspired by Malaysia's most popular drink, the Teh Tarik. Literally translated as "pulled tea", the popular beverage is made from a strong brew of black tea blended with condensed milk that is most commonly found in Mamak stalls, restaurants as well as kopitiams around the country.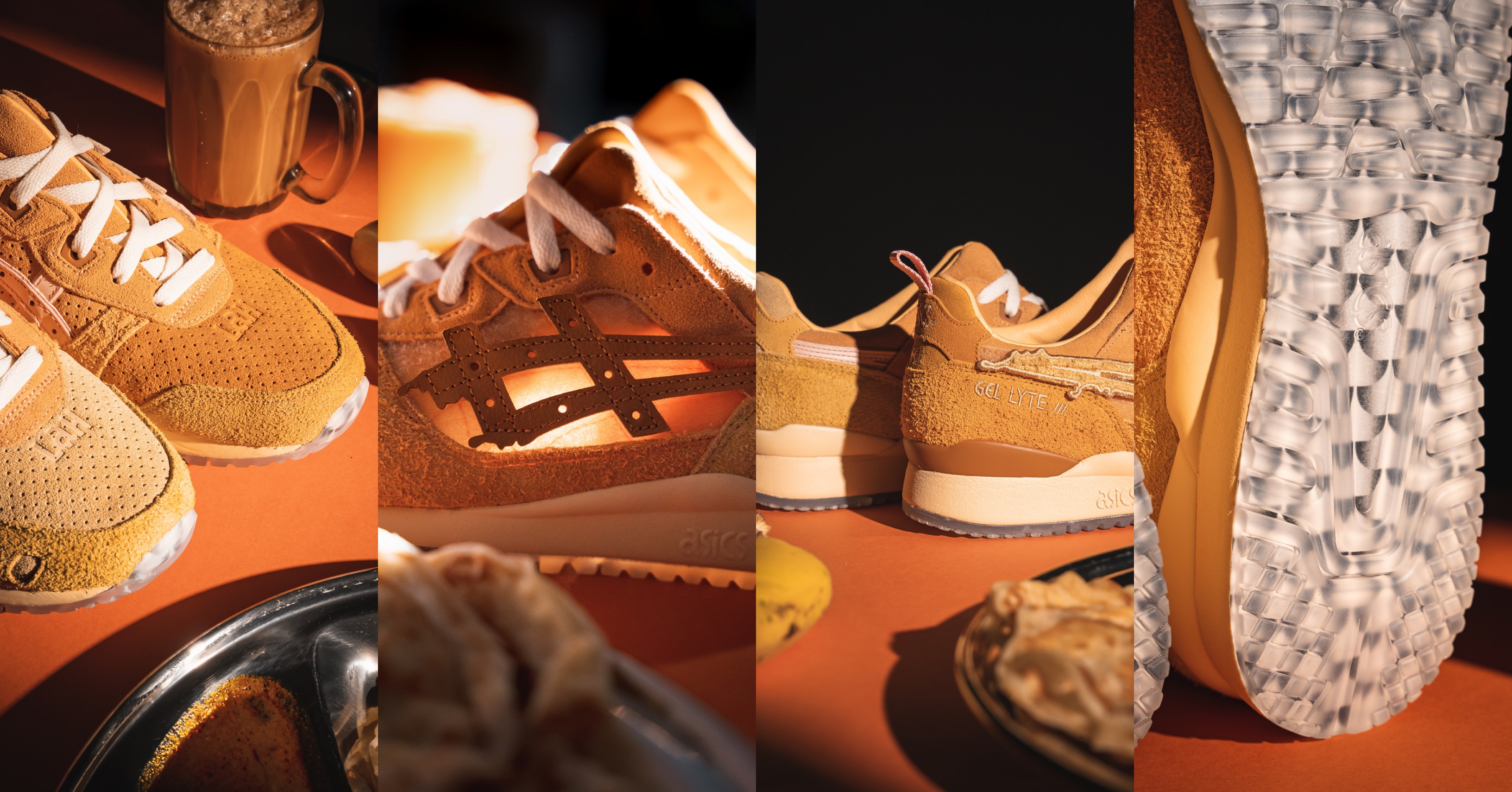 The ASICS Sportstyle GEL-LYTE™ III "Teh Tarik" colorway draws inspiration from the national drink, with bold caramel suede to resemble the variant shades of milk tea, and a debossed "LAH" branding presenting itself on the upper to commemorate the pair as a true Malaysian collaboration. The sneaker features inter-changeable eye-catching stripes that mimic the splashes made by the process of the pulled tea. The speckles and imprints on the insole represent the stain left behind by the glass of Teh Tarik, while the white translucent sole mirrors the gleaming surface of the tables usually found in the Mamaks or kopitiams.
"The Teh Tarik is a national drink that draws Malaysians together from all walks of life, connecting people from different races, cultures, and religions. Available at any time of the day, this popular drink is made by continuously pouring (or "pulling") a strong, hot tea mixture blended with sweet and creamy condensed milk between two cups or mugs until it becomes a thick, frothy tea heaven. The milk tea is "pulled" in a theatrical display to aerate as well as enhance the deep flavors of the tea, which served as our inspiration in the overall design for this unique masterpiece. With the GEL-LYTE™ III "Teh Tarik", we hope to share Malaysia's multicultural diversity with the rest of the world, an icon that bridges the gap across generations," said Boon Tib Soom Nik, Country Manager of ASICS Malaysia.
Pricing & Availability
The ASICS GEL-LYTE™ III "Teh Tarik" retails for RM 699 and will be launched for retail on 3rd December at HOME Concept Store and 4th December via an online raffle on SneakerLAH.com.