Are you looking for a fun activity to do with your pets this December? Good news, there is Malaysia's First International Pet Fun Fair, PET MAMMA-MII-IIA that you and your pets may visit and have fun together.
PET MAMMA-MII-IIA is giving you and your pets the opportunity to participate in a pet fun fair that is extremely different from others. This pet fun fair also brings International Pet Fun Fair and The Largest Pet Gathering in Malaysia to you!
What to expect at the pet fun fair?
For your information, PET MAMMA-MII-IIA will be held at Mid Valley Exhibition Centre from 16th until the 18th of December from 10 am to 10 pm. PET MAMMA-MII-IIA includes:
PET FANTASY (International Pet Fun Fair)
12th Grooming Competition held by MGA Academy
Cat Show, cat dressing up running the show
Pet Gathering (Attempt to break Malaysia Book of Records "THE LARGEST GATHERING OF MOST CAT AND DOG BREEDS")
Over 200 pet-related booths
Big & Small Animals, Exotic pets
In house experienced exhibitors
Pet Fantasy is especially for your pets as they can play at the Pet Park which has a park, maze, cat tree, pet running treadmill, pet agility training gear, and many more.
There's also a Wet Land that has a swimming pool, Pit Ball, Instagrammable floating 3D rainbow cloud, and pink swan. And all of these are specialized for your pets! Sounds fun, isn't it?
They are also attempting to break Malaysia's Book of Records for "THE LARGEST GATHERING OF MOST CAT AND DOG BREEDS". So, let's help them out by bringing your pets here~
Ticket
There are 3 packages for you and your pet to choose. Check out the packages offered below: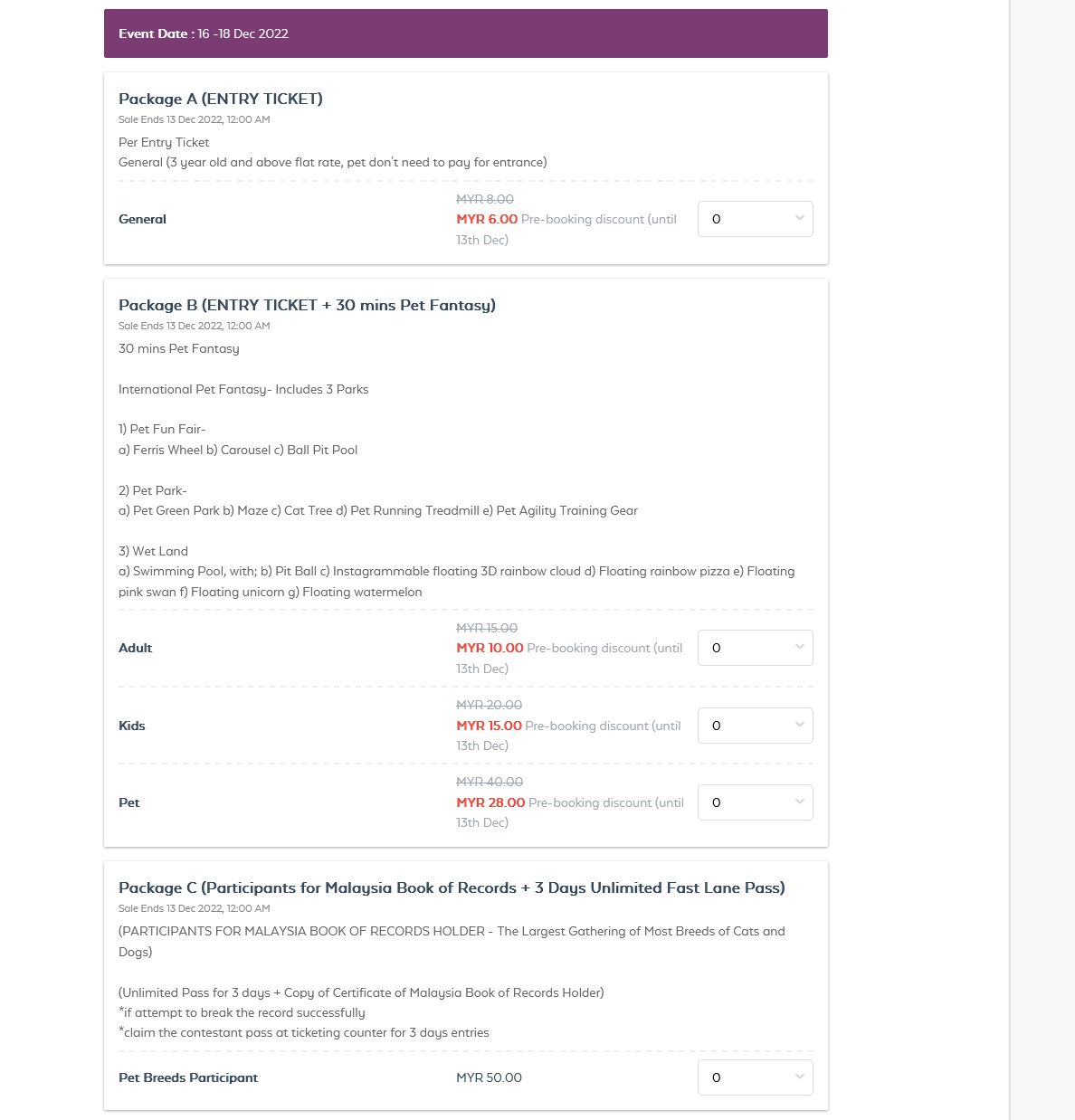 Interested to join? You can buy your ticket here: https://www.ticket2u.com.my/event/29171
For more information, do visit their Facebook.
Source: Pet Mamma-Mii-iia