Set to open on 17th December 2022 (Saturday), eslite spectrum Kuala Lumpur will celebrate its grand opening with over 30 free-for-all art and cultural events scheduled throughout its debut month. It is Taiwan's cultural and creative landmark, eslite unveiled artist impressions of its Southeast  Asia flagship store today. As a taste of things to come, 3D renderings of the physical store set-up featuring four distinct themes were released for the first time. Aspiring to be a platform for cultural exchange, eslite spectrum Kuala Lumpur boasts a wholesome selection of books in English, Traditional and Simplified Chinese, Bahasa Malaysia, and  Japanese; as well as creative designs, lifestyle trends, performing arts and exhibitions, themed restaurants, cafés, and handicrafts, offering a full spectrum of experiences that include books and beyond all under one roof.  
The countdown to the flagship store launch commenced on 1st December 2022 when eslite spectrum Kuala Lumpur unveiled 3D renderings of its retail space themed around four cities inspired by the Italian novel "Invisible Cities". The highly anticipated eslite bookstore, housed within 'The City of Arches' features a 60-meter statement wall of red brick arches and offers a wide range of books in different languages, exciting arts, and literary activities, as well as an impressive selection of literary and humanities books. eslite's list of Recommended  Reads is curated monthly by dedicated bookstore staff to share the brand's unique reading perspective. There are also cozy and comfortable corners to make readers feel at home. 
The colorful drapes of 'The Floating City' symbolize vibrant and dynamic street fairs with a  choice of local delicacies and lifestyle ideas. 'The City of Rippling Waves", inspired by shimmering sunlight dancing on waves, brings together cultural creative designs and everyday lifestyle products; while 'The City of Eternal Day' is a brightly lit yet minimalist corridor showcasing fashionable trends.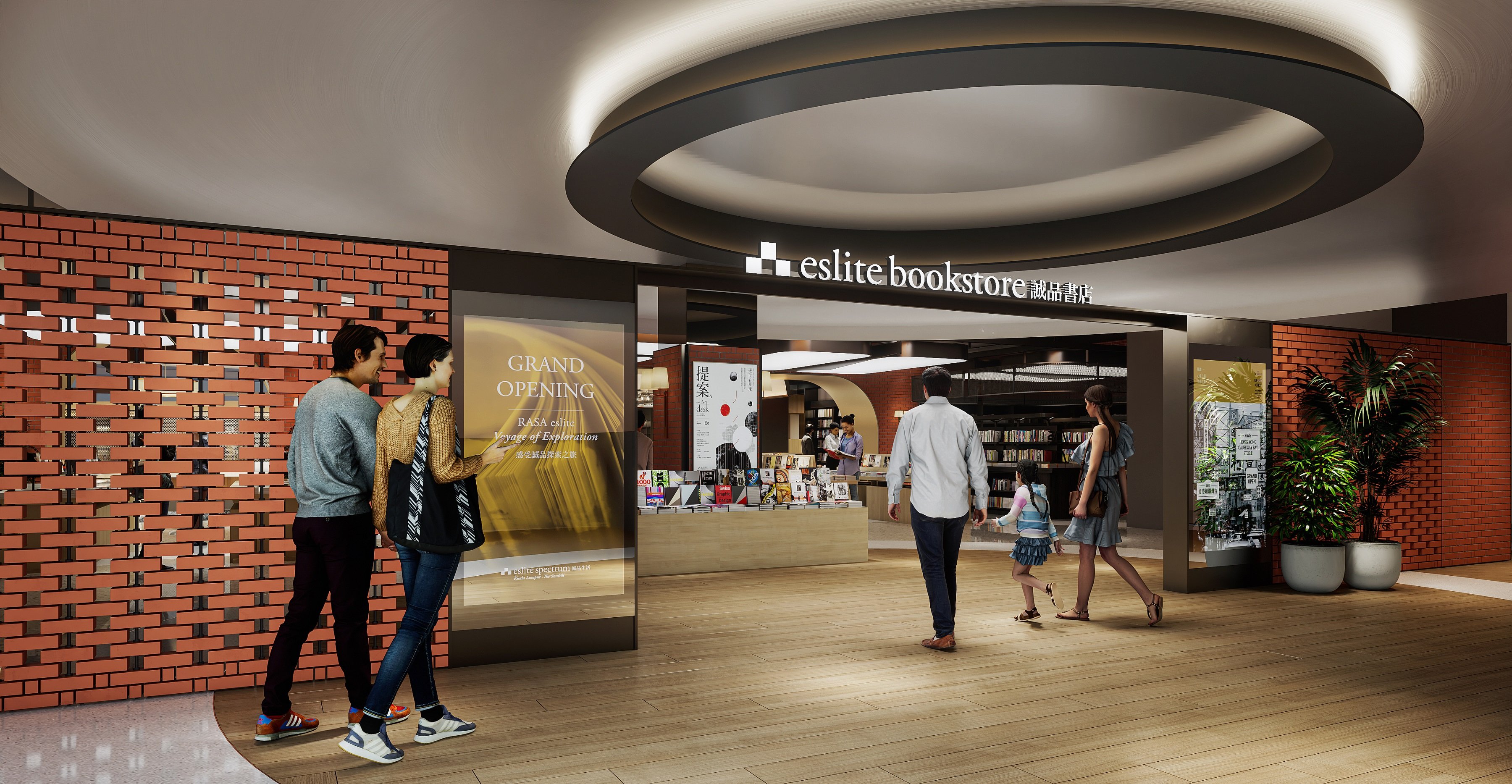 The grand opening of eslite spectrum Kuala Lumpur will also feature the inaugural exhibition of famed Asian illustrator, Jimmy Liao. Known for his heart-warming storytelling and sketches, the award-winning illustrator's works have been translated into English, French,  Korean and Thai, among others. Not only have his illustrations for "Turn Left. Turn Right",  "The Sound of Colours" and "The Starry Starry Night" been exhibited in Taiwan, Hong Kong, and China, these hugely popular illustrated books have also been adapted into well-received movies and TV series. 
Along with its dedicated lists of Recommended Reads and Best Sellers, eslite bookstore also houses the eslite Children, a dedicated space for children's literature and bestsellers.  The space will also host monthly thematic exhibitions and storytelling activities for the entire family to enjoy great reading fun together. From now until 14 December 2022, members of the public who download the "eslite MY" app, and register to become an eslite member may take part in a mini-game within the app to stand a chance to win a pass to the Members only preview of eslite spectrum Kuala Lumpur on 16 December 2022.