Heriot-Watt University Malaysia ("HWUM" or the "University")  signed a Memorandum of Understanding (MoU) with Nicol David Organisation ("NDO") at the  University's Putrajaya campus on 8 February 2023. 
The MoU formalises a collaboration between HWUM and NDO to empower children aged 8 to  12 from B40 and M40 families through the latter's flagship programme, 'Little Legends', which is set to kick-start in March 2023.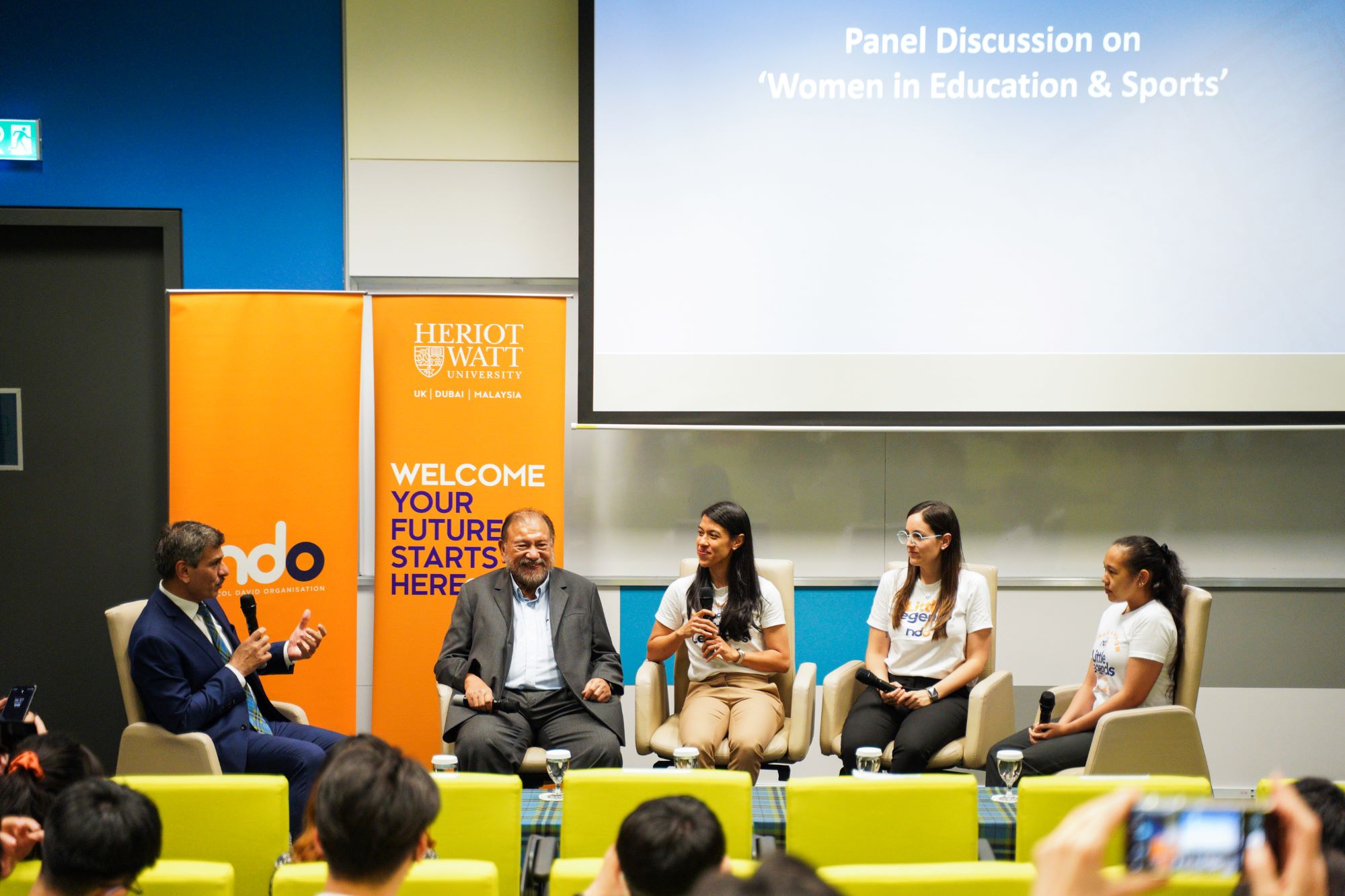 Under this programme, these children will take part in squash training, English tutoring, and life skills workshops. HWUM will also be supporting NDO through its research efforts and empowering the University's students to take part in the noble cause as volunteers or interns. 
The MoU signatories were HWUM Provost and Chief Executive Officer Professor Mushtak Al Atabi and NDO Founder & Head Coach Yang Berbahagia Datuk (Dr) Nicol Ann David. 
Also present as witness signatories were HWUM Chief Operating Officer and Registrar Janice  Yew and former Colombian squash player Mariana de Reyes, who is also the NDO Founder &  Chief Executive Officer. 
Heriot-Watt University Malaysia Provost and Chief Executive Officer Professor Mushtak  Al-Atabi said: "We are pleased to work alongside Nicol David Organisation in mobilising their purpose into action in order to develop our next generation of purpose-driven leaders through life skills training, English tutoring, and sports education. We'd also like to express our gratitude  to Datuk (Dr) Nicol and Mariana for being an inspiration to all of us and for their unwavering  commitment to inspiring young people with compassion and humility, for them to be the best  version of themselves." 
Founder & Head Coach of Nicol David Organisation Datuk (Dr) Nicol Ann David said: "I  believe that the best thing I can do to grow our nation provides opportunities for children so they can daydream big as I did. The values learnt through sports like hard work, discipline and positivity will shape these children in their own lives and in their future. Sport can help them  develop these life skills for life." 
"Sports and education need to come together; it is only through the combination of these two that I believe children can develop holistically. During my professional career, it played a strong  role to be proficient in English to travel the world and represent my country, I'm certain that this  will also enable opportunities for the children of our programme to further their education and  job options when they grow up." 
During the event, there was also a panel discussion on 'Women in Education and Sports'  featuring Yang Amat Mulia Tunku Tan Sri Imran Ibni Tuanku Ja'afar al-Haj (Malaysian sports administrator and NDO Board of Directors); Datuk (Dr) Nicol Ann David (NDO Founder & Head  Coach), Mariana de Reyes (NDO Founder & Chief Executive Officer) and Nilam Karmila (NDO  Youth Educator and English Teacher). 
NDO is a non-profit organisation established by Malaysia's former World No. 1 and  Commonwealth Games gold medalist Datuk (Dr) Nicol David and Colombian squash  professional Mariana De Reyes. The organisation aims to support the local community in  education and sports by developing young talents through sports education to empower girls  and boys to realise their full potential.  
Datuk (Dr) Nicol Ann David is also one of HWUM's Honorary Graduates. She was  conferred in February 2022 for her contribution to sport and her support of empowering  lives through education.