Jealousy can happen to anyone, including toddlers and babies. People are wrong when they say babies 'can't understand' or babies 'don't know.' This video will prove it to you.
The video is shared on TikTok by @raisyarayqal. The baby, named Liya, is babysat by an Indian woman, whom she prefers to be called Patti. Their bond as a baby and a babysitter is very close, even though they are from different races and religions.
Baby Liya not only has a strong bond with Patti, but with Patti's family members too. They care for Liya as their own. How sweet is that?
Okay, back to the video, baby Liya is caught on camera getting jealous. Why does her jealousy strike? Check out the video to find out:
@raisyarayqal

please dont carry other baby or liya akan kejo 200km/j..hahahahahhaha
How scary is baby Liya's face? From her expression, we can see that she is jealous. We then get to find out further in the video that one of Patti's family members, a man, is holding another baby! No wonder!
What is cute is that Liya hurriedly crawls towards him and babbles in baby language. She is like sprinting but crawling. She may be asking him to stop. Mission accomplished for Liya as the man stops, and holds her instead.
Interestingly, the man is talking to Liya in the Tamil language. Liya seems to understand it well! Brilliant baby!
Many can't get over Liya's relationship with her babysitter's family: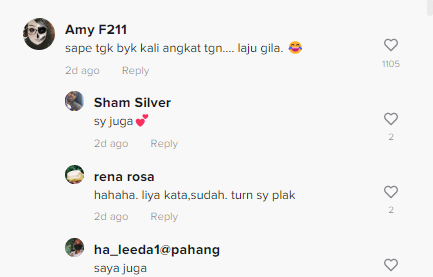 Cuteness overload!
Source: @raisyarayqal (TikTok)