The increasing mass appeal of triathlon in Malaysia was showcased through the 2023 Desaru Coast Multisport Festival (DCMF), which witnessed over 1,250 participations from more than 50 countries who turned up over the weekend. 
The three-day Multisport Festival featured a host of events for beginners to seasoned athletes who participated in various events including the IRONMAN 70.3 Desaru Coast, 5150 Triathlon Desaru Coast, Desaru Coast Sprint Triathlon and the IRONKIDS Desaru Coast.
This year's event was made even more appealing by the fact that there were 55 qualification slots to the 2023 IRONMAN 70.3 World Championship in Lahti, Finland (26 & 27 August 2023).
25 of those slots were reserved specially for women, which highlighted the intent of the organizers to encourage participation amongst budding female triathletes. 
With so many world championships slots to offer, the IRONMAN 70.3 Desaru Coast race on Sunday turned out to be a hugely engaging affair, with close to 900 participants starting out on a 1.9km swim from The Westin Desaru Coast Resort. They soon transitioned to a 90km bike course along the long straight, shaded roads before finishing off with a 21km run that culminated with the finish line back at The Westin Desaru Coast Resort. 
Malaysian siblings Daniel John Chen and Esther Joy Chen, who had only just recovered from a Covid-19 bout last week, dominated the course as the fastest Malaysians. 
Esther, the 2022 SEA Games Triathlete who beat her older brother with a finishing time of 05:03:09, admitted she didn't know what to expect on her debut IRONMAN 70.3 race. "I couldn't have asked for a better performance in my first race. I didn't expect to do this well and to outrun my brother, especially after recovering from Covid-19 a week ago."
Daniel meanwhile finished with a time of 05:03:44.
Harry Sinclair was crowned the overall fastest male finisher after the Australian turned in a strong and consistent performance to cross the finish line in first place under scorching conditions in Desaru. The 26-year-old said this was the most challenging race he'd ever endured.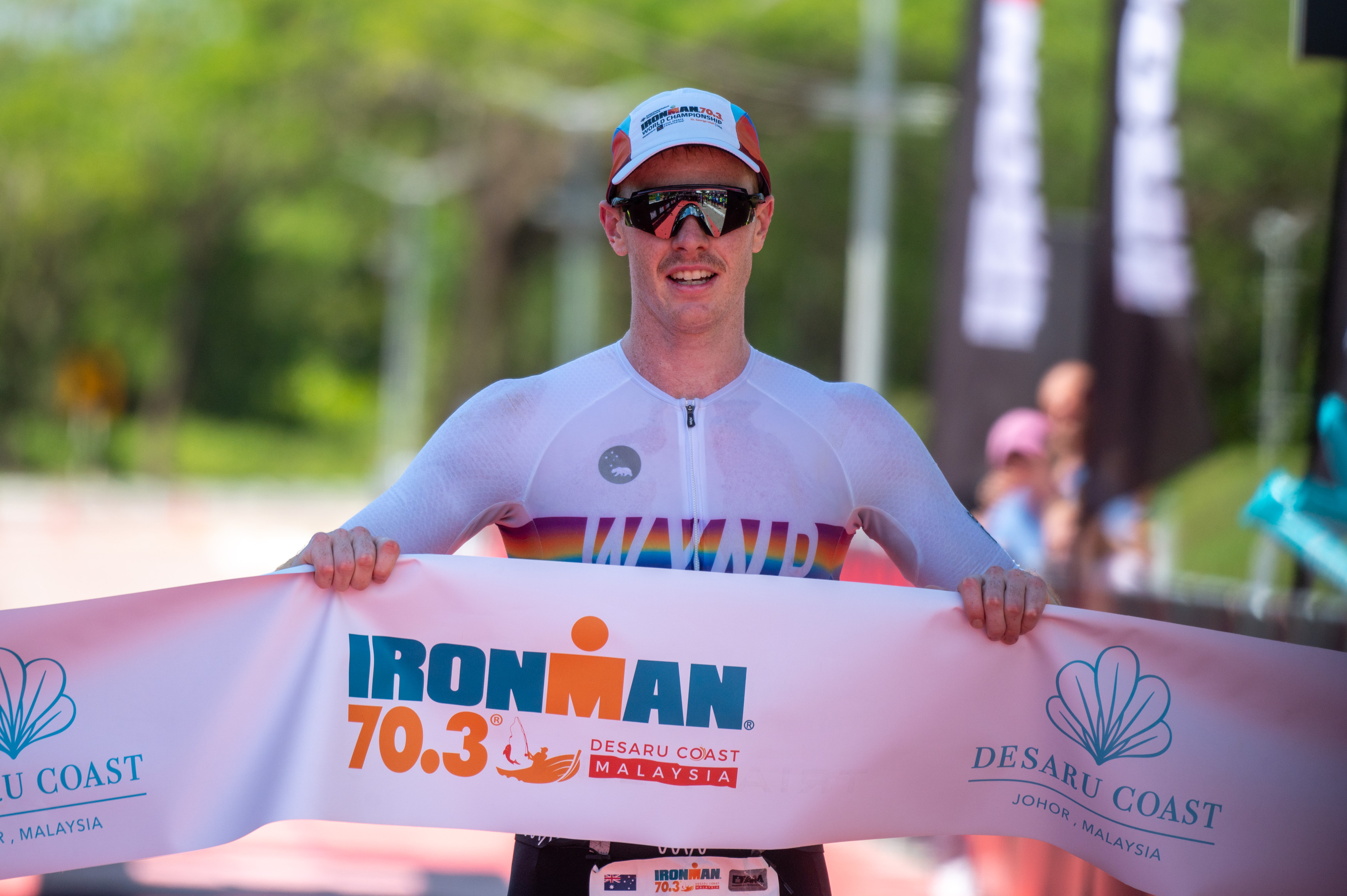 "This was a big mental game and I had to keep grinding. I am glad I got it done, this is the hardest race I have ever done. It was a tactical race, I was at the front and I had to keep pushing to get the win," said Sinclair.
Choo Ling Er meanwhile continued to make Malaysia her happy hunting ground. The Singaporean who won last year' IRONMAN Langkawi 70.3 came out tops in Desaru as the fastest overall female finisher with a time of 04:49:52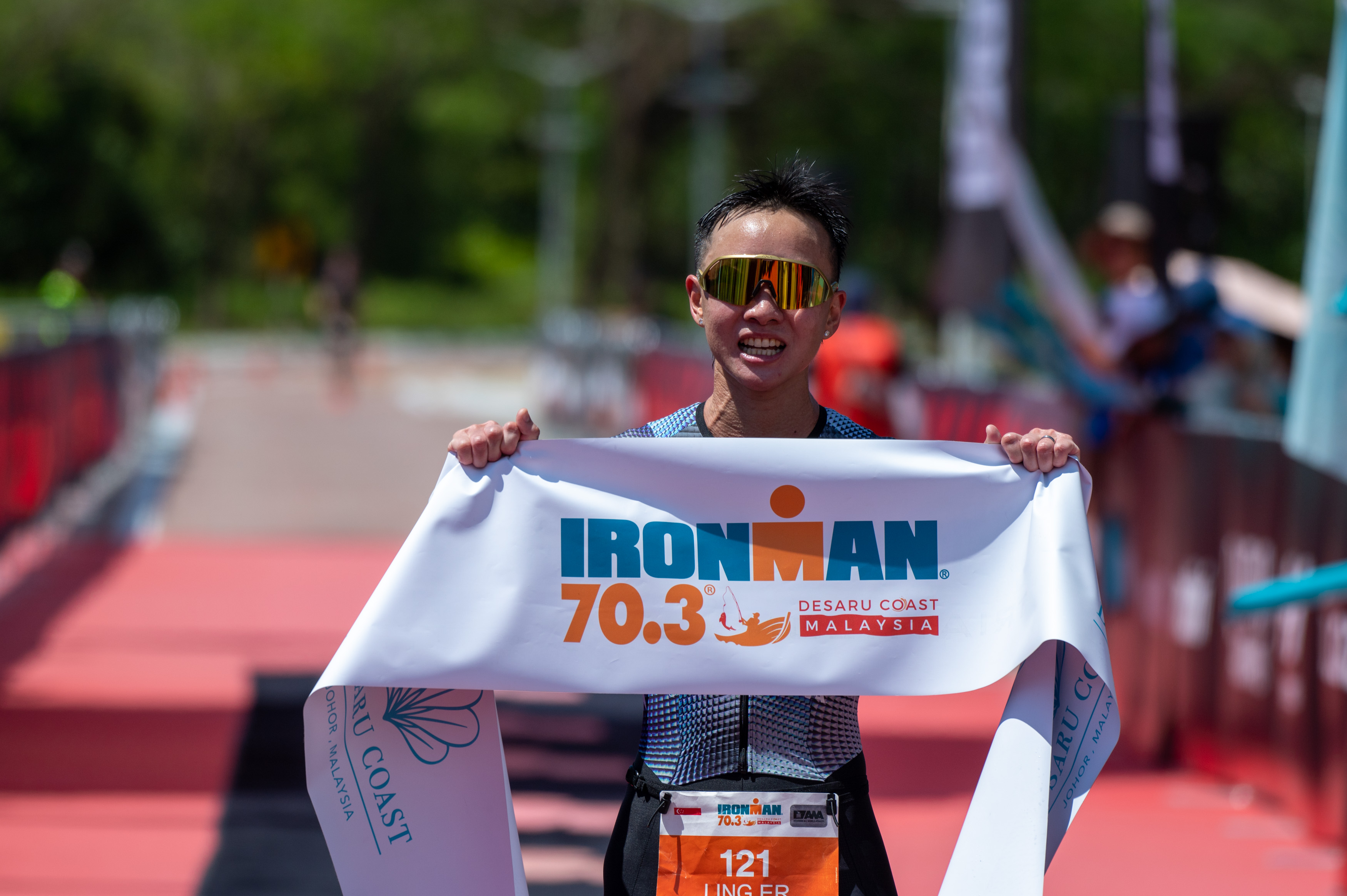 "It was a good day for me. The plan was to swim steady, go hard on the bike and hold on to the run for the win. The weather was brutal, but I'm from Singapore and the last three weeks we have experienced a heatwave so it was a good acclimatization for me," she said.
The IRONMAN 70.3 Desaru Coast oldest female finisher was Michiyo Sekiya, 62, from Japan who finished at 07:12:13, whereas the oldest male finisher was Japan-based Michael Turoczy, 70, with a finish time of 07:54:25.
Another notable participant included 2023 SEA Games Duathlete Tahira Najmunisaa who finished 3rd in her age group of 30-39 with a finish time of 05:31:11
While the IRONMAN 70.3 delivered as the marquee event, the fringe events such as the Sprint Triathlon and 5150 Triathlon also proved a valuable experience for participants who wanted to get a first-hand IRONMAN experience. 
The Desaru Coast Sprint Triathlon started out with a 750m swim, before transitioning to a 20km bike and finishing off with a 5km run. 
The 5150 Triathlon Desaru Coast provided a more challenging experience with a 1.5km swim, before participants headed out on a 40km bike ride and completed with a 10km run.
For this Olympic distance category, former national triathlete Thiang Choong Yoong finished as fastest overall male finisher and fastest Malaysian with a time of 02:19:28, while Australian Leanne Szeto finished as the top female by clocking 2:24:13. Effarezan Abdul Rahman meanwhile took home the honours as the fastest Malaysian female with a time of 3:13:50.
The IRONKIDS also provided plenty of fun for more than 70 kids who participated, with a comprehensive crew of marshals and security personnel ensuring a safe zone for the children to swim, bike and run.
This year's Desaru Coast Multisport Festival also served up an array of side activities for the 1,200 plus participants to enjoy throughout the weekend. It included the Milo x Wavvy Hub Surfskate Clinic, 5 Club Speed Golf and the Desaru Coast Festival Village for the weekends' festival go-ers. 
IRONMAN Asia Managing Director Jeff Edwards said yet another successful series in Desaru only highlights the significance of this venue as a pivotal race in the IRONMAN calendar. 
"The success of back-to-back IRONMAN races here in Desaru Coast shows what an important event this is not just for Asia, but globally as well. We saw a great representation from not just Malaysians, but also triathletes from all over the world and it is an indication this race will only grow bigger and more successful," he said. 
Desaru Coast Managing Director and Chief Executive Officer Roslina Arbak pledged the venue's commitment to hosting the IRONMAN.
"Desaru Coast had the immense pleasure to host this three-day international sporting gala at our integrated destination resort for the second time. It was heartening for us to watch guests enjoy not only the races but also the festivities and activities throughout the three days. 
"For this reason, we are determined to continue growing the festival. In continuing our commitment to host the Desaru Coast Multisport Festival presented by IRONMAN we hope that in the years to come Desaru Coast and the state of Johor become synonymous with the IRONMAN brand in the international circuit, making sports tourism a collective pillar of success for us," said Chief Executive Officer, Roslina Arbak.