The LEGO Group is revealing the new, merged realms of  LEGO® NINJAGO® with brand new characters, products, and an animated TV show created with Epic  Games' Unreal Engine. The products and TV show are launching on 1 June 2023. Young ninjas are  invited to unleash their potential at the LEGO® NINJAGO® Academy for an action-packed day of LEGO  NINJAGO challenges at Sunway Pyramid from 23 May to 5 June, Sunway Putra from 7 to 11 June, and  Sunway Carnival from 14 to 25 June. 
A new era of LEGO NINJAGO 
Together with master Lloyd and new characters Arin, Sora and Baby Dragon Riyu, "We wanted to  create a new LEGO NINJAGO world with exciting characters and elements that invites new fans in and  stays true to the iconic legacy. So, as well as welcoming back our well-known ninjas, we are equally  excited to introduce new fantastic ninjas and dragon characters. This follows research we did with kids  back in 2021, which showed they really wanted dragons to be front and centre of the new story," says  Nigel Kong, Head of Product for LEGO NINJAGO. 
Introducing new ninja characters Sora and Arin, and a baby dragon character Riyu. This new  generation come together to unlock their true potential and find the well-known ninjas, who have  gone missing in a new world of merged realms.
After 12 years of storylines, villains, character dilemmas across 16 TV seasons and 215 episodes, a  movie, mini-movies, video and app games, more than 200 LEGO sets, magazines, books, colouring  books, graphic novels, trading cards, merchandise, clothing collaborations with cool brands, golden  minifigures, 10th Anniversary sets, hotel rooms, a LEGOLAND park ride, and a huge fan community – the world of LEGO NINJAGO is reaching new heights. 
A new range of LEGO NINJAGO products featuring new and original characters 
As part of the new era of LEGO NINJAGO, The LEGO Group has introduced a new dynamic product  range bringing back much-loved characters alongside brand-new ones. Team up with baby dragon  Riyu, Sora, Zane, and Jay to battle Lord Ras, Empress Beatrix, and an Imperium Guard with 71796  Elemental Dragon vs. The Empress Mech and help master Lloyd and Arin jump inside a pair of  awesome mech suits or combine the two mechs to create one larger fighting mech with 71794 Lloyd  and Arin's Ninja Team Mechs. Thrill-seekers can push down the car's spoiler to activate its dragon  power and launch a stealth spinning attack with 71791 Zane's Dragon Power Spinjitzu Race Car and  jump in the mech's cockpit before transforming it into a souped-up bike to enter a high-speed chase  with Rapton on his glider with 71792 Sora's Transforming Mech Bike Racer.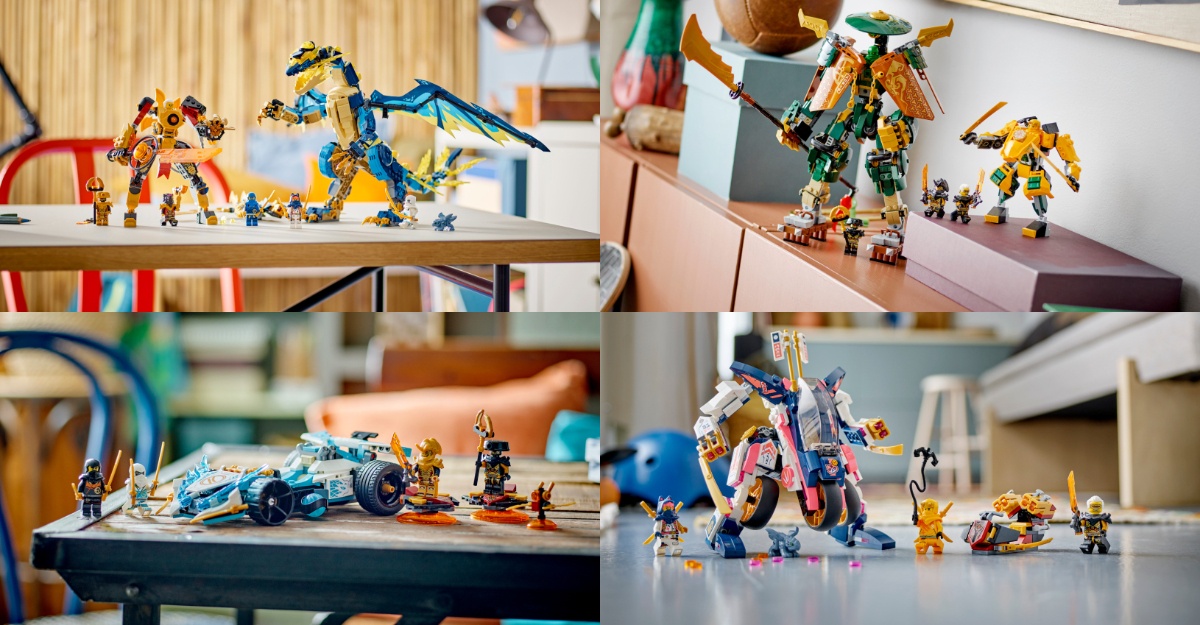 Young heroes can also master Spinjitzu skills with interactive flipping and spinning toys such as 71777  Kai's Dragon Power Spinjitzu Flip, 71778 Nya's Dragon Power Spinjitzu Drift and 71779 Lloyd's  Dragon Power Spinjitzu Spin.

For those who love a large and intricate build, the 71799 LEGO® NINJAGO® City Markets is a highly  detailed set featuring a whopping 6,163 pieces! Experience the colour, excitement, and vibrancy of  NINJAGO® City with NINJAGO's biggest ever building set comprising 4-floors which includes: A cable  car, a bakery, a boat, apartments, an elevator, a rooftop food court and so much more. Standing at 20  in. (50cm) high the set comes with 21 minifigures – including Blacksmith Kai, Urban Sora, Urban Arin,  Detective Zane, Hounddog McBrag, Gayle Gossip, Chamille, Miss Demeanor and Dareth.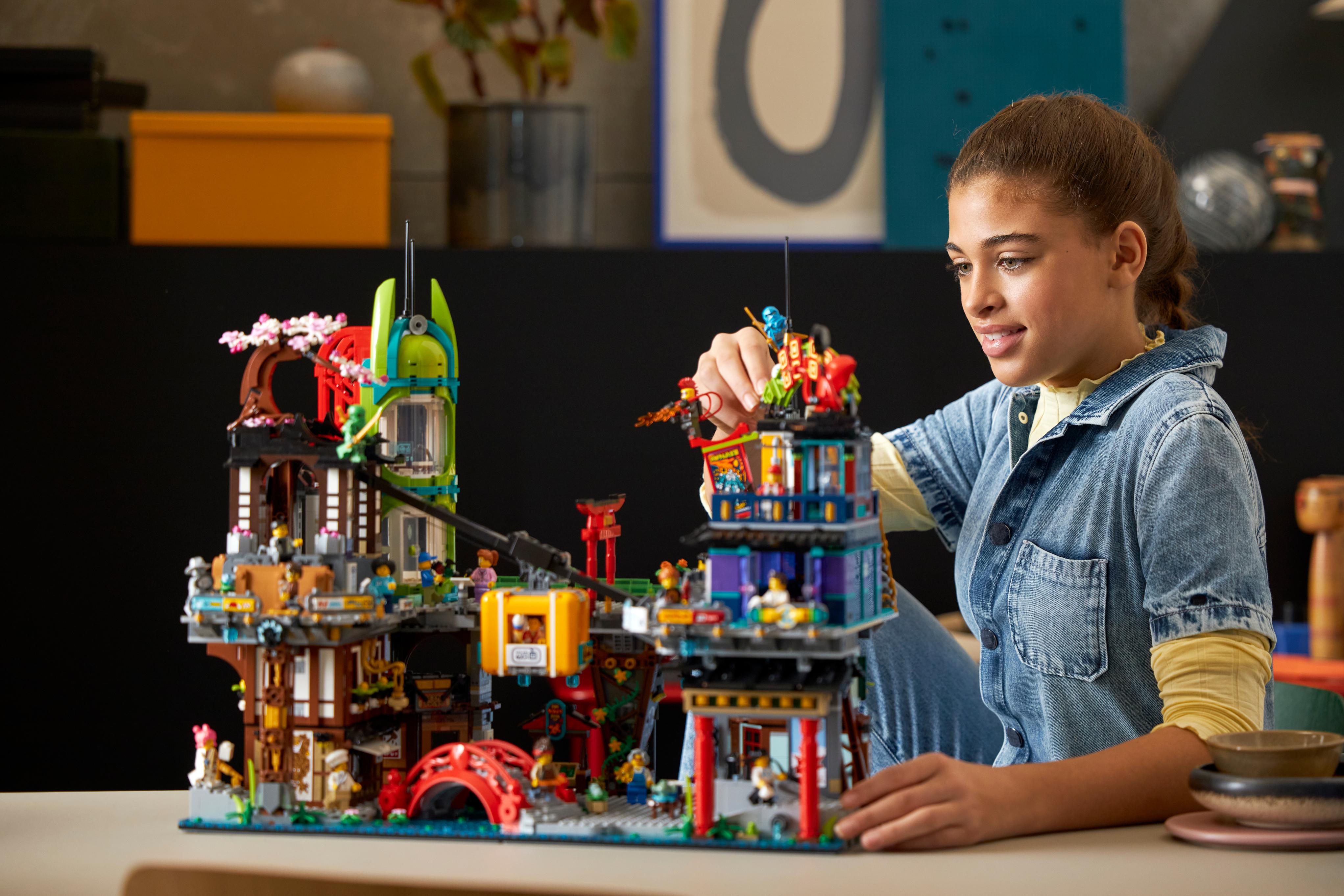 Join the LEGO® NINJAGO® Academy at Three Sunway Malls from this May!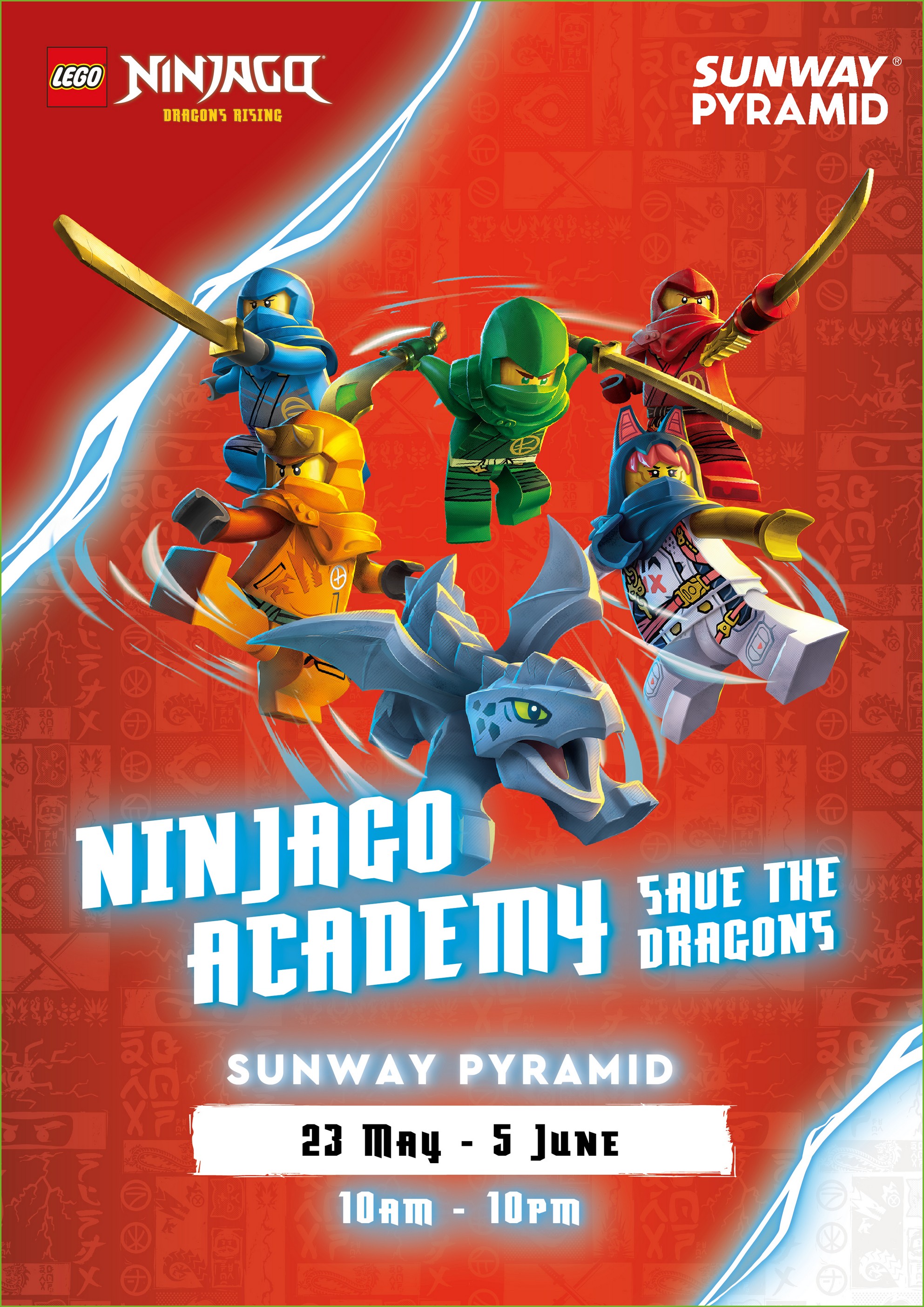 Are you ready to overcome evil and save the world? Organised in partnership with Sunway Malls, get  ready to unleash your potential at the LEGO NINJAGO Academy at Orange Concourse, Sunway Pyramid from 23 May to 5  June, Sunway Putra from 7 to 11 June, and Sunway Carnival from 14 to 25 June. Together with master  Lloyd and new characters Arin, Sora and Baby Dragon Riyu, young heroes are invited to join the LEGO  NINJAGO Academy and undergo ninja training. Prepare to fight the evil forces with a weapon building  station, a Spinjitzu challenge, and elemental challenges that test speed, agility and endurance. Upon  completion of the missions, a LEGO NINJAGO minifigure can be redeemed on-site while stocks last.  There will also be a large LEGO NINJAGO Academy diorama with Dragon NRG Cores – spot the number  of Dragon NRG Coresin the display and closest guesses will stand a chance to win LEGO sets. Shoppers  can redeem an exclusive LEGO NINJAGO Pencil Case with a minimum spend of RM 299 for LEGO sets  purchased at the LEGO NINJAGO events. More exclusive LEGO items await, as Sunway Pyramid  shoppers can redeem an exclusive LEGO NINJAGO Notebook from 23 May to 5 June by downloading  the Sunway Pyramid mobile app and click to collect the voucher on the Rewards tab, before showing  the voucher to Sunway Pyramid staff at LG2 Marrakesh concierge to redeem. Those who are visiting  Sunway Putra Mall between 7 to 11 June will be required to spend RM200 in a maximum of 2 receipts  in order to redeem the exclusive LEGO NINJAGO Notebook. For Sunway Carnival Mall shoppers, simply  spend RM250 and above (maximum 2 combined receipts in the same day) to redeem the exclusive  LEGO NINJAGO Notebook, limited to one redemption per shopper per day while stocks last.
Loo Hoey Theen, General Manager of Marketing, Business Innovation & eMall of Sunway Malls said,  "Sunway Malls has always sought to provide an all-in-one shopping experience to our shoppers  bringing families and friends together in memorable events. Together with the LEGO Group, we are  able to continue to bring in more exciting and educational experiences as LEGO NINJAGO is for  everyone of all ages." 
From 2 to 29 June, shoppers can redeem a 30650 Kai and Rapton's Temple Battle at LEGO Certified  Stores and 30649 Ice Dragon Creature at all other retail platforms, with a minimum spend RM 179 on  selected LEGO themes. There will be special promotions for LEGO NINJAGO sets from 30 June so do  stay tuned! 
Rohan Mathur, Marketing Director of LEGO Southeast Asia, said, "We are thrilled to introduce a fresh  era of LEGO NINJAGO bringing new mysteries and adventures for children to immerse themselves in.  The LEGO Group looks forward to bringing little heroes together to unleash their full potential in the  new LEGO NINJAGO world alongside the sets and characters." 
The brand-new LEGO NINJAGO: Dragons Rising TV show is coming to broadcast channels and  streaming services around the world from 1 June 2023 and can be watched on the LEGO YouTube  Channel: https://link.bricks.plus/ninjago-en-lfc. Part one airing in June consists of 10 episodes of 22  minutes each, while part two with an additional 10 episodes will be released in the fall. The show has  been created with Unreal Engine, which enabled the team to be more collaborative and creative in  the animation process, and to reach a higher visual quality than ever before.  
We rise! The LEGO Ninjago Dragons Rising sets are on sale from 1 June 2023 and will be available  across LEGO Certified Stores, LEGO® Official Store on Lazada, Shopee, LEGOLAND™, as well as major  retailers and department stores in Malaysia.