Jojo Events and My Events International have announced the start of ticket pre-sale for its much-anticipated 2023 iKON World Tour Take Off in Kuala Lumpur which will begin on 2nd June 2023 specially for Malaysian fans. The general ticket sale will open to public on the following day, 3rd June 2023.
iKONics will share in the enchantment of music with iKON on a sparkling stage where sound, colour and dance will make hearts skip a beat and take everyone on a extravagant journey all night.
The announcement of iKON's concert on July 22nd at MINES International Exhibition & Convention Centre (MIECC) has piqued the public's interest. iKON's musical prowess is well known among Korean boybands. iKONics can look forward to a thrilling night of modern K-Pop as iKON touches down in the Malaysia capital for their third time since 2016.
Jointly organised by Jojo Events and My Events International, JAY, SONG, BOBBY, DK, JU_NE and CHAN will be kicking things off in July, here in Malaysia.
Don't miss your chance to see the spectacular iKON by purchasing ticket only at www.ticket2u.com.my. Tickets will be available at MYR388, MYR538, MYR688, MYR838, MYR1,038 and MYR1,088 subject to ticketing fees.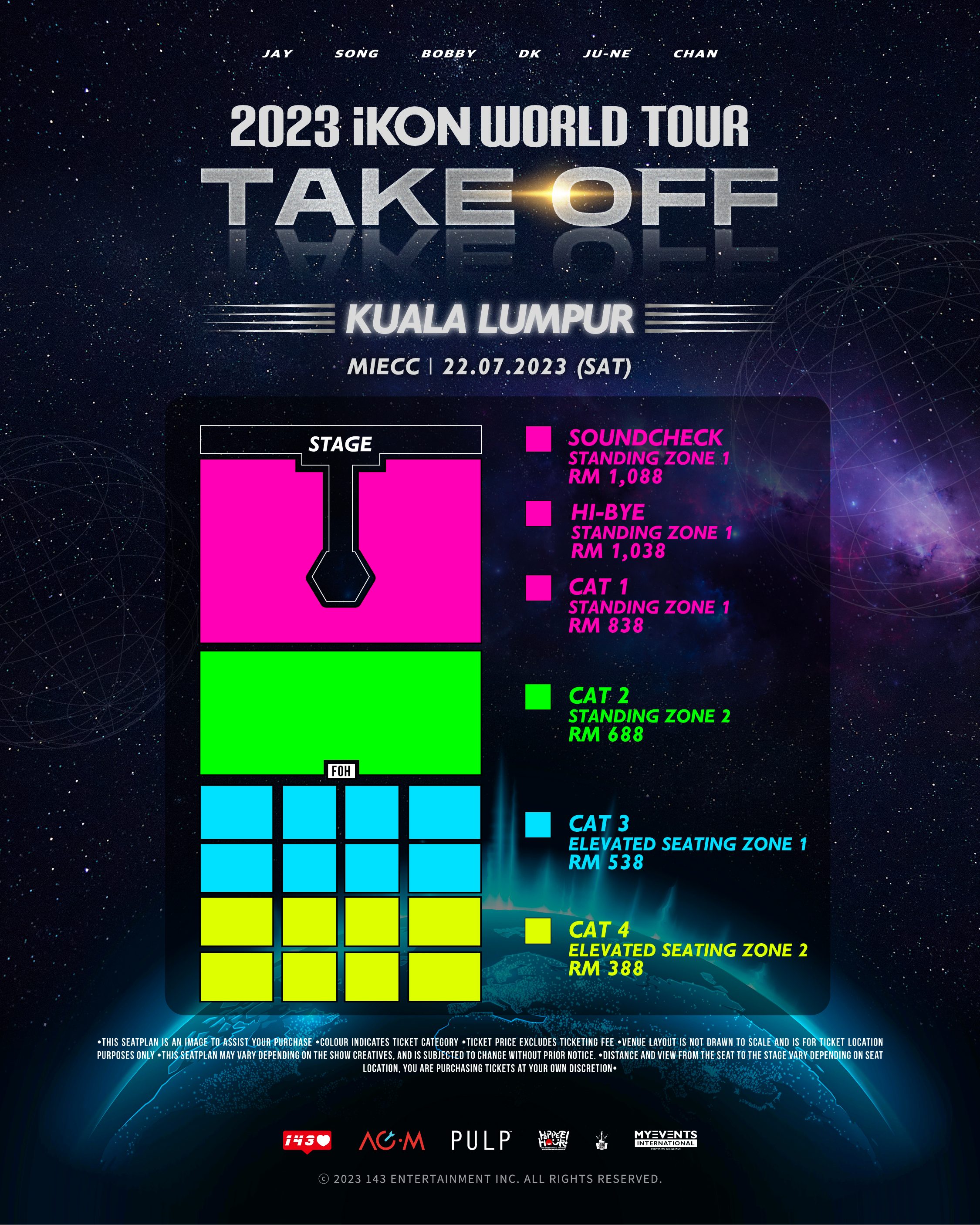 The organisers are taking everything into account in order to provide the finest experience for the iKONics. They have taken measures to create elevated seating zone so that fans get to enjoy the show to the fullest.
Jojo Events Sdn Bhd is recognised as the company that delivers quality artists, dependable services and innovative events to its corporate clients, sponsors and agency clients at competitive rates. It's a wholly-owned Bumiputera company, owned by the flamboyant YAD Tan Sri Syed Yusof Tun Syed Nasir aka Jojo, to his friends and associates, has been promoting concerts of internationally renowned artistes since the mid 90s such as the unforgettable MICHAEL JACKSON HISTORY TOUR.
My Events International is a unique event company that provides the finest solutions and services to clients. The company has been delivering excellence and going beyond limitations for the past 16 years. Its mission is to provide cutting-edge solutions and services while building strong relationships with their clients.