With its nostalgic aroma and its rich taste and texture, it is no surprise that the Laksa is an icon of Malaysian cooking tradition. In celebration of Malaysians' love for Laksa, MAGGI® is paying tribute to the heritage of this Malaysian classic dish as it unveils the brand-new MAGGI® Mi Goreng Laksa Warisan with its authentic taste and distinctive aroma.     
At the launch event staged at the vintage-themed mansion, The Agam in Kuala Lumpur, Mr. Juan Aranols, CEO of Nestlé (Malaysia) Berhad said "As a brand that has over 50-year history and a meaningful space in the hearts of Malaysians, MAGGI® continues to proudly celebrate our heritage in all our offerings. Today, we are delighted to be part of the celebration of Malaysia's vibrant Laksa dishes as we present our latest product innovation that pays homage to our nation's diverse and distinctive culinary heritage: our all-new MAGGI® Mi Goreng Laksa Warisan."   
Present at the launch event were two well-known Malaysian food personalities – Celebrity Chef, Anis Nabilah and Professor Dr. Shahrim Karim, Professor of Malaysia Heritage Food and Culture at the Faculty of Food Science and Technology in Universiti Putra Malaysia (UPM) – who showcased their culinary arts and expertise in preparing a delicious Laksa dish whilst sharing its rich history and evolution.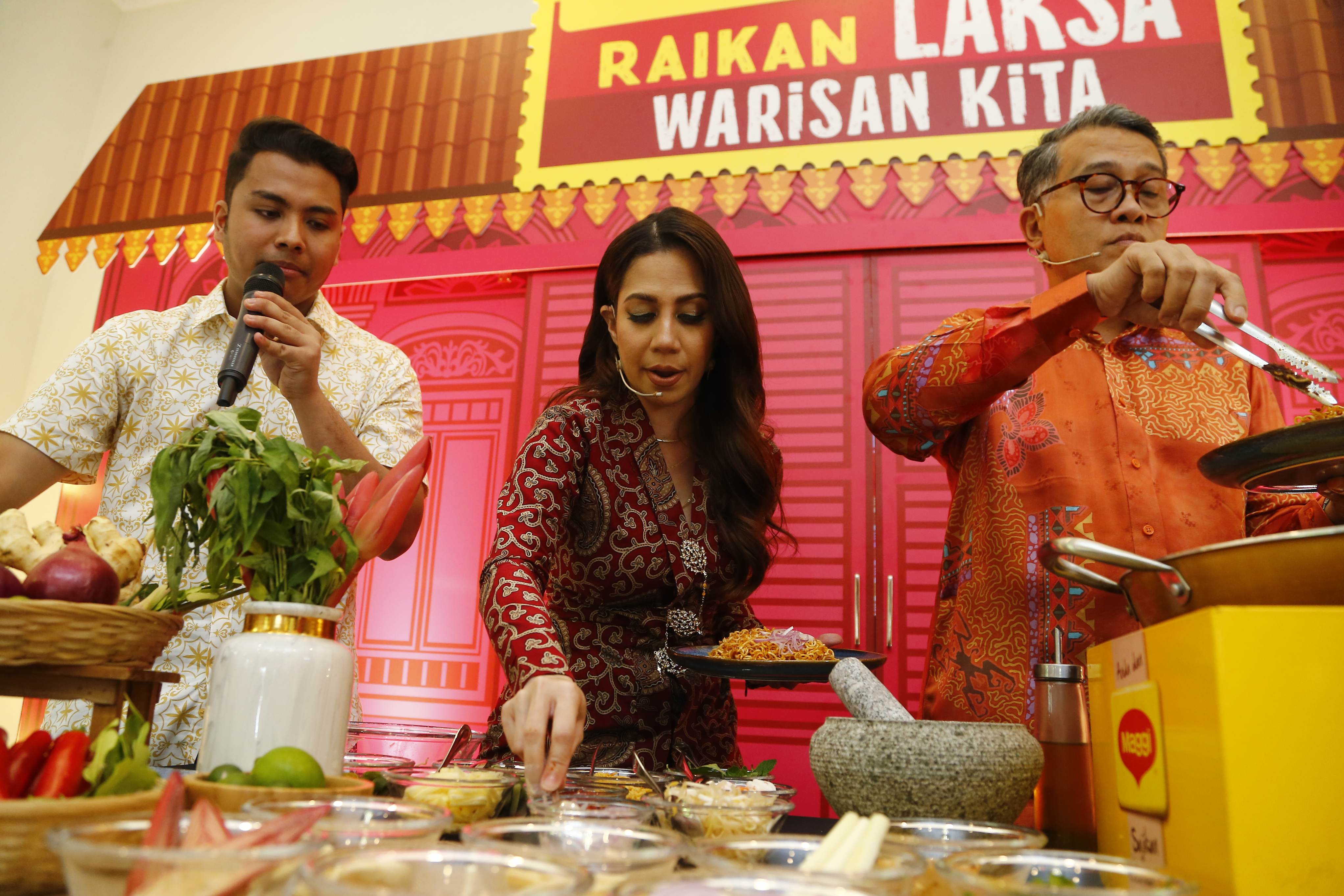 Tracing its origins, Laksa is a dish deeply rooted in the Peranakan community, inspired by the heritage of the Chinese, Malaysian and Indonesian cultures within Southeast Asia. Professor Dr. Shahrim Karim shared that Laksa is truly Malaysia's iconic dish that transcends cultures and regions – evolving into many variations that we know of and enjoy today – from the most common Curry Laksa to more innovative offerings such as the Assam Laksa, Sarawak Laksa, Nyonya Laksa and the Johor Laksa. "The soul of Laksa lies in its vibrant and aromatic flavours. A good Laksa is all about the balancing act between various ingredients with the constant stirring towards the 'pecah minyak' stage, which is vital for the perfect Laksa flavour that culminates in a true culinary delight," he added.
In recent years, consumers are seeking new ways of enjoying this popular dish with family and friends, with the rising trend of preparing Laksa the "Goreng" way. Taking inspiration from this trend, the All-New MAGGI® Mi Goreng Laksa Warisan is a creative twist to Malaysian Laksa tradition.
Ms. Ivy Tan, Business Executive Officer of MAGGI®, Nestlé (Malaysia) Berhad explained, "As Malaysia's trusted household brand, MAGGI® aspires to deliver product offerings that embody true Malaysian flavours. Thanks to our MAGGI® Chefs' continued dedication and culinary expertise, we have given a modern-day twist to Laksa as we introduce our latest innovation MAGGI® Mi Goreng Laksa Warisan. Indeed, the secret of making a good Laksa lies in its base. Hence, our new creation is carefully crafted with a blend of key aromatic ingredients, bunga kantan, daun kesum, galangal, along with fresh ingredients: onions, kaffir lime leaves, lemongrass, garlic and ginger, slowly cooked into a paste until 'pecah minyak' to deliver the distinctive flavour of the iconic Laksa dish whilst preserving its authentic recipe. We are embracing this heritage dish, by making it possible to enjoy a great tasting Laksa Goreng – anytime, anywhere!"
In line with our brand promise to help Malaysians Cook the Difference, MAGGI® continues to deliver high quality food choices for consumers who are seeking an easy-to-prepare, great tasting meal. The MAGGI® Mi Goreng Laksa Warisan noodles are made with 100% Australian wheat, which is a good source of protein and carbohydrates. From sourcing top-quality ingredients to stringent quality control, it is MAGGI®'s commitment to serve the best from its kitchen to consumers.
For more information about the MAGGI® Mi Goreng Laksa Warisan, please visit https://www.maggi.my/en/maggi-happenings/maggi-mi-goreng-laksa-warisan/